Reston, VA

Stone, Pavers and Concrete Professionals

Is it time you spruced up your outdoor living spaces? Creative Reston pavers, masonry contractors and stone suppliers can help. Professionals specializing in hardscape such as walkways, patios and retaining walls will work with you to design, plan, install and even fix your exterior and interior home projects. Read further to learn how to best find and work with Reston, VA stone, brick, paver and concrete contractors.

More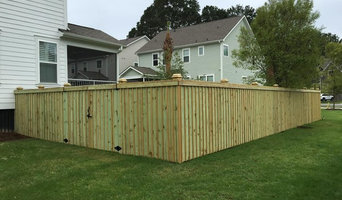 At U.S Construction Group we work closely with our clients to develop goals, objectives and a plan to fulfill...
See my projects
Free Block Firepit for New Projects
At NAV Construction Inc., we specialize in custom work to meet all of our customers needs. We strive to give you...
See my projects
Serving the MD, DC Metropolitan area, and Northern Virginia for more than 20 years we offer a full range of...
See my projects
Art Masonry provides design and construction services for custom masonry, patios, walkways, fireplaces, fire...
Read More
HaiJoe stamped concrete patios & deck. is a business based in Woodbridge Virginia, we specialize in decks,...
Read More
Salzano Custom Concrete is a family owned and operated business based in Northern Virginia. We have over 30 years...
Read More
NOVA Landscape & Design is a family owned and operated business with more than 20 years experience in the...
Read More
*Authorized Techo-Bloc Dealer* Your source for beautiful ideas, designs and style for outdoor life. Featuring...
Read More
For over ten years, Horizon Outdoor Design has provided our customers with breathtaking landscape creations. With...
Read More
For over two decades homeowners, builders and architects have relied on Life Time Improvements Inc. for their...
Read More
Detailz Construction Corporation is a full service licensed home improvement contracting company. We pride...
Read More
From traditional to modern styles, we create unique concrete products using innovative green technologies that...
Read More
FROM THE DESIGN TEAM We specialize in the new, the happening and the now where others see limitations we see...
Read More
Featured Reviews for Stone, Pavers and Concrete Professionals in Reston, VA

Art Masonry Inc.
Stone, Pavers and Concrete Professionals in Reston, VA
"Joe started the job as soon as the weather permitted. He worked diligently to complete it ASAP and there were no curve balls. The quality was excellent. I would highly recommend."
- jumpa47

HaiJoe Stamped Concrete Patios and Decks
Stone, Pavers and Concrete Professionals in Reston, VA
"Haijoe did a stamped concrete patio fwith a connecting walkway for a project of mine - they were knowledgeable, courteous and timely with their work and did an outstanding job for a very fair price. I highly recommend them!"
- Jason Baker

Salzano Custom Concrete
Stone, Pavers and Concrete Professionals in Reston, VA
"An old college girl-friend of mine sent me pictures of her patio and pool deck. This company did an amazing job! I had gone to visit her a couple years back. She lives in Virginia. I'm in Florida, but we've stayed close. I stayed with her and her husband at their house in Alexandria. They had a nice pool with a standard white concrete pool deck. After they had the pool deck done by Salzano Concrete, she was so excited to share pictures of her deck's new look. I must say that CJ Salzano Custom Concrete did an amazing job. Granted, I have not seen the deck in person yet, but the pictures look great. I'm looking forward to my next visit up there to see the deck in person!"
- sarahh1016

NOVA Landscape & Design
Stone, Pavers and Concrete Professionals in Reston, VA
"Ali, Chris, and their team of landscapers were fast and professional. He took my needs into consideration and gave me exactly what I'd envisioned for my backyard, low maintenance and high impact. I look forward to working with them again."
- Teisha White Crowder

Stone Center
Stone, Pavers and Concrete Professionals in Reston, VA
"We use the Stone Center all the time. They have a great selection of rock,gravel, and hardscapes. They also are good at getting you loaded up quickly."
- The Pond Doctor The

Horizon Outdoor Design
Stone, Pavers and Concrete Professionals in Reston, VA
"My husband and I recently hired Horizon Outdoor Design and were extremely pleased with their work. We recommend them highly and will call them for future landscaping needs. It was obvious during our estimate appointment with Chris, one of the co-owners, that he was extremely knowledgeable and a subject matter expert in his industry. He was honest in his feedback and provided us with various pricing options given our budget. After his visit to our home to provide a free estimate, he sent us an official quote that was clean and professional. I was especially appreciative that Chris was willing to converse via email as my work schedule is such that I'm not often available for personal calls. Horizon worked on the following projects at our home this September 2016: -Laid sod on a steep slope on the front of our house. Each time it rained, we were faced with serious drainage issues. A retaining wall was the ideal solution but not within our budget at the time so we opted for sod. It has transformed the look of our front yard, making it look twice its size. We've received numerous positive comments from the neighbors. It's beautiful! -Mulched the side of our house next to a brick pathway and planted ground cover as there is a slight slope on the side as well. They also cleaned our side pathway which was covered in leaves and plant debris. Additionally, they trimmed trees, vines, and general vegetation overgrowth. Lastly, they laid a brick pathway that serves as a shortcut to allow us to walk from the sidepath of our yard to the front of our yard. What a difference this made! The job is pristine! It's refreshing to see not only all of the debris removed but beautiful ground cover too. -Seeded a vacant circle in our backyard where the former homeowners once had an above-ground pool. The grass is growing quickly and is filling in nicely. The job only took 2 days! Chris provided us with detailed instructions for easy maintenance moving forward. Horizon Outdoor Design made our lives so much easier! I highly recommend their services as you won't be disappointed."
- jessnang

Life Time Pavers
Stone, Pavers and Concrete Professionals in Reston, VA
"This company was used by a contractor I hired to replace my front porch and part of my driveway. They arrived as scheduled and the work was completed satisfactorily."
- michele_haberman

Detailz Construction Corporation
Stone, Pavers and Concrete Professionals in Reston, VA
"Ilan with Detailz came out to give me an estimate the same day I called and he seemed very honest and the price was right. We had him redo our entire kitchen and 1 month later I am so happy with the results. I would use these guys again anytime! Thanks Ilan and the Detailz Team!"
- detailzservices

Conceptual Concrete of Frederick
Stone, Pavers and Concrete Professionals in Reston, VA
"I had my basement floor done by Zach in a gray metallic epoxy and I LOVE IT. Zach was very professional and knowledgeable. He finished the floor on time and I think the cost was very reasonable. I would definitely recommend this company; I'm actually thinking about getting an estimate for a bathroom sink."
- behappie77

Terranova Dreamscapes
Stone, Pavers and Concrete Professionals in Reston, VA
"This guys are awesome!!! Fernando really make my dream come true, I love my patio and be there drinking a good coffee is my pleasure in the afternoon. Thanks MKC....Joe.."
- mkc group,inc