About Us
Bergen County Premiere Concrete Surface Atelier | 5x Best of Houzz
JM Lifestyles is the premiere concrete atelier. Our studio invented WoodForm Concrete® and creates concrete products including but not limited to counter-tops, bar tops, vanities, sinks, bathtubs, tub surrounds, fireplace surrounds, shower surrounds, entries, water features, custom molds, custom furniture and MORE! At JM Lifestyles products are made NOT manufactured! Whether it is our Surfaces or Architectural finishes we strive to craft the most personal and sui generis creations. You can choose from our standard line of finishes or have something extraordinary created for you. We look forward to meeting you.
Services Provided
Concrete Countertops, Countertop Installation, Countertop Sales, Custom Countertops, Decorative Concrete, Solid Surface Countertops, Wood Countertops, Concrete Products, Custom Vanities, Fireplace Surrounds, Wall Panelling, Interior/Exterior Moldings, Rockscapes
Areas Served
Boonton, Brookside, Cedar Knolls, Chatham, Chester, Denville, Dover, Flanders, Florham Park, Green Village, Hibernia, Ironia, Kenvil, Lake Hiawatha, Landing, Ledgewood, Madison, Mendham, Mine Hill, Morris Plains, Morristown, Mount Arlington, Mount Freedom, Mount Tabor, Mountain Lakes, Netcong, New Vernon, Parsippany, Randolph, Rockaway, Wharton, Whippany, Upper Sadle River, Ho Ho Kus, Essex Falls, Caldwell, Plainfield, Summit, Westfield
Awards
WINNER OF BEST OF HOUZZ 2014 WINNER OF BEST OF HOUZZ 2013 WINNER OF CONCRETE NETWORK'S Top Ten of 2012 AWARD! WINNER OF CHENG'S 2011 BEST KITCHEN AWARD! WINNER OF CHENG'S 2010 BEST IN SHOW AWARD! WINNER OF CHENG'S 2010 BEST DECORATIVE FINISH AWARD!
Back to Navigation
Our Stories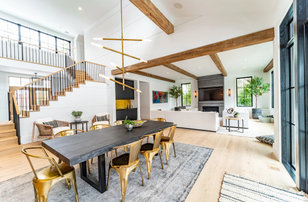 Sponsored story
A New Jersey concrete expert provides tips for using the latest in concrete composites
Item 1 of 1
Back to Navigation
Back to Navigation
Credentials
5 Houzz Awards
7 Houzz Badges
Back to Navigation
Featured Review
My countertops are a solid, impressive, sleek and flawless work of art. They are a statement and a conversation piece for everyone who comes over.
Read Full Review
Write a Review
17 Reviews for JM Lifestyles
I am so thrilled with my countertops, they are beautiful! The whole team at JM Lifestyles is great to work with, they are super friendly, professional, and they did a wonderful job. I felt like I was taking a bit of a risk - on the concrete (just bcz I don't know anyone who has this) and with a company that I was not familiar with. But I couldn't be happier, from the moment we walked into their showroom until the installation, it's been a pleasure working with JM Lifestyles. I will definitely recommend them to my family and friends. Thank You!!

Comment from JM Lifestyles:
Thank you so much @wendy it was so great working with you and we are so happy you had such a great experience. We appreciate that you believed in us and took the risk, it is because of clients like you that we get to be a viable business that has been around doing what we love for 13+ years! Thank you thank you thank you!

A pleasure to work with everyone at JM Lifestyles from office staff to templater to installers!! My client and I are very pleased with the product and installation!! Can't wait to work with them again on another project!!
My countertops are a solid, impressive, sleek and flawless work of art. They are a statement and a conversation piece for everyone who comes over. I am a big time cook and my kitchen takes a daily beating but you would never know it by looking at the counters. They are breathtakingly beautiful, heavy, and resiliently impervious to abuse. This was the only way to get a solid giant slab without having an ugly seam down the middle of my giant kitchen island, so I went with it. Boy, am I glad I did. Jeff, Michelle, and their team worked effortlessly with me through various construction hiccups. Luly, Angela and the installation team (Darren and Chris) provided truly personal and unparalleled customer service. I am recommending to all my friends.




JM Lifestyles is a true leader in our industry. With cutting edge products and an absolutely amazing eye for design, they continue to push the limit of creativity while upholding the highest quality in the industry. It's always a pleasure to work with them and look forward to the next opportunity. Alan


I worked with J&M Lifestyles on a custom countertop / sink on a project this past year, and am working on another currently. I provided some garden cuttings which they cast for the front of the sink for a truly special detail. They were a pleasure to work with, great collaborators, and timely. The photos speak for themselves. I look forward to working together in the future.



Oasis Home by NLM Design Interiors
I have worked with JM Lifestyles since 2008. Projects are high end and the results always exceed expectations of myself and the client!



David Lawrence Brown, AIA
I'm an Architect that designed an indoor/outdoor Bar requiring a Stone Fabricator to work out of the box. After weeks of deliberating, I gave Jeff a call to see what he could offer the project. From that point we got back on course and finished on time for the Clients big Summer Party. When your in a pinch, that's when you get to know who the Professionals are.

JM Lifestyles have worked with Showcase Kitchens on many projects. They always create custom surfaces that are unique with just the pizzazz our clients want. Michelle, Jeff and the entire team are courteous and professional. We are pleased to recommend them every chance we get.


Great job on the counter tops! These were very large island counter tops with allot of variables and the job came out great.



Kenneth Davis Lux International
Jeff and Michelle are a wonderful company to work with. They are very responsive to our designs and interactive with various techniques in order to make our designs better than we conceived of. They never say NO, It can't be done, but instead find ways of making things work which is one of the things that we love about their company. No job is too small or too large and they are completely responsive to any and all questions. They don't settle for anything but the best. We have worked with them on several projects and we and our clients are very satisfied. You will not be disappointed.

JM Lifestyles never ceases to amaze me. With the advent of Concrete Wood and the many custom styles and designs that fill J&M Lifestyles portfolio, they are always pushing the boundary of concrete and what is possible. While many concrete countertop fabricators attempt to create standard simple and regular countertops, J&M Lifestyles look outside of the box and offer inspiring original works of art.




Anna Marie Fanelli - Floor & Decor
My Stone Tile & Plumbing Studio has worked with JM Lifestyles on a number of my clients' projects. Their product and professionalism is excellent . All our clients are very happy with their product.

Basically, the way I experienced it was we were going to look for countertops. For something like traditional granite, someone told me to research my specific concrete. I found J&M and went out to their shop and from there is was no holds bar. We custom designed everything in my kitchen and when you use them your stuff isn't going to look like anything else. J&M is like an artist, he creates things by working with you and he has great ideas and it was just the best experience. We ended up refinishing the kitchen and that spiraled to doing the laundry room with my kid's bathroom next, and finally the countertops outside my house. I really enjoyed how they thought outside the box and solved a lot of problems by offering lots of great suggestions.
J&M were helpful, professional, did an excellent job, and I am very pleased with the end result. They did everything on a timely basis, easy to work with, and accommodating. J&M Lifestyles will make great suggestions and do what you ask them to do, so they were excellent.
The thing I enjoyed most about working with Jeff and his team was that he's very collaborative. I had a lot of ideas about what I wanted, some of which were good and others not so good, but he was good at catching onto my vision and helping me realize it. The actual projects themselves fulfilled my visions more and turned out better than I was expecting. I knew the project would turn out good, but I didn't expect it to turn out as stunning as they did. At the end of the day both were artistic pieces so a lot of the value comes from the execution and how wonderful it looks in your home. Very surprising in a welcomed way!

I have completed 2 projects with J&M. A modern minimal floating cast concrete vanity and cast concrete fireplace surround. They were very precise in their finish rendering, and offered me several different finish option on sample panels for the fireplace and color matched my tile floor exactly with for the floating vanity. The pieces came out exactly to spec and their staff and installers are very knowledgable and professional. Both me and my client were thrilled! I look forward to working with them again.



Sub-Zero, Wolf, and Cove Showroom Manhattan
We have worked with J&M Lifestyles on a number of projects as well as partnering together in trade shows. Their custom made concrete countertops are so different and unique. The detail and craftsmanship is exquisite. You get the wonderful look of natural wood or stone with the durability of concrete, making it pair especially well with Sub-Zero Wolf outdoor products. Jeff and Michelle are great to work with and we have welcomed them as part of our Sub-Zero Wolf family; we both have the same values when it comes to our customer service, we will go above and beyond to give our customers a high quality product and one of a kind attention. We are looking forward to partnering together again this year at the Architectural Digest Home Design Show in NYC!


Back to Navigation
Back to Navigation
| | |
| --- | --- |
| | JM Lifestyles |
Typical Job Cost $1,500 - 100,000.00+
Due to the custom nature of our projects and varied size our projects range. Please email or call for details. We look forward to working with you. Michelle@jmlifestyles.com