About Us
Oakland County's Expert Tile & Stone Design Specialists
Visit us in our Troy, MI showroom, now open by appointment! Our experienced designers will walk you through our natural stone and tile options in a free design consultation. At Realstone Systems, we offer limitless design possibilities with the largest stone veneer product line in the industry. We are an international leading supplier of high-quality, innovative, and affordable natural stone products and unique cladding offerings. Our unique tile offerings include handmade glass mosaics, marble & brass mosaics & field tiles, reclaimed wood panels, glazed & leather tiles, and vitrified ceramic tiles. We also stock masonry and setting materials so that we can offer complete solutions for your space. INSPIRING. TIMELESS, ENDURING.
Services Provided
Stone Sales, Tile Sales, Stone Veneer Sales, Outdoor Kitchen Stone, Pool Tile Sales, Glass Tile Sales, Exterior Stone Cladding, Outdoor Living, Marble Tile Sales, Backsplash, Kitchen & Bath Tile, Masonry Supplies, Grout & Setting Materials, Hardscapes
Areas Served
Auburn Hills, Berkley, Beverly Hills, Bingham Farms, Birmingham, Bloomfield Hills, Center Line, Clawson, Clinton, Clinton Township, Detroit, Eastpointe, Ferndale, Franklin, Fraser, Harper Woods, Hazel Park, Highland Park, Huntington Woods, Lake Angelus, Lathrup Village, Macomb, Madison Heights, Oak Park, Pleasant Ridge, Pontiac, Redford, Rochester, Rochester Hills, Roseville, Royal Oak, Shelby Township, Southfield, Sterling Heights, Troy, Utica, Warren, Southern Michigan, Metro Detroit, Throughout the U.S.
Awards
MIA Certificate of Recognition: 2013 Company with the Most Presentations MIA Educator or the Year 2016- National Association of Home Builders 2009 Green Building Award Realstone Systems can be used for LEED Certification Credits
Back to Navigation
Our Stories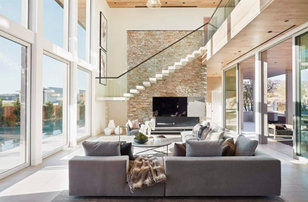 Sponsored story
Detroit-area designers explain how to showcase natural stone inside and outside your home
Item 1 of 1
Back to Navigation
Back to Navigation
Credentials
8 Houzz Awards
6 Houzz Badges
Back to Navigation
Featured Review
Excellent stone panel system with the highest quality selection to of stone pieces to make up the panels. Don't use other lower cost system you will not be happy.
Read Full Review
Write a Review
21 Reviews for Realstone Systems
Excellent stone panel system with the highest quality selection to of stone pieces to make up the panels. Don't use other lower cost system you will not be happy.
If you are on a timeline don't use this company! We are in San Diego and we were told we would receive our stone "5-6 business days after payment was received". Unfortunately the stone was not delivered for 3+ weeks after it was ordered and paid in full. Pick up of the stone via Road Runner services wasn't even requested until 8 days after payment. There were some understandable weather delays, but Road Runner Services were a disaster and nobody at Realstone Systems was willing to take responsibility. They communicated that they don't have influence over the shipping service and they are not able to refund the shipping fees. Road Runner gave the stone to a local delivery company who typically only does deliveries in our area one day a week. The delivery was finally scheduled and we cleared a 5 hour window to be home to receive it. On the morning it was scheduled to arrive we were called and told that the delivery had to be rescheduled because there was not room on the truck for the stone. We were told it couldn't be delivered for another 4 days. We contacted Realstone Systems and were told that there was nothing they could do. We tried to call "Communications Manger" Randa Batshon from the review response below and apparently she does not work at Realstone Systems any longer. If you call their main number and wait to leave a message for customer service, you cannot. Four days later the shipping company again missed the delivery window. They did delivery the stone but is was about 9 hours after the window. When the stone arrived the order was not correct. There should have been a box of conners but these were not included and there was an extra box of flat panels. We went ahead and install the stone without the corners (the installers made corners out of the flat panels). The quality of the stone seems good.

Comment from Realstone Systems:
We apologize that your experience with us left you disappointed. Unfortunately, the stone ordered for this project was stocked in our Troy, Michigan warehouse and was shipped out via our third-party carrier during a snowstorm. We were not able to control the lead time once the product left our warehouse and the storm created additional delays. We apologize for the delay this caused in your project and have refunded the corners that were left off the order. We strive for each experience to be wonderful and this one fell below that. If you'd like to discuss your experience with us directly, you can always email us at marketing@realstone.com.

Rubner's Nursery & Landscaping
We used Realstone Systems Rough Split Face Latte Ledgestone on our Lakeside Outdoor Pavillion project and it turned out amazing. The homeowner originally wanted cultured stone, but once we showed her this product, she was sold. Our sales rep, Denny Austin was great!



Relationship
Product Dealer
Realstone Systems makes amazing product! There is nothing out there quite like thier product. They have really thought about every appliacation with a robust product line that is sure to fit any project design aesthetic. They are a wonderful company to work with. They are always there to answer technical questions and help with design ideas. We have used their stone on multiple displays in our showroom and those displays are by far our customers favorites. Our customers have loved the realstone products they have purchased for thier homes! We would highly recommend realstone systems for your next project!
We used this company in a number of rooms when building our home. The last time we used them was extremely disappointing. Visited two distributors that carry it and both had outdated pricing information. Not their fault. Realstone realized there was a problem, yet did nothing to compensate for their errors after we were quoted. Poor business practice and poor customer service.

Comment from Realstone Systems:
Thank you for your review. We strive to provide our customers with exceptional service and I apologize that you were disappointed with the service you were provided. I would like to hear a bit more about your experience. Please contact me at rbatshon@realstone.com or by phone (866)698-5066.

Thank you,
Randa Batshon
Communications Manager
Extremely helpful and products are amazing! White birch honed fireplace...pics to follow soon! Terrific customer service with quick response :)

Peninsula Building Materials
The stone from Realstone Systems is beautiful, refined and elegant. Their collection fits beautifully with ours and it is a pleasure to share it with our clients both professional and residential. The profiles are very diverse and blend well with contemporary and modern architecture as well as a more traditional aesthetic. Their colors are pure and rich with textures that provide shadowing and depth creating a timeless quality to each of the stone pieces. Realstone Systems staff and our rep Patrick Tuel, are complete professionals, knowledgeable of their products, responsive to our commitments and are very mindful of the intricacies of dealing with schedules and deadlines. Thank you Patrick!

Minnesota Brick & Tile Co
I couldn't be happier with the Product or the staff. I have had the great pleasure seeing both bring a smile and a sense of accomplishment to any project no matter how big or small.

Brighton Stone & Fireplace, Inc.
We have been a dealer for this great company for about three years now. Being a family business, we have prided ourselves on quality services & quality products. In saying that, Realstone Systems lives up to all of our expectations & for the most part, always has the product ready for us when we need it or are fairly accurate in the lead times they tell us. Definitely a company we would recommend & a product we sell to our customers knowing they will be completely satisfied! Luke, Brighton Stone & Fireplace
Relationship
I used a product from this company and installed with help from a contractor
I found the Realstone Ledgestone will searching on Houzz for backsplash ideas. I wasn't sure what I wanted when I started looking, but when I found someone else had posted some photo's of their kitchen I knew that was the look I wanted for my house. I have a new house in on a rural wooded lot with a lot of natural stone inside and outside of the house so this ledgestone fit well. The quality and look was far superior to anything else I found. I wanted real slate stone and not a manufactured product. This was far more cost effective than having someone locally cut stones individually which would have been more more expensive. The installation was made easy by the 6in x 24in panels already glued together. I had some challenges in making outlet covers fit, but this was cured with a dremmel touching up some high spots. It turned out perfect! The other thing I would like to point out to someone looking at this product is to definitely upload a picture of your project area and use their simulator. It was amazing how incredibly realistic this works, and helped make my decision as to which stone to go with. I had some questions and one of the company reps got back to me right away and even sent me some sample photos of another job and mailed me a sample to hold up to my cabinets. Great service and an excellent quality. Guests to my house are amazed at the look we achieved in the kitchen with this product. I plan to try and used this on a wall in a bathroom possibly in the future.





Stone veneer is completely unproven outdoor application. We installed the product on our house 5 years ago and had professionals install. After 1 winter the product started falling off the house. The company blamed the installer when all the published installation instructions from realstone system was followed. The company did nothing to help, they said there was nothing wrong with the product. They marketed the product to be installed outdoor saying there are no issues while they knew there were issues all over. The entire stone $40k worth of work had to come off the house. I had to absorb the cost. They recommended a real professional installer and used a different approach. This is a masone that RealStone system told me to use. Guess what, the next year....same problem. Now Realstone won't even return my call or email. I have paid for installation twice (70k investment) and the stone is still falling off my house. My house has depreciated the value of what it would take to replace this and realstone system says there is nothing wrong with the product. They are right, nothing wrong with the product, but the product is useless, use some REAL products using the old fashion way, it's cheaper and proven. Do not buy this product, the company will do nothing to help you if you have issues.

Comment from Realstone Systems:
Since 2006 with thousands of beautiful installations across North America Realstone Systems has prided itself on top quality products and customer service. We handle each customer issue with great care and diligence and stand behind our products. Mr. Lantaigne's issue was directly addressed by Realstone management with extended communication and multiple site visits. An investigational masonry engineer was retained by Realstone to examine Mr. Lantaigne's project and he determined that the installation failure was due to improper installation, not an issue with the Realstone product. In keeping with our brand vision of delighting customers, Realstone provided replacement product at no cost to Mr. Lantaigne. We regret that Mr. Lantaigne is not satisfied with the outcome.

Realstone is a great resource for natural stone veneers and stone flooring. It's beautiful, very versatile, easy to install and can be used anywhere in the interior and exterior of your home. Their large selection of products can also be used in almost any application and design style for an added design touch. Their customer service is excellent and we look forward continuing our business relationship for many more years. And, we get good reviews from our tradespeople in the field as it it's easy to work with. We highly recommend their product.

Good product, it is easy to use and install. Just wish one could stack it so the lines don't show.
Relationship
Received an estimate
I've been working with Realstone Systems to get an estimate for my kitchen back splash and fireplace. They have worked with me all the way from choosing the proper stone kind to work in my home, colors that will match my room and how to install it myself and take proper care afterwards. I have looked at a couple different companies but Realstone has blown me away with their amazing customer service so I am absolutely going to choose their product for my home.
For many of our commercial interior design projects, Realstone is a go to product because of the quality, price, style, and customer service we receive every time we use it. Our contractors love it too since it is so easy to install. The variety of coordinating trim pieces that are available have been a lifesaver on many occasions with tricky applications. Since there are so many colors, styles, and profiles offered in Realstone Systems' product offering, we can always find a perfect fit for one of our corporate, hospitality, or senior living projects. We have been so pleased with Realstone, that my coworkers and I have used it in our own homes and recommended it to family and friends who want an designer's tried and true suggestion.
We have installed Realstone in four areas of our home. These include a fireplace and bar, exterior, and outdoor fireplace. The installation, service, and products are top quality.

Relationship
Have looked into their company and work in the past.
This company has always been consistent with the quality of their work. You simply need to see the photos here showcased on HOUZZ. Beautiful, contemporary, and functional.

Relationship
Extremely Satisfied Customer
I recently renovated my bathroom. I replaced the floor, wall covering, Lighting, vanity and sink. I used Realstone Systems Stacked slate for the walls and the results were incredible! I was worried that it would be difficult to hang the stone from the wall and was amazed with how easy it was to put up. I would recommend them to anyone looking to put natural stone on their walls or floor. You WILL be amazed by the end results!



We love using this product in our customers homes. Everyone who comes into our showroom asks about Realstone Systems and wants to incorporate it into their desgns. Their customer service is excellent and the products are readily available.


I specify and install all of Realstone Systems product line. Their stone panel system is of very high quality and they have a larger variety of colors and textures compared to other suppliers. Customer service is the best of the best. look no further for your stone veneer needs than Realstone Systems

Relationship
We purchased and installed real Stone ourselves.
Last summer we decided to remodel our kitchen so we worked with Maze Lumber in Peru Illinois to come up with a perfect kitchen for us. While there we spotted Realstone and knew it would be perfect for our renovation. The staff at Maze made sure we had all the correct material to install the Realstone. We did all but put the counter top in ourselves and working with Realstone was one of the easier projects we did! We would recommend it to anyone wanting something unique and beautiful in any room of their home! We get endless compliments on our kitchen and it's definitely what stands out to them the most. We love it so much that we are using it in our current bathroom remodel.



Back to Navigation
Back to Navigation
Contact Realstone Systems
| | |
| --- | --- |
| | Realstone Systems |
1170 Souter Street
Troy, MI 48083
For pricing, please email sales@realstone.com