Get Matched with Local Professionals
Answer a few questions and we'll put you in touch with pros who can help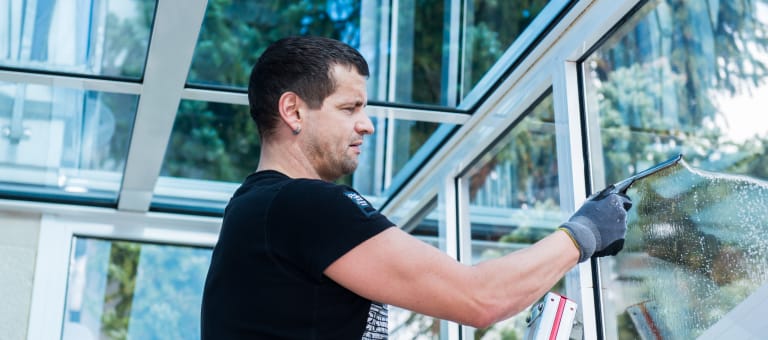 Window Cleaners
Who they are
Expert washers with the tools and knowledge to clean windows high and low.
Why you should hire
Cleaning windows — especially second-story windows — is no easy feat. Don't stress; hire an expert for a clear, streak-free cleaning.
Need help?

Get instant recommendations

Select your project type, answer a few questions, and let Houzz connect you to pros right away
It's easy to become used to the dirt and grime that build up on the surfaces around your home, especially on windows. It slowly accumulates and your eyes start to adjust to the slightly blurred view, and by then it feels like a giant task to get them looking like new again. Let the pros handle the momentous, and potentially dangerous, task of cleaning your windows. When you're ready to see things clearly again, contact your local window cleaners in Birmingham, AL for a new view.
What do professional window cleaning companies in Birmingham, AL do?
Window washing services are properly equipped with all of the tools and equipment needed to tackle any filthy window, inside and out. They meticulously detail the entire surface of the glass and the surrounding area, like the sill and tracks, until they're so clear you'll wonder if there's anything there at all! Window cleaners in Birmingham know the best, and safest way to reach every window in your home, whether it be ground level or several stories up. Just know that the higher the window the higher the price you'll pay. Not only are they more difficult to reach and clean, the task becomes less safe the further you get from the ground. Much like house cleaners, professional window cleaners prefer to come to your home on a regular basis so dirt has less time to settle in and the job becomes quicker (and cheaper!) than a one-time deep clean.
Questions to ask prospective Birmingham window cleaning services:
How do you charge for your services? (by time, number of windows etc)


What type of cleaning products do you use?


Is your business licensed and insured?


Do you offer any additional services?


Find local window cleaning companies in Birmingham, AL on Houzz.
Narrow your search in the Professionals section of the website to Birmingham window washers and request a quote from one or more in your local area.
Find window cleaners near me on Houzz
Before you hire a window cleaner in Birmingham, Alabama, shop through our network of over 6 local window cleaners. Read through customer reviews, check out their past projects and then request a quote from the best window cleaners near you. Finding window cleaners in my area is easy on Houzz.