About Us
A leading global manufacturer of windows, doors, and treated composite trim and panels. Founded in 1960, JELD-WEN is a global manufacturer of custom windows and doors. You can find JELD-WEN products at local window and door dealers, and through national home centers. Headquartered in Charlotte, North Carolina, our company emphasizes cooperation among our employees, facilities, suppliers and customers. Today JELD-WEN employs approximately 21,000 people worldwide and has manufacturing, distribution and showroom locations across the United States and in 24 countries, located primarily in North America, Europe and Australia.
Services Provided
Window Replacement, Window Sales, Interior Doors, Exterior Doors, Patio Doors
Areas Served
US, Canada, Europe, Australia
Awards
GREENGUARD Certified NAHB Green Approved Certified Recycled Content SCS Global Services Green Building InitiativeTM Green Building Council® Members of the National Association of Home Builders, Indiana BA, and HBA of Kentucky Best of Houzz 2017 & 2018 Design Awards
Back to Navigation
Our Stories
Sponsored story
Opt for more than the average door with these design ideas courtesy of Jeld-Wen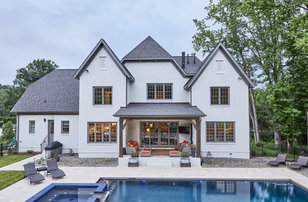 Sponsored story
Learn how wood offers both timeless beauty and innovative durability from Jeld-Wen
Item 1 of 2
Back to Navigation
Back to Navigation
Back to Navigation
Write a Review
12 Reviews for JELD-WEN Windows and Doors
Our large order of windows and sliding doors for our house build were delivered with broken panes, missing parts, scratches, clogged drainage holes and more. This was January of 2019 and still the windows have not been replaced or fixed. Several meetings set up with JELD-WEN reps have been cancelled by them at the last minute, again just this week. Phone calls are not returned. They have ignored our project for eleven months. Is this the type of company attitude and quality control you want in your window manufacturer?
Relationship
I bought doors for my project
I bought a Jeld-Wen sliding glass patio door in July for a guest house on my property in July of 2019. As of today, October 9, I still don't have the lock for the door - I've been ordering from Jeld-Wen it since the beginning of September and though they have told me many times that the order has shipped - I still don't have it! I wish I had never done business with this company and never would again. I have talked to the customer service and they are complicit in saying "it's on the truck" and you'll have it next week. I still don't have it - haven't been able to open my business until I have a key to the door! I am a very unsatisfied customer!
I'm in the process of replacing all my windows in our house and buying them through they had some Direct replacement windows in stock and I had to custom order the rest three just came in and love them the third one is a side slide fit perfect so I measured correctly the only problem I have is the last one had glue all over it and I had about an hour cleaning it that was the only disappointment I have had so far. I do have five more on order and I hope they come in cleaner.
Installed 2 jeld wen double doors. 1st door came in wrong size and a defective window. Jeld wen replaced door for right size and paid for reinstall. Replaced the foggy window. The second door now has fog in both windows. Jeld wen requiring copy of receipt to replace windows in second door. I have provided batch info and pics but can't locate receipt. I cannot recommend Jeld wen due to my bad experiences.

We've been an elite dealer of Jeld-Wen Windows & Doors for many years now and are thoroughly pleased with what their partnership has brought us. Jeld-Wen is always innovating and has been committed to providing the highest quality products to their customers. Their windows and doors are the clear choice for every homeowner.
We bought 28 new windows and doors for a remodel job. 12 units were defective in construction or glass quality. Three doors had a defective primer that wouldn't accept finish paint, although the others took paint fine. Jeld Wen produced quality product when I used them in the 80's - 90's. They consistently produce a poor quality product now. They even kept sending us defective replacements! Can not recommend this company in any way.
Held-wen windows I had 13 windows and all leaked in some way. The worst one was replaced with with one that leaked enough to blow out a match.. they leaked around he glass. The meld wen company said they would send out some one to caulk the window for almost 200.00. Just think what the windows woul look like. It seems like the only one hat like these windows are the.installers

Younger Brothers Door and Trim
We have done business with Jeldwen for decades now. They are a top notch company with high quality products and outstanding service. They offer a wide variety of products. We offer their full line including Exterior Doors, Interior Doors and Windows.

Jeld Wen is a good resource for entry and interior doors. We especially appreciate the high quality of their Aurora Fiberglass doors.

Mansion Windows and Doors
Relationship
We use Jeld-wen often
JELD-WEN Windows & Doors delivers on both quality and style. JELD-WEN is a design innovator; I know I can always rely on them to find unique styles even before they become industry trends.

Associated Building Supply Inc.
Associated Building Supply Inc and Jeld-Wen have had an amazing relationship for the past several years. JELD-WEN is a comprehensive source for reliable wood, vinyl and aluminum windows and patio doors. Associated Building Supply is JELDWEN's number one Window & Door dealer in the State of California. Since 2003 JELD-WEN has marketed its 27 former window and door brands under the JELD-WEN brand, and its reputation for reliable products and customer service is spreading through marketing, advertising and satisfied customers. This is why ABSi has been so loyal and so successful with the brand.
We've had a terrible experience with JELD-WEN and their products. We purchased about $75,000 of new JELD-WEN Siteline windows and sliding glass doors for our new house under construction. The windows were installed in summer of '14. When we got our first significant rainstorms in December, we discovered that there were horrible window leaks - a full half of the windows had leaked! We had doubtlessly been sold a defective batch of windows. After the leaks, we closely inspected the waterproofing on the windows, it was obvious that window weather-stripping was poorly applied and sealed. Weather-stripping had large unsealed gaps at the mitered corners, and was not sealed to the frame. JELD-WEN technicians came onsite to leak test the windows, and every single window they tested failed by leaking water. We also discovered that the mulled windows - which comprise the majority of the windows in the house, did not have a performance rating. Aside from these unrated windows not being compliant with California Building Code, JELD-WEN would only allow them to be tested to the minimum performance grade spec (PG15), which is hardly befitting of the pricy custom windows. So far, it's been several months, and we have been unable to get JELD-WEN to do the right thing. I would not recommend JELD-WEN products.




Back to Navigation
Back to Navigation
Contact JELD-WEN Windows and Doors