Born in Sao Paulo, Brazil, Juliana has turned a background in film production, and an interior design education (she's an NKBA Certified Kitchen & Bath Designer®), into a successful practice designing new residential construction and major renovation projects. Specifying and sourcing large quantities of installed products, from lighting to tile to cabinetry, Juliana relies on Houzz Pro to manage complex projects entirely herself, and ensure the client experience she provides is top-tier. 
The Challenge
Juliana faced dual challenges before using Houzz Pro: building her clientele and brand, and finding a way to efficiently manage large, complex projects and high-volume orders as a one-woman show. 
"I do everything myself. I put together quotes and orders and mood boards. I do a lot of big lighting orders for whole houses and I would have to go online and get the pictures and get the measurements and make my own boards and it would take forever, truly a whole day." 
"For the kind of work that we do and with so many specifications of so many different things and different projects, it's hard to keep track of everything. You want to avoid miscommunications with clients and vendors. You need to get paid, but you want to avoid having awkward conversations with clients."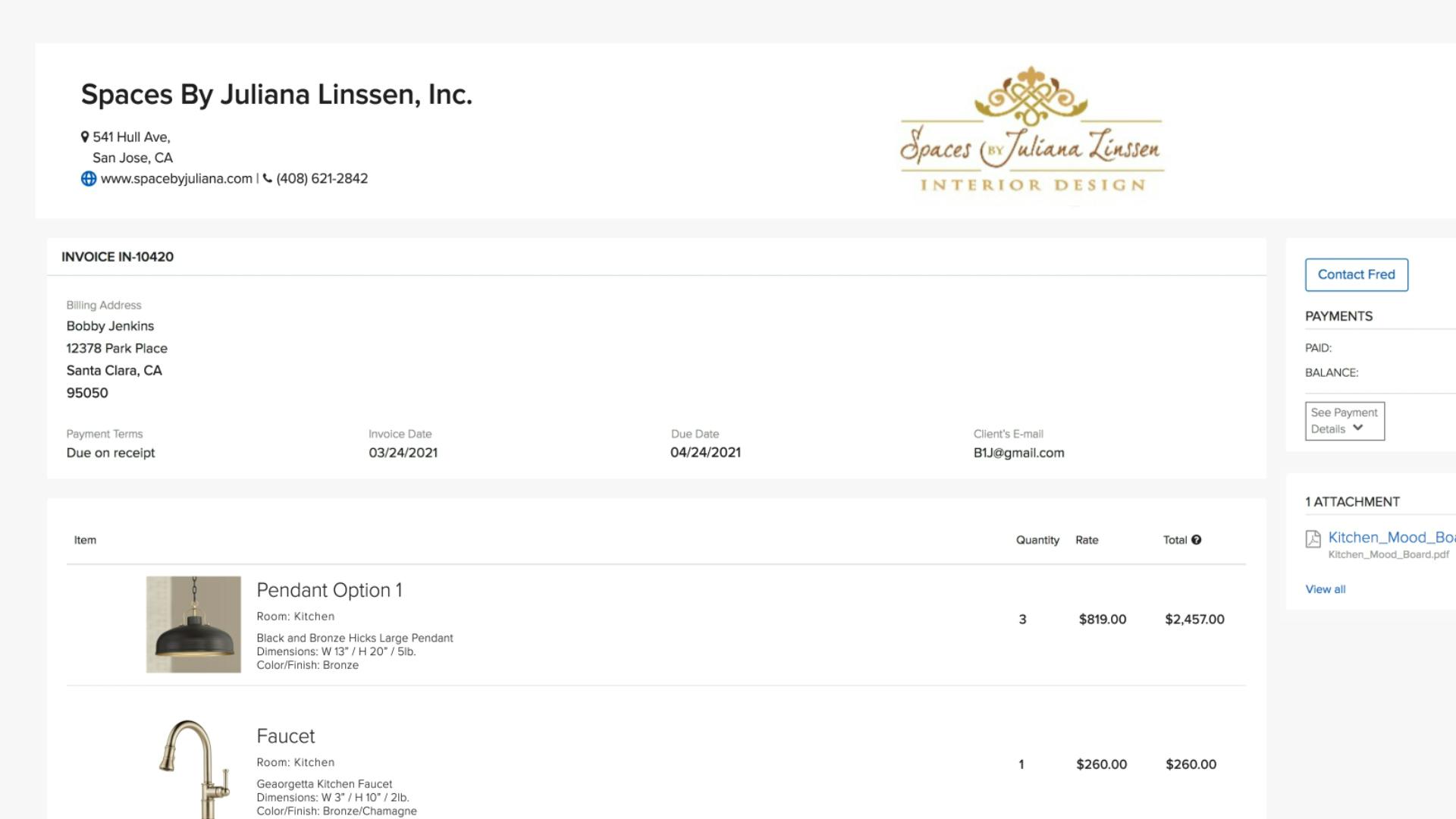 The Solution
Sourcing at Scale
Juliana knew she needed a better way to work quickly and efficiently when sourcing such a large number of installed products for both remodels and new construction, including 6,000 square foot homes. "I went to a seminar and that's when I realized Houzz Pro would actually help facilitate a lot of the leg work that I was doing putting together my proposals and my purchase orders and make my life that much easier. I also don't have to worry about having to get an assistant for doing that kind of work for me. What used to take me a day now only takes an hour." 
Houzz Pro sourcing tools also help give Juliana great visibility into her markup opportunities. "It's also very easy for me to also figure out how much my cost is, and how much I can sell it for."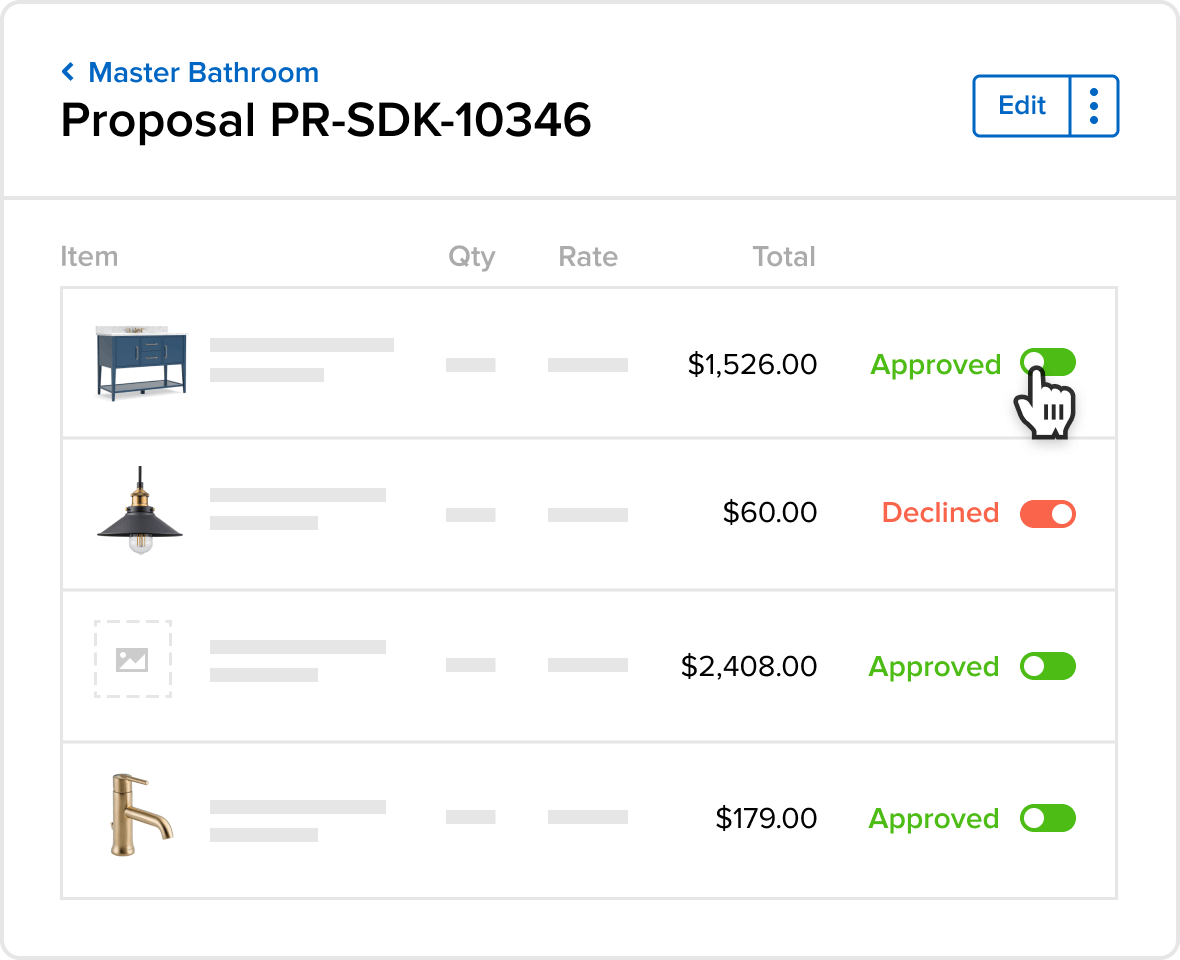 Creating Professional Presentations
Juliana relies on the Houzz Clipper for sourcing and to build her product library, so she can easily pull together beautiful, visual proposals for her clients. 
"For this profession, everything is visual. The client needs to understand the look, and I am able to put everything together so they can see exactly what they are getting. With Houzz Pro, everything looks very professional. You can see the pictures of each item. You can see my logo. You can see the pricing."
"Before COVID I would go to showrooms with clients and look at materials, then I would present what I recommend through Houzz Pro. With COVID Houzz Pro tools became even more useful. Everything is online so sometimes I don't even go to showrooms, I just present everything directly through Houzz Pro."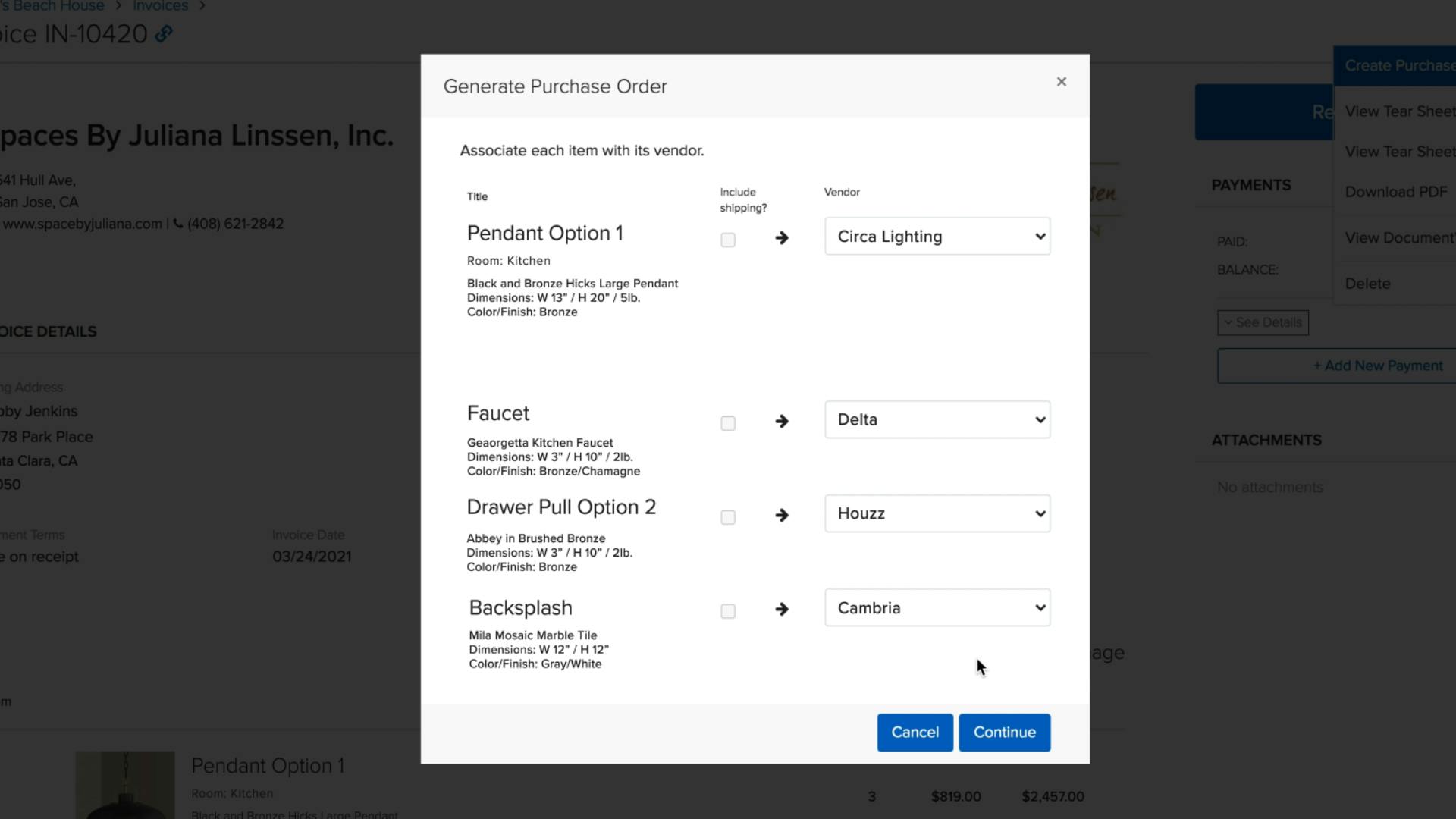 Ensuring Orders are Correct
Juliana loves having electronic approvals by clients built into the proposal process on Houzz Pro. "It definitely gives you peace of mind that you know exactly what they approved, so there's no miscommunication or question of 'Oh I didn't want that product'. It's very clear for both me and my client.
To stay profitable and keep clients happy, having an electronic paper trail for Vendor POs is just as important to Juliana. "When you get the approval on the proposal, you can then automatically create a purchase order because the exact same product information is going to go to your vendor. When you input the product information you input the vendor information as well. So it's very streamlined and easy to make sure that the product that's being ordered is the correct one."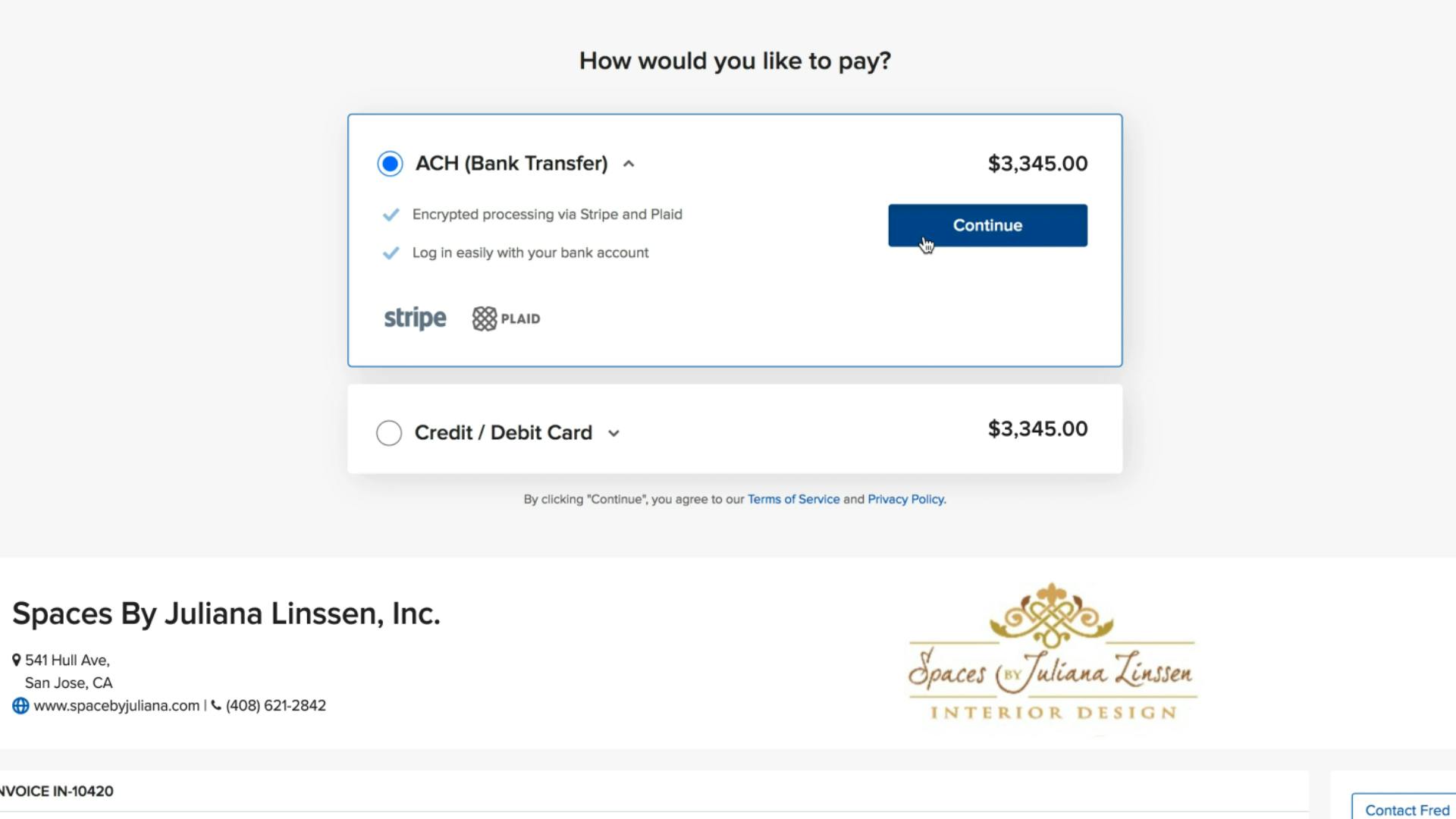 Managing Cash Flow
Staying on top of finances and accounting is complicated for any project, and particularly for those that are large and complex. "Houzz Pro really helps me streamline how I get paid and how the whole process of design time payments and accounting. I take a retainer when I first get hired, so clients know exactly how many hours they use for my design time and I can apply the retainer to it."
"Clients really appreciate the option to pay for bills electronically, especially with COVID. The money goes via ACH straight into my account. Billing clients can be an awkward situation, but doing it online it's easy because they just get an email to click a button, so you're not physically having to ask for money."
"My bookkeeper loves having the integration between Houzz Pro and QuickBooks. It makes it easy for me because it's easy for me to send the bills to get paid and then for my bookkeeper to get all the information that she needs."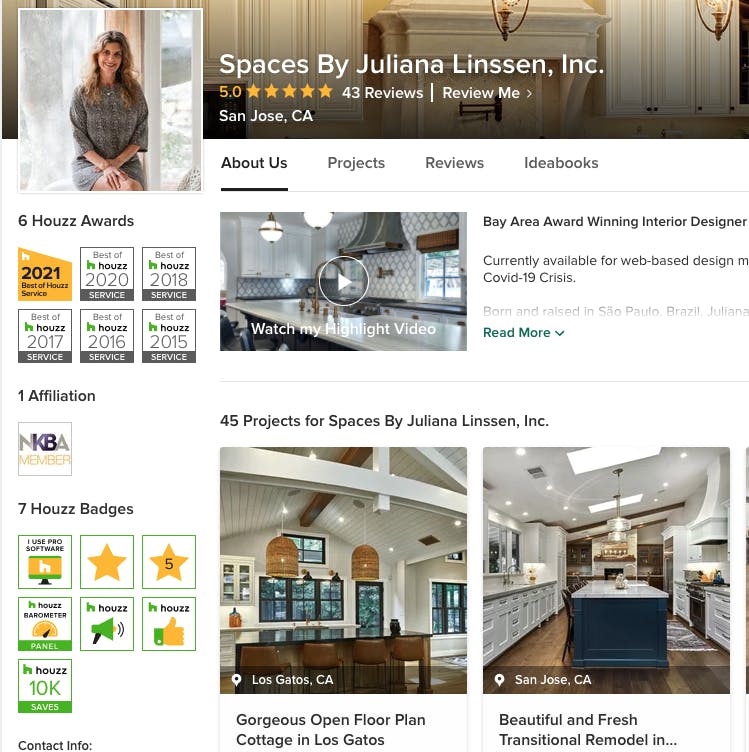 Building a Great Client Roster
Juliana built her initial clientele with her Houzz presence and seven years later it continues to yield great projects and build credibility. 
"I created a profile on Houzz when I started my business in 2014, and it was a good marriage. It really helped me get projects and build my business from the beginning. The first 3 years, 80% of my business came through Houzz. Fast-forward seven years: I still get good leads and projects including many notable projects. People see my pictures on Houzz and say they really like my style. Sometimes clients put a bunch of pictures in their ideabooks and they realize they are putting all my pictures into their ideabooks and contact me. It really helps that people can see your work."
"I'm active on social media but I've never had anyone say 'I found you on Instagram'. I hear 'I found you on Houzz.' I have a lot of positive reviews and I send the link to my reviews on Houzz to potential clients and it's an easy thing I can use when folks ask for a referral." 
The Outcome
Juliana has been able to both build her business and run all her projects efficiently with Houzz Pro.
"Houzz Pro was definitely a good return on my investment. It's a great organizational tool, and it really helps me manage my projects and deliver a professional client experience.  It's almost like having an assistant that can do all of the busy work for you so you can actually concentrate on doing the things you enjoy - the actual design work." 
"With Houzz Pro, you don't need to spend as much time, and time is money." 
Join the conversation by commenting or asking a question below. The Houzz team reads every single comment, and we'll get back to you by email if you need us!