Just as artistic inspiration can stem from infinite sources, a passion for interior design can have any number of origins and catalysts. For some, it's the flexible nature of the industry that draws them in, or perhaps they have an interest in the arts and hospitality. For Ginger Curtis, it was a journey marked by personal struggle that opened her eyes to what she truly loved.
Curtis was one of seven children, growing up in what she describes as a chaotic household. As a child she struggled with a learning disability and suffered physical abuse from her father, and later in life she dealt with an unhappy marriage and eventual divorce. After remarrying, Curtis and her second husband, Eric, also had to endure their first daughter's battle with leukemia when she was a baby. It wasn't until Curtis herself was diagnosed with aggressive breast cancer that she found her passion for interior design — her light at the end of the tunnel. During her 18 months of illness and chemotherapy, she decided that her living space needed a change. The rest, as they say, is history.
Discovering Her Passion
This particular season of difficulty led Curtis to start thinking differently about her environment. "During the process of battling and recovering, I became aware of just how impactful my environment was on my wellness, my journey and my healing process," she says. In the midst of this awakening, Curtis became determined to renovate her entire house. "Everybody around me thought I was absolutely nuts. I was bald, pale and weighed a hundred pounds, but actually the project became the thing that gave me so much life and energy to help me during that really difficult time," she says. "The end result was a stunningly beautiful home that helped me heal, and which brought a lot of joy to my heart." 
Curtis' home project marked the beginning of a deep love for interior design, and an inkling that perhaps she could make a business out of it. She soon launched her company as "a one-man show." Today, Urbanology Designs is an award-winning firm employing four other designers, serving the Dallas-Fort Worth area and beyond. "I'm able to see now, even more than at the beginning, what my most authentic desire is in my heart," Curtis says. "It simply goes back to the longing for finding, discovering, creating and implementing beauty in whatever facet. And interior design lets me do just that."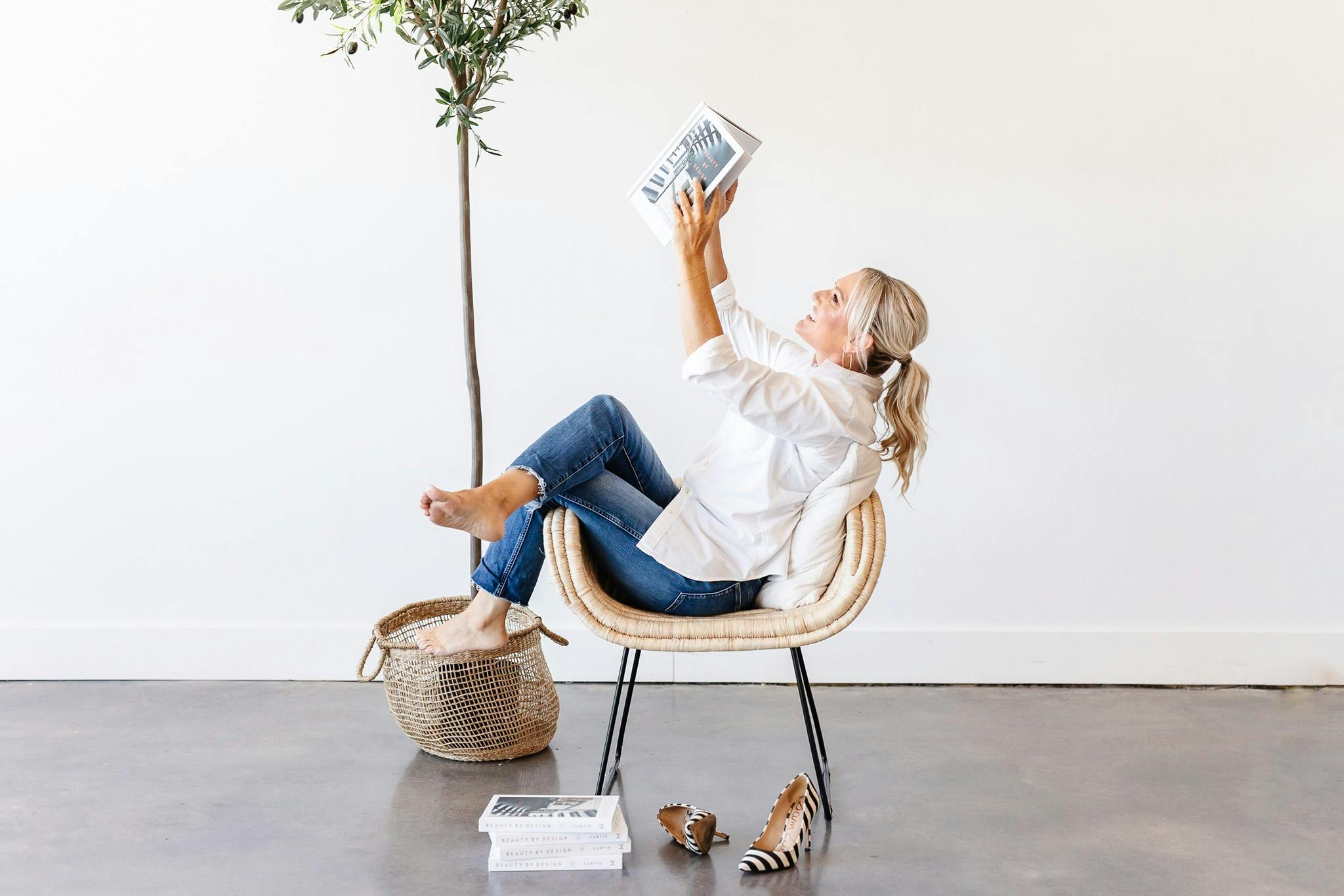 Business Workflow
Over the years, Urbanology Designs has won awards such as "Best Interior Design Firm" (Fort Worth Star-Telegram), been named among the "Top 25 Designers in Texas" (Amara Living), claimed the title of "Designer of the Year" for five consecutive years (2016-2020), and earned Best of Houzz 11 times. What's behind these accolades? 
Curtis says she owes her success to "hiring the most amazing talented designers" and "creating a really special team that's full of energy and passion and who are really more like a family than a corporate environment." 
But she also swears by a certain philosophy of customer relationship management, or CRM: "If you really are to pull off a project successfully, especially in today's world with everything that's going on, you really have to under-promise and over-deliver at every single turn." This has to do with people's expectations, she explains. "What I have learned is that people live and die by their expectations. Our job is not just to create amazing spaces that are functional and beautiful, it's also to manage what our clients expect." Curtis says that for her business, the most difficult part is both managing a team and managing the clients to keep them happy. 
Understanding your clients leads to gaining their trust, and communicating everything, even the bad stuff, helps maintain that trust, Curtis believes. Whether it's a paint splatter, scratched floor or dented wall, she and her team ensure that the client is always up to date and realistic about the timeline. "I always tell my clients there's going to be curveballs throughout the way. I'm never going to promise this flawless, perfect project. That doesn't exist and that's not the real world," she says.
Curtis also urges budding designers to make empathy a part of their business. "There's a huge component to the people side, the emotional side, the psychology of the human being in that persona that I think is really valuable to discover and understand," she says. "Or else it's going to blindside you."
Curtis' philosophy has paid off. Urbanology Designs has a five-star rating on Houzz and Facebook, and its online reviews include comments such as ​​"truly the nicest people to work with" and "an absolutely fantastic experience."
Pricing Services
While some interior designers charge by the hour or use the cost-plus approach, Curtis opts for a flat fee, because she feels that's what her clients prefer. "I'm a huge fan of flat fees," she says. "I personally prefer to agree to an overall price and to know what I'm getting, and that's exactly what we offer for our clients." Curtis says the method has been extremely successful for her firm and has enhanced its reputation.
"There's only three times where we collect an invoice and it's so structured," she says. "We get 50% [of our fee] when a client books us on our calendar and the remaining 50% at presentation. Then the huge lump sum for all the furnishings and decor, which gets wired over after the design presentation." While the pricing method is simple, Curtis says it does  "take a certain level of confidence and capability" to employ, and that you need to be unwavering and upfront.
Advice for New Designers 
In terms of her advice for designers just starting out, Curtis stresses the importance of using online tools like Houzz Pro for exposure and to help with project management. "Everything we do is incredibly visual. There are certain occupations that especially need to be on social media and on Houzz Pro," she says.
Curtis notes that Houzz Pro was instrumental in her growth when she was starting out. "I was like a little girl walking in big stilettos, and I just felt so unsure of myself at every step," she says. "It felt really scary, but I designed a room and it became the most popular children's rooms on Houzz. I was a nobody designer from north Texas, and my Houzz Pro profile instantly gave me street cred."
"We have analyzed Houzz Pro features against Studio and all of our current processes. We wanted to determine if Houzz Pro could save us time, money and create new and impactful efficiencies when applied to our processes. Houzz Pro has come out on top and we are excited to take the next steps towards an in-depth implementation," said Curtis.
Looking Ahead
Curtis is looking forward to being able to travel again with her team to complete projects throughout the U.S. She predicts the pandemic will have some lasting effects on the industry, such as companies going online and creating custom solutions for things that are stuck in the supply chain, like custom furniture. "There are going to be some really smart innovators who get ahead of it and see it as an opportunity," Curtis says. She's excited to see what that will look like and the design landscape it might create. "Personally we would love to become almost completely custom," she says. "Creating prototypes or originals actually represents more of our design philosophy, which is to give our clients a truly one-of-a-kind masterpiece. I think it's going to create new pathways that are going to change the industry as a whole." 
Like Curtis, we're excited for the future of the industry — and to see what's next for this inspiring designer.
Join the conversation by commenting or asking a question below. The Houzz team reads every single comment, and we'll get back to you by email if you need us!