Your Houzz profile gives one of the first impressions prospective clients will have of you and your business. It also acts as an online billboard, portfolio and resume all in one.
In this article, successful pros share how they keep their profile current and compelling to new customers.
"Your entire profile should be tailored to the type of customer you want. We're always updating our profile and showing off our latest projects and reviews. We want to make sure our content is fresh so when people come, they can tell we're actively working with new clients." —MORGAN TEDFORD, SYSTEM PAVERS
Curating Your Appearance
Be Personable
Your profile photo on Houzz is an important visual representation of your company's brand and using your photo, instead of a logo or graphic, helps potential clients connect with you on a more personal level. People want to connect with people. They want to picture who they are calling on the phone. If there's more than one owner or if you want to show off your entire team, that's ok. Grab a friendly snap of the entire group.
"We use our photo on our Houzz profile instead of a logo because clients feel like they're dealing with people just like them. We're a married couple and people see themselves in us. It creates a nice bond as soon as they see us. Plus, our faces are out there and it shows that we're going to stand behind the services we offer and our products." —JULIE LEHITE, KABCO KITCHENS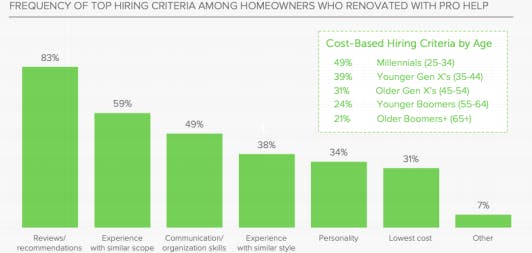 Bolster Your Reputation
Our Houzz & Home Study found that the top criteria for homeowners when deciding which professional to hire is their reviews - beating out cost and experience with design style or scope. The more reviews you have, the more potential customers can read and learn about the way you work with clients and complete projects. Recent reviews paint a picture of happy clients and an active business.
"Reviews are one of the most important things for potential clients to see when they visit our profile. When the project is finished, we always ask if they would mind doing a review and most of them agree. Sometimes we have to very politely remind them, but we always try and get new reviews." —SHARON FLATLEY, SHARON FLATLEY DESIGNS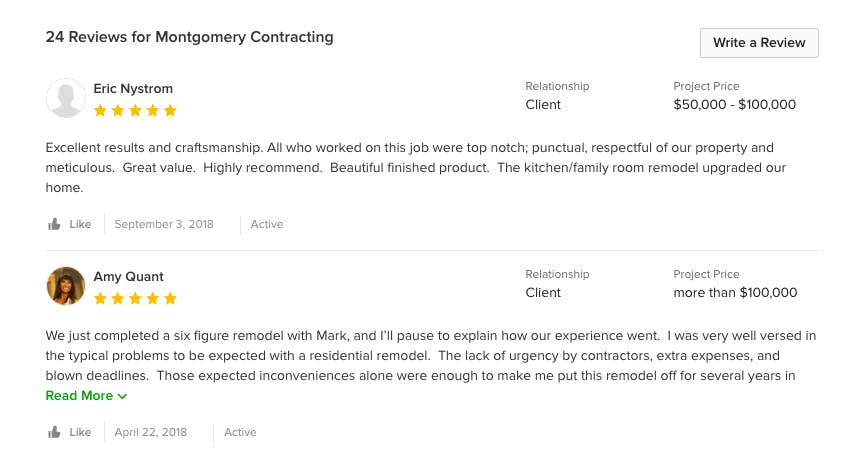 Do Your Research
Your profile should be tailored to the type of clients you want. If you're interested in finding clients interested in a certain style or type of project, post similar work first within your projects so people see that work first.
Doing a quick competitive analysis can help give you direction for building and shaping your profile:
• Use the Houzz Directory to look up competitors' services offered, styles, and typical job costs. If you see a lack of a service being offered, you could meet a need and find a niche.
• Compare your number of reviews, affiliations, and length of business description to the top pros in your area, and use that as a benchmark to develop your own profile.
• Check out Houzz research for further information on industry trends and popular styles here.
"There's another general contractor in my area who does really high-end big projects and he gets a ton of business. I spent some time with my client success manager looking at his profile and identifying some of the things that he's doing really well, and now I'm incorporating those ideas into my profile. It's my own content, of course, but if it works for him, I figure it should work for me." —MARK MONTGOMERY, MONTGOMERY CONTRACTING
Share Videos
Videos are a great way to connect with your audience because not only are they engaging, but consumers love them. Hubspot found that in 2019, video was the top form of media in content strategy, overtaking blogs, and Forbes cited that 90% of people find product videos helpful in the decision-making process.
Pros on Houzz taking advantage of this feature often share videos of their team, walkthrough videos of projects, or drone videos for new construction homes - all ways to provide a deeper and richer representation of your work than photos or text alone.
Houzz Pro members can access the Houzz profile video upload feature so you can share videos . Don't have a video? We can create a templated company highlight video for you using content from your Houzz profile. Contact sales to learn more.
Optimizing Your Projects
Update Projects Frequently
Give potential clients an idea of what you can do by showing off your projects on your profile. Posting new photos every time you complete a project will remind homeowners that you're an active professional and constantly working on new projects. More photos also makes you look like you're in high demand, allows you to show off different types of work you can do and feeds the Houzz algorithm, which gives you more organic exposure. Adding locations to your projects can reinforce that you are the go-to pro in a particular city or neighborhood.
Homeowners often spend 6-12 months doing research for their project, which means those potential clients are coming back time and again for fresh ideas and the pros that can make them happen. Plus, by uploading your photos as soon as the project is complete, you'll give them more time to circulate in the community which can increase your chances of getting enough Ideabook saves to win a Best of Houzz: Design award.
"We want different things to pop up every time someone sees us. It gives off the impression that we're familiar with the industry and familiar with trends and that we know what's popular. In addition, we added locations to all of our projects so potential clients know we work in their area so they know we're familiar with their area." —JENNY SNELLER, SNELLER CUSTOM HOMES AND REMODELING
Get Descriptive
It may be tempting to name your projects on Houzz with generic names, but adding more descriptive titles can paint a picture for potential clients and draw them in to your work. Describe the type of project, design style, and some other attribute. Titles like "Multigenerational Farmhouse Kitchen" or "Passive Energy Craftsman Custom Home" tell homeowners what to expect from the project photos and can attract those researching with a specific project in mind.
Be detail-oriented. One way to get the most out of your photos and create variety within your projects is to make sure you have both wide angle and close up shots. We know homeowners on Houzz love to see the details of your work, so make sure your photographer knows where to find them.
"I name all of my projects with very descriptive words so people can get a really good snapshot of what kind of images they can expect. I'll say 'Urban Countryside Getaway' or 'Funky Industrial Loft' instead of something more generic." —EVA HEALY, AVENUE DESIGN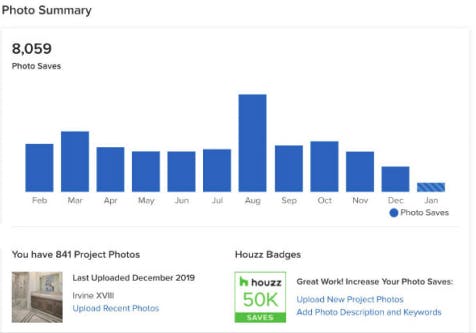 Understand Your Numbers
It can be tough to predict which photos will be most popular with Houzz users, but Houzz Pro Insights takes the guesswork out of the game. Your Insights dashboard provides an analysis of the photos that are the most popular on your profile based on impressions and saves to Ideabooks. Taking time to understand this valuable information can help you understand what catches the interest of potential clients and allows you to shape a content strategy.
"Analytics helps us figure out if there's a certain element or trend that's resonating. We'll use that information and put more of those type of photos at the top of our projects where potential clients can see them." —CATHY CHERRY, PURPLE CHERRY ARCHITECTS
Directing Traffic to Your Houzz Profile
Use a Houzz Promotion
Everyone likes a good deal, and Houzz Pro members can use special promotional banners to attract attention from potential clients. If you choose to offer a promotion, it will show up on your photo in the professional directory and on your profile. Changing your promotion on occasion can create continued interest.
"We run deals on Houzz to create brand awareness and promote consumer interaction. Our deal is that extra enticing factor that encourages Houzz users to click on our profile and learn more about who we are as a business and the services we offer. The discount is a reward for choosing us as their experts in home remodeling." —LISSETTE VARGAS, GOODFELLAS CONSTRUCTION
"Offering a deal is a great way to drive traffic, and I'll switch up the offer every once in a while to keep it fresh. I usually offer a room redesign because it's a great way to get my foot in the door and for them to meet me and see my amazing work. It's not a huge investment and most of the time it ends up bringing me more work." —TAMARA AKERS, LTB DESIGNS
Offer Answers to Design Dilemmas
Another easy way to keep your profile updated is to participate in consumer discussions on Houzz - we call them Design Dilemmas. Design Dilemmas are an opportunity for you to show the value an expert can provide, and because your helpful comments also appear on your profile, it shows potential clients how you interact with the community and what it might be like to work with you. In addition, it's a great way to get some easy appreciation from the homeowner who posted the question as well as anyone else who visits the discussion.
When you comment on a Design Dilemma, the original person who posted and everyone who commented before gets notified that you've added a comment, which can bring you valuable exposure.
"I try to answer questions at least once a week or on the weekend because I just want to be helpful. I'll look for the questions that are my specialty, like kitchens or baths or cabinets and just spend a few minutes typing out my advice. I always get a smile back or a thank you and that's nice, but I just like being helpful." —JENNIFER HOWARD, JWH DESIGN AND CABINETRY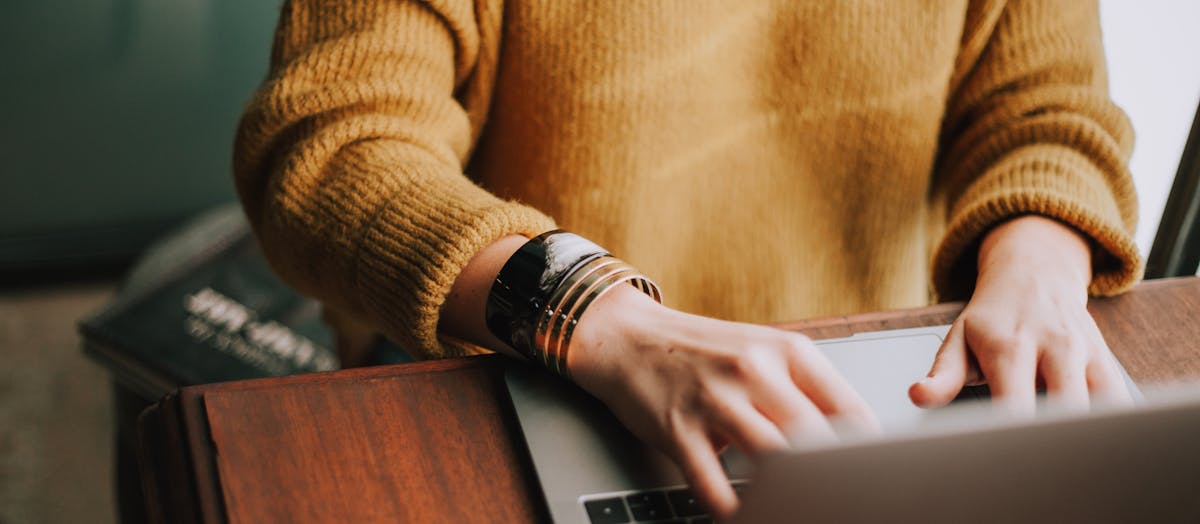 Driving Traffic
Once your Houzz profile is set up, here are some best practices from experienced professionals in the Houzz community:
Social Media. If you're active on social media, make sure your branding is consistent between those platforms and your Houzz profile to avoid any confusion from potential clients. Using the same company description, profile photo and including links back to your Houzz profile will help clients know they're in the right place.
Email Signature. Including a link to your Houzz profile in your email signature is a great way to direct potential clients back to reviews and photos of their work. Many pros proudly display their Best of Houzz awards in their email signature with a link back to their site.
Website. Placing a Houzz badge on your website can lend you credibility as a pro while also directing traffic back to your profile so they can see your entire portfolio and read all of your reviews in one place. Embedding a Houzz badge is a simple process. We have instructions here! If you need a website, Houzz Pro members can get one through Houzz Pro Website Services. Contact us!
Business Growth & Management
We hope you've enjoyed our guide on building your Houzz profile and found some helpful tips. To further strengthen your online presence, sign up for Houzz Pro. It's an all-in-one solution that empowers home remodeling and design professionals to stand out, win more clients, and manage your projects efficiently and profitably.
With Houzz Pro business software, home remodeling and design professionals can manage their entire project lifecycle - from attracting and converting new clients, to building estimates and proposals, invoicing and collecting payments online, to collaborating and communicating with clients - all in one place.
You'll get premium features like video upload, our templated profile video tool, and you can even get a website through Houzz Pro Website Services. Plus, you can work with a client success manager who can guide you and take on some of the work managing your Houzz profile.

Want advice delivered to your inbox?
Unlock industry insights and updates for contractors and design pros
By signing up, I agree to the Houzz Terms of Use and Privacy Policy and that Houzz may use my information to contact me about relevant content, products, and services.