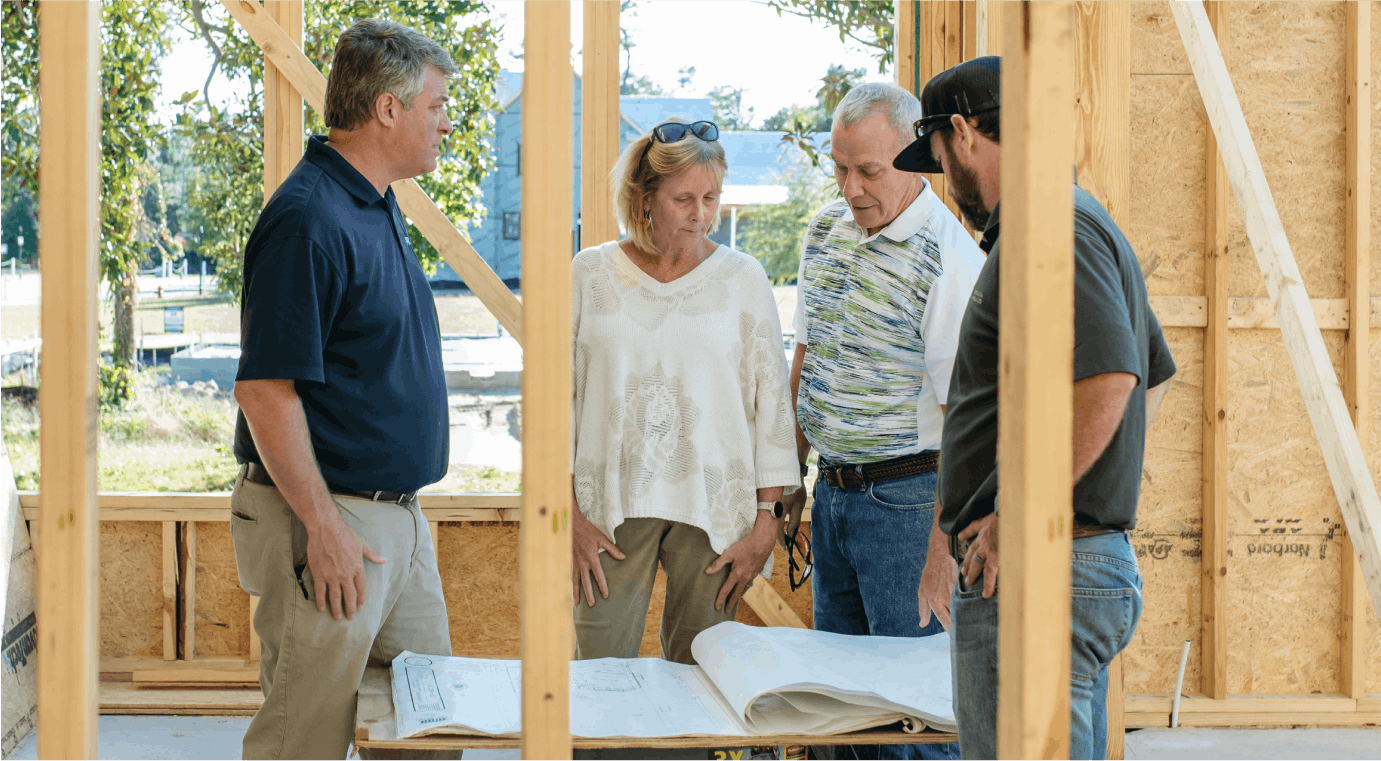 Price hikes and supply chain disruptions aren't relegating home renovations to the back burner, as the just-released 2022 Houzz & Home study shows. Remodeling activity hasn't slowed down a bit, with homeowners hiring pros in droves and spending more in 2021 than in 2020 — recent homebuyers in particular are hiring more than other homeowners and spending significantly more than the national median on their renovations.
"Market fundamentals, including limited and aging housing stock, continue to propel the home renovation market," Houzz staff economist Marine Sargsyan says. "Homeowners are clearly committed to investing in their homes despite heightened product and material costs driven by supply chain disruptions, and are exploring diverse funding sources. 
Here we highlight the top takeaways from the study, which was fielded between February 27th and March 27th, 2022 and is the largest publicly available survey of residential remodeling, building and decorating activity in the United States. Respondents reported on both their 2021 projects and their plans for 2022. If you're a homeowner, you can use the results to help you plan your own projects; if you're an industry professional, you can use the data for insights into consumer preferences and trends.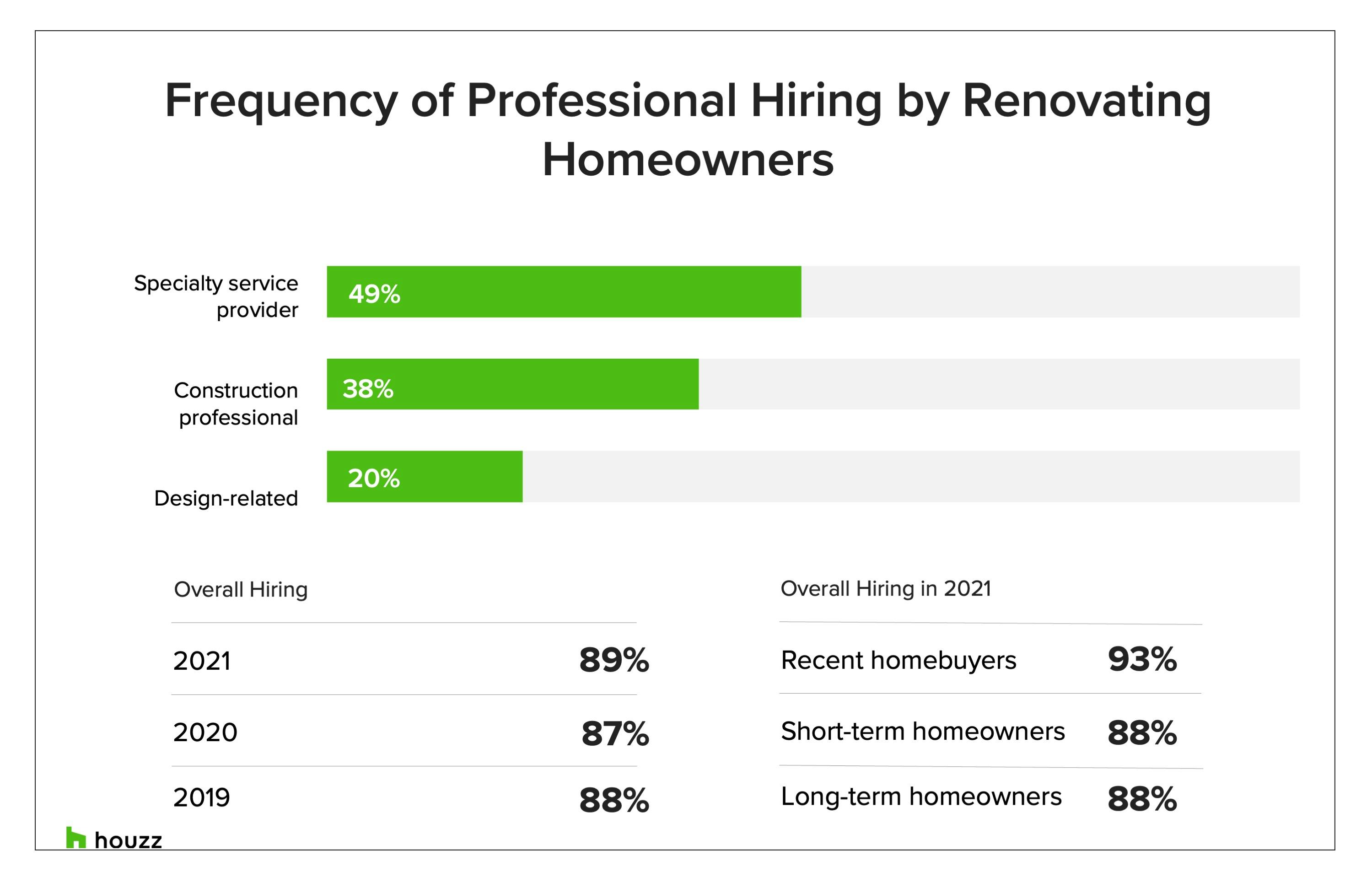 1. Overwhelming Majority Seek Out Pros — Particularly Specialists
Nearly 9 in 10 homeowners (89%) relied on professional help for renovations and upgrades in 2021. Recent homebuyers, defined as those who had not yet moved into their new home or had moved in less than a year prior to responding to the survey, were particularly keen to hire help. A contributing factor seems to be that this group of homeowners tackled more projects at a time than short-term (living in the home one to five years) and long-term homeowners (six or more years).
Specialty service providers were the most frequently hired type of pros; nearly half of renovators hired these pros without the help of a construction manager. Among the 49% of renovating homeowners who brought in this kind of help, the three most popular types of specialty service pros are electricians (38%), air conditioning and heating specialists (37%) and plumbers (35%).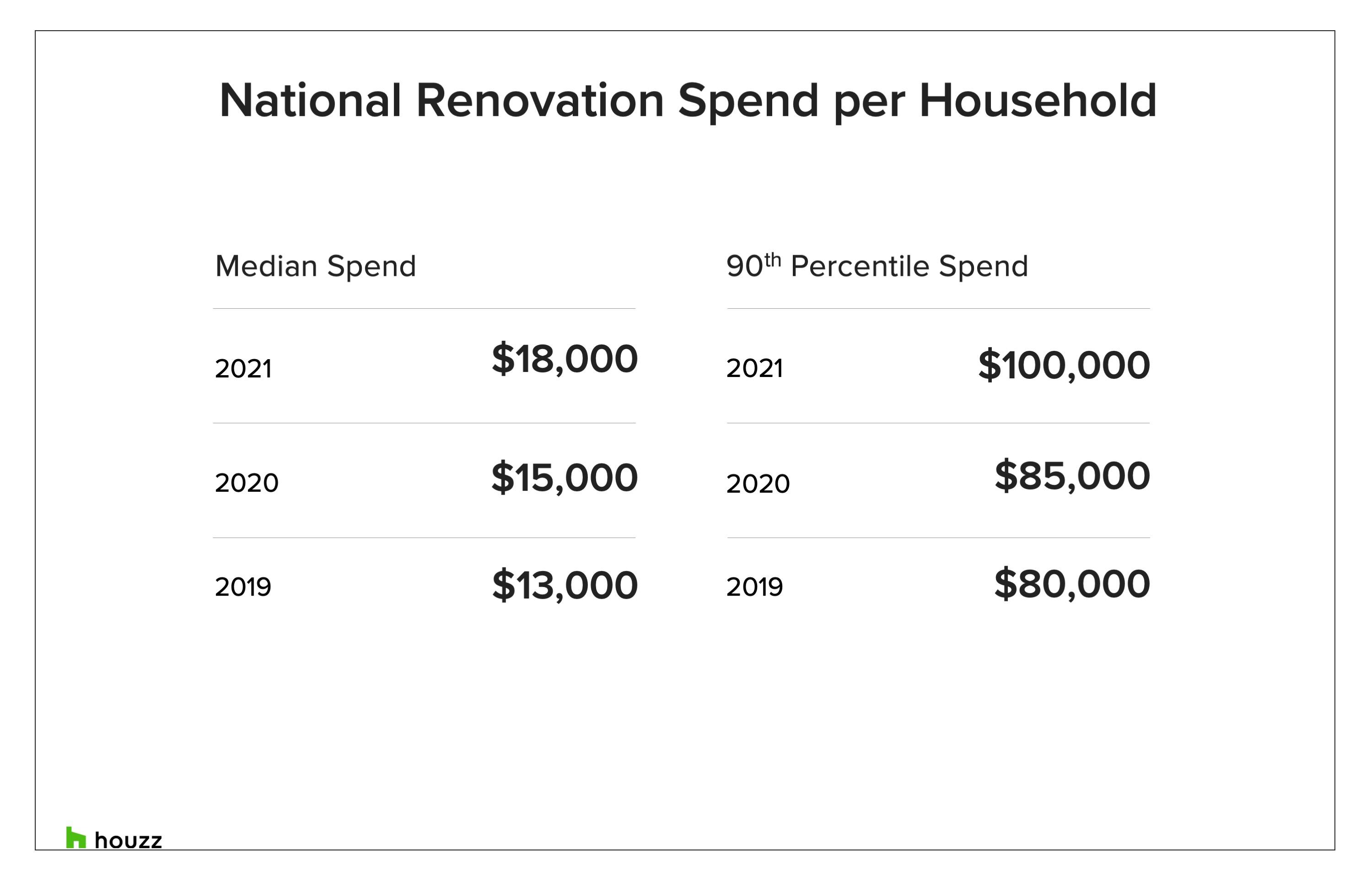 2. General Contractors Top the Construction Pros List
Among the 38% of homeowners who brought on construction professionals in 2021, 72% hired general contractors — the most popular construction group by far. And 30% of renovators hired builders, 18% hired kitchen or bath remodelers, and 8% hired design-build firms. Slightly more homeowners hired builders and designers in 2021 (38% and 20%, respectively) than in 2020 (36% and 18%, respectively).
3. Renovation Activity and Spend Hit 4-Year High
Homeowners are clearly undeterred by lengthy wait times, limited availability of products and materials, and rising costs, as home renovation activity and spend are at their highest rates reported since 2018. More than half of homeowners (55%) renovated in 2021, up from 53% in 2020 and 54% in both 2019 and 2018.
"Activity did not slow down, which suggests that the costs and prices did not impact the decision to renovate on a larger scale in 2021," Sargsyan says. Following the already substantial 15% growth in median renovation spend in 2020, homeowners reported an additional 20% jump in 2021 median spend, which now stands at $18,000.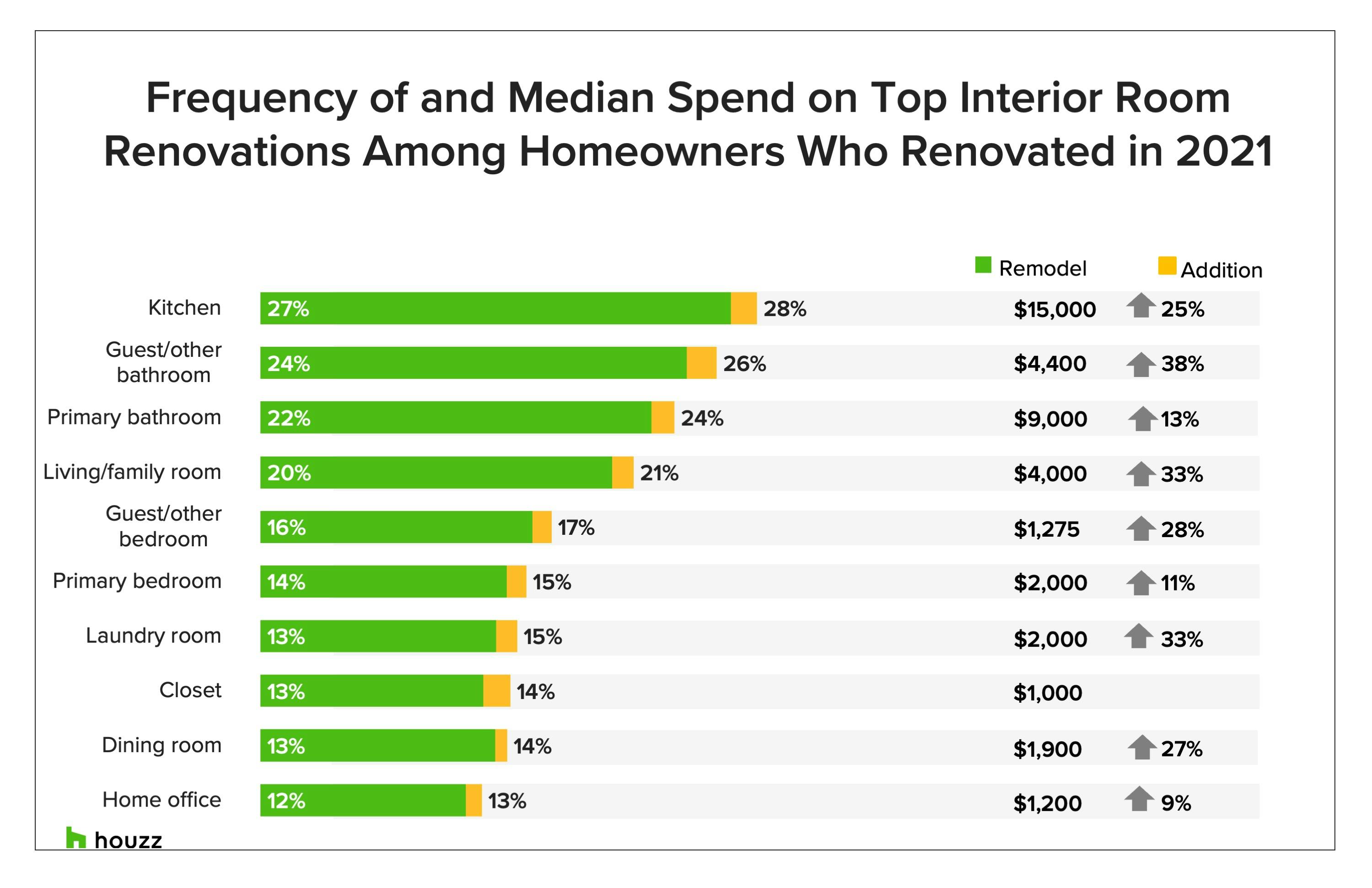 4. Investment in Interior Rooms Soars
Median spend increased for all interior room renovations in 2021. The kitchen, which remains the most popular interior room to be upgraded and the room renovators spend the most on, saw a big increase in median spend on major remodels: 25%, based on $15,000 in 2021 versus $12,000 in 2020. 
Four interior rooms had even more dramatic spend increases, however: guest bathrooms (38% increase), laundry rooms (33%), living rooms (33%) and guest bedrooms (28%). Even spending on primary bathroom remodels increased by almost 13% in 2021 among the 22% of homeowners remodeling this space. And the median spend on this space is higher than in the previous four years ($9,000 in 2021 versus $8,000 in 2020, 2019 and 2018, and $7,000 in 2017). Homeowners with bathrooms larger than 100 square feet spent 11% more doing a major remodel — in which at least the vanity, countertops and toilet were replaced — in 2021.
One exception: Median spend on major remodels of bathrooms smaller than 100 square feet was 17% lower compared with 2020.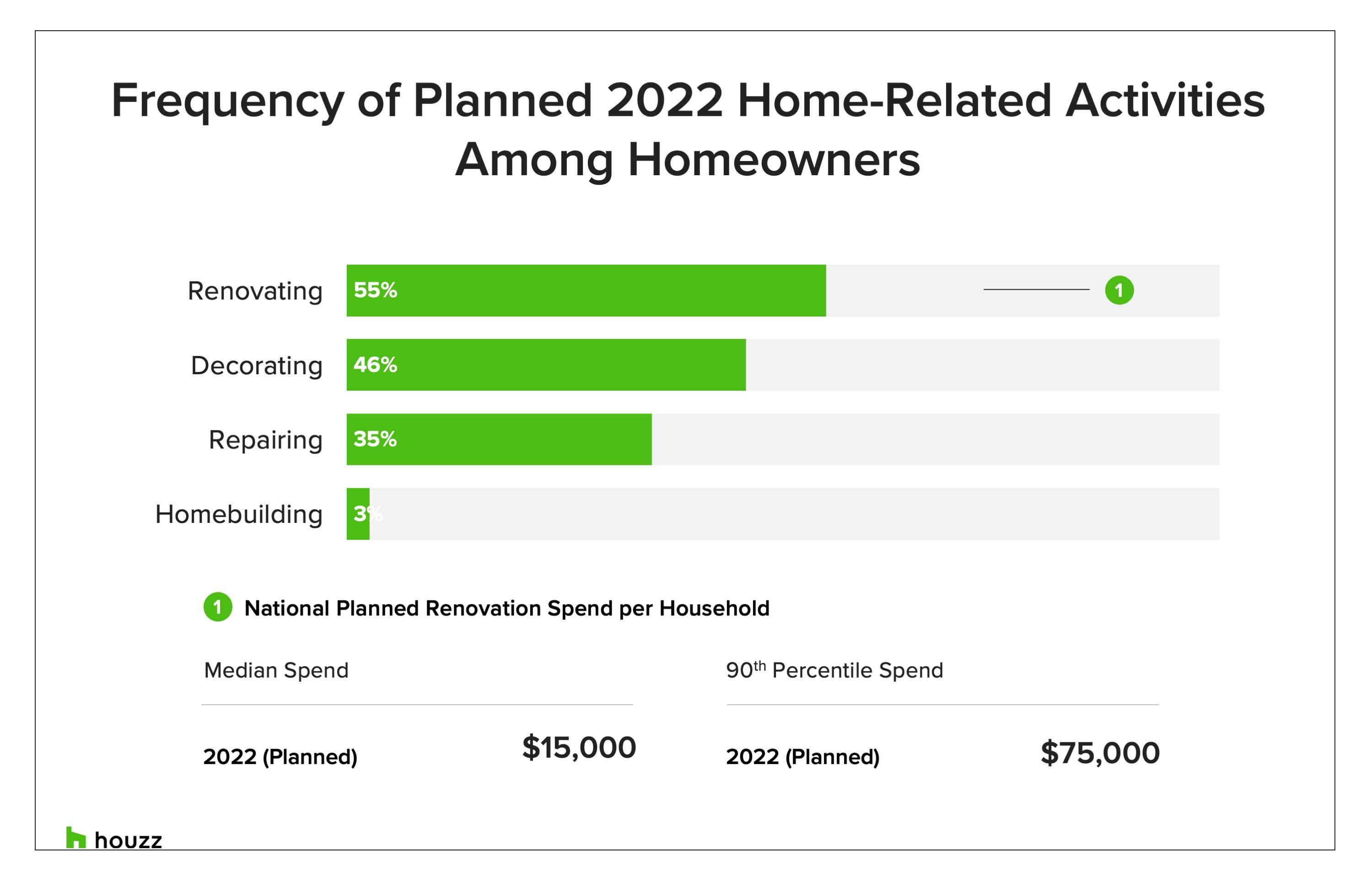 5. Renovators Seek Home Security
Homeowners are investing in feeling safe at home; they spent 25% more on home security systems in 2021 than in 2020. In fact, outdoor security systems are now three times more popular than they were in 2015; they're now the second most frequently installed outdoor upgrade, with 17% choosing them, behind lighting (22%). Outdoor security system upgrades are most popular among short-term homeowners (21%), followed by recent homebuyers (20%) and long term homeowners (14%).
6. Planned Budgets Jump for 2022
More than half of homeowners (55%) plan to renovate in 2022, and nearly half (46%) plan to decorate. And they're expanding the budget to do so. Likely taking into account the volatile prices of the past two years or so, homeowners' planned spend for home improvement projects has increased for the first time since 2018. And it's a huge increase to boot: The median has been $10,000 for the past three years and is now $15,000, a 50% jump.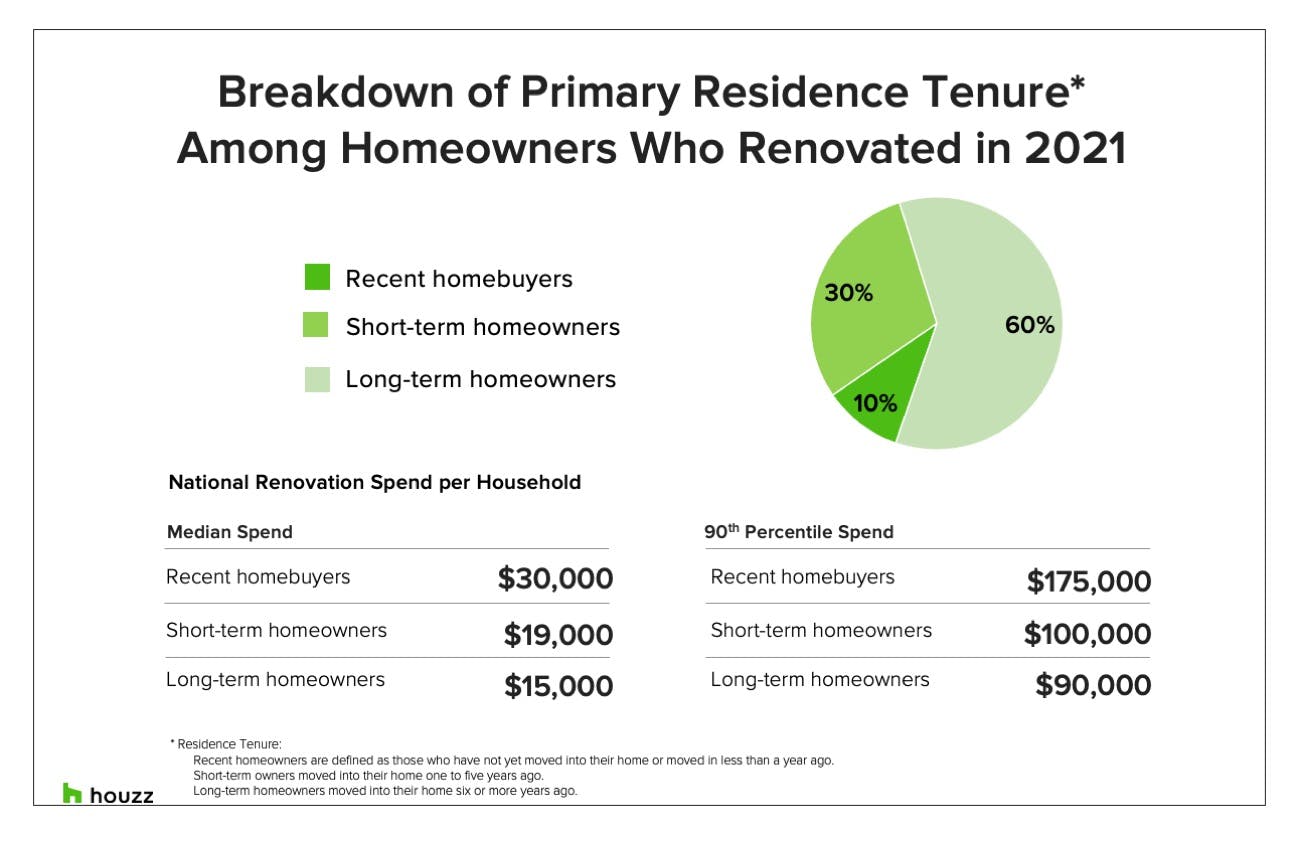 7. Projects Take 9 Months on Average
From planning to completion, renovation projects (not including additions) took an average of nine months in 2021. For remodels of all interior room types, the planning phase was nearly twice as long as the construction phase. For instance, planning a kitchen remodel took an average of 8.6 months, while construction took 4.9 months; even planning a closet remodel took 6.2 months, while construction took only 3.2 months. Kitchen remodels had the longest construction phase; building work for bathrooms and other interior rooms lasted a month shorter on average.
8. Recent Homebuyers Spend the Most
While recent homebuyers comprise only 10% of renovators in 2021, their median spend was nearly double that of renovating homeowners of all residency lengths ($30,000 for recent homebuyers versus $18,000 for all renovating homeowners). A contributing factor is likely the number of projects they take on at a time — nearly four, more than any other category of homeowner.
In 2021, 60% of long-term homeowners renovated — the largest percentage among all groups. The median spend of this group on all projects is $15,000, while their spend on higher-budget projects (the top 10%) is $90,000. Short-term homeowners are the second-largest group among renovating homeowners, at 30%. Median spend for this group is $19,000, and high-budget projects are on par with the national spend at $100,000.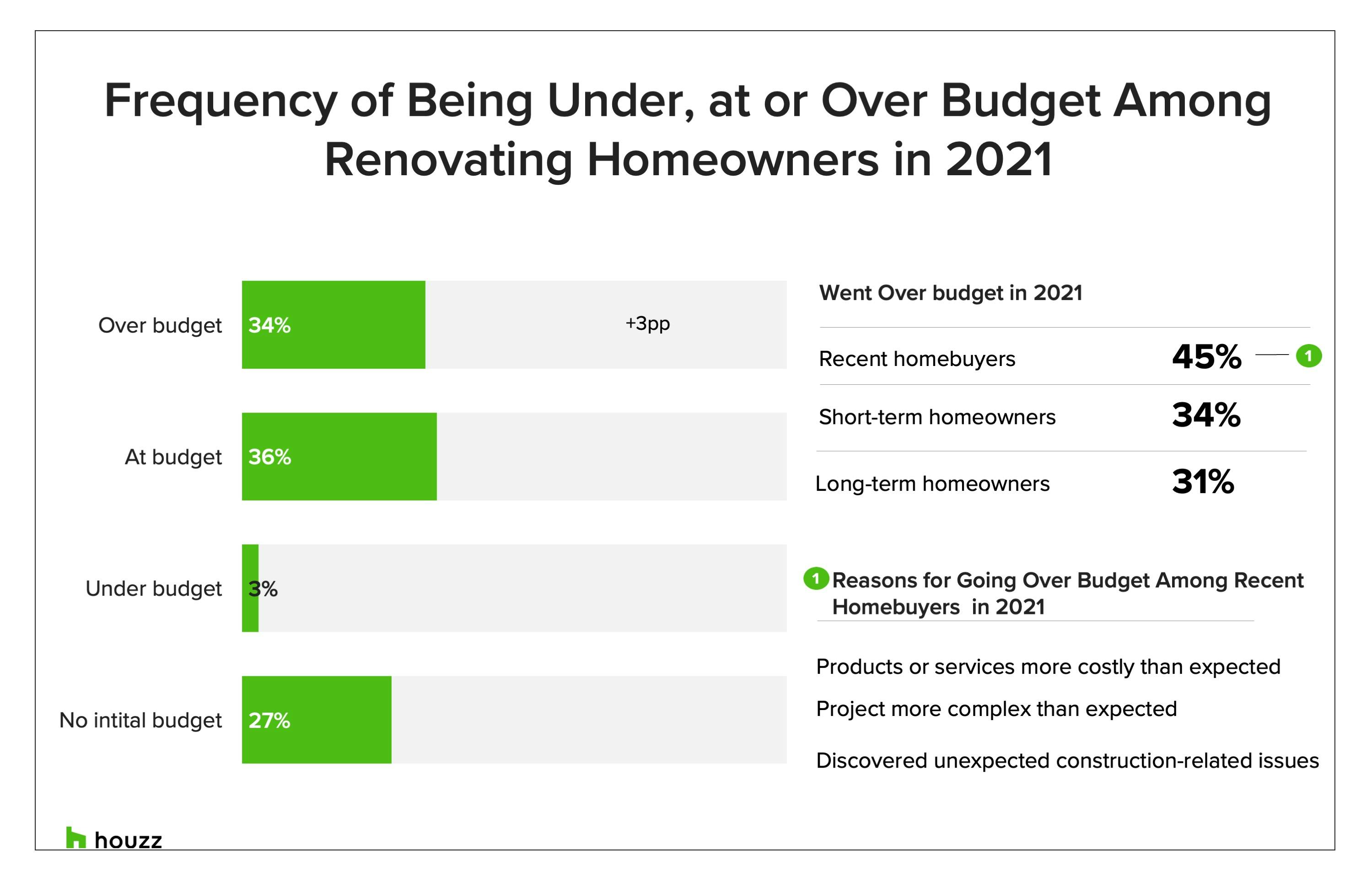 9. More than a Third of Projects Go Over Budget
While almost two-fifths of homeowners (39%) came in at or under budget when renovating in 2021, 34% went over budget — an increase of 3 percentage points from 2020. Interesting to note, however, is that 27% of renovating homeowners didn't even have an initial budget.
Recent homebuyers were more likely to go over budget than short-term or long-term homeowners (45%, 34% and 31%, respectively), reporting three main reasons for the overruns: that products or services were costlier than expected, that projects were more complex than anticipated, and that unexpected issues that needed to be addressed arose.
Whether the number of projects going over budget continues to increase in 2022 likely will depend on whether prices of goods and materials finally stabilize or continue to fluctuate. And whether or not the surge in renovation activity will ease in the coming year also remains to be seen.
"We have yet to see what happens in 2022," Sargsyan says. "We are hearing from professionals in our community that the activity is likely to slow down in the next few months, while the spend will continue to increase slightly due to costs."
Join the conversation by commenting or asking a question below. The Houzz team reads every single comment, and we'll get back to you by email if you need us!