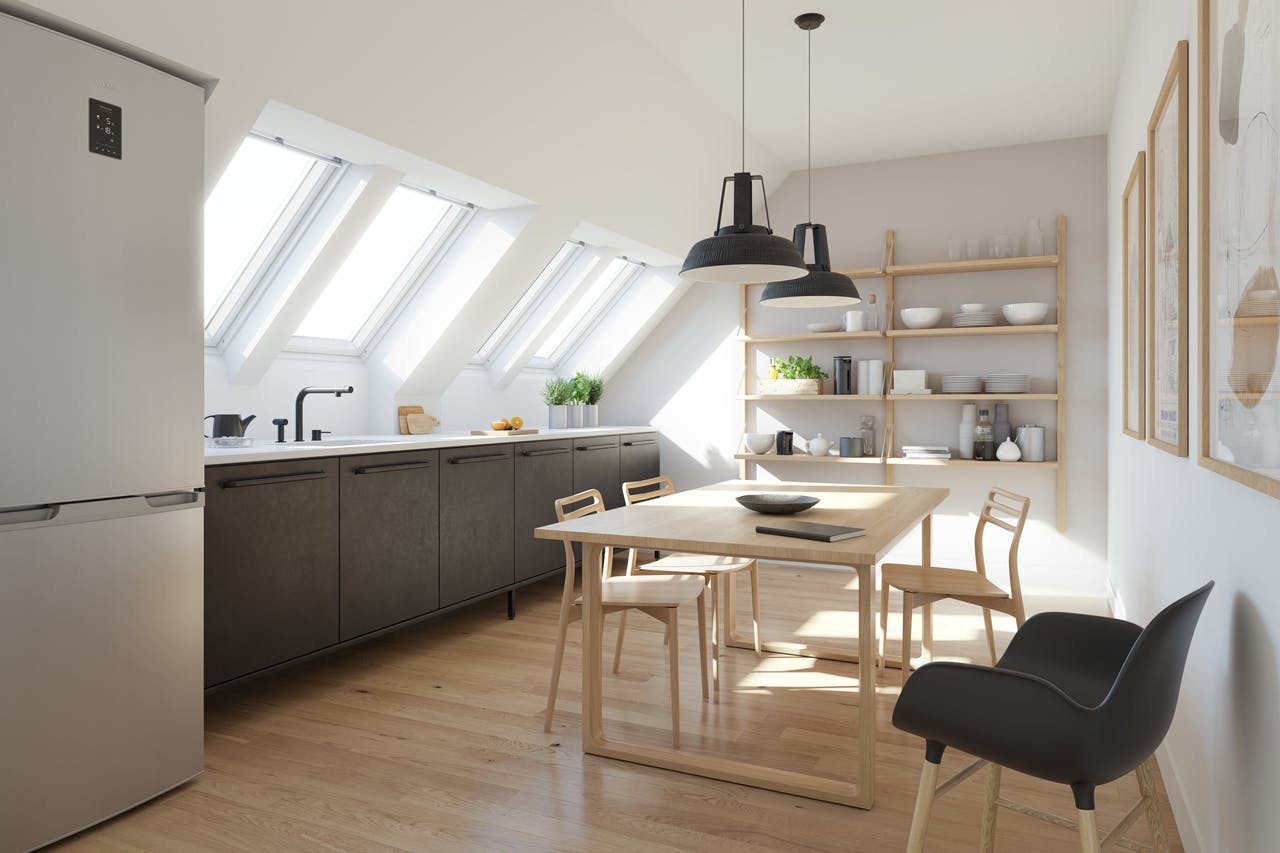 Unfazed by surging costs, homeowners are shelling out more for new kitchen layouts and features this year, and getting plenty of pro help. Discover all the trend and analysis highlights from the 2022 U.S. Houzz Kitchen Trends Study below, along with some unexpected survey responses.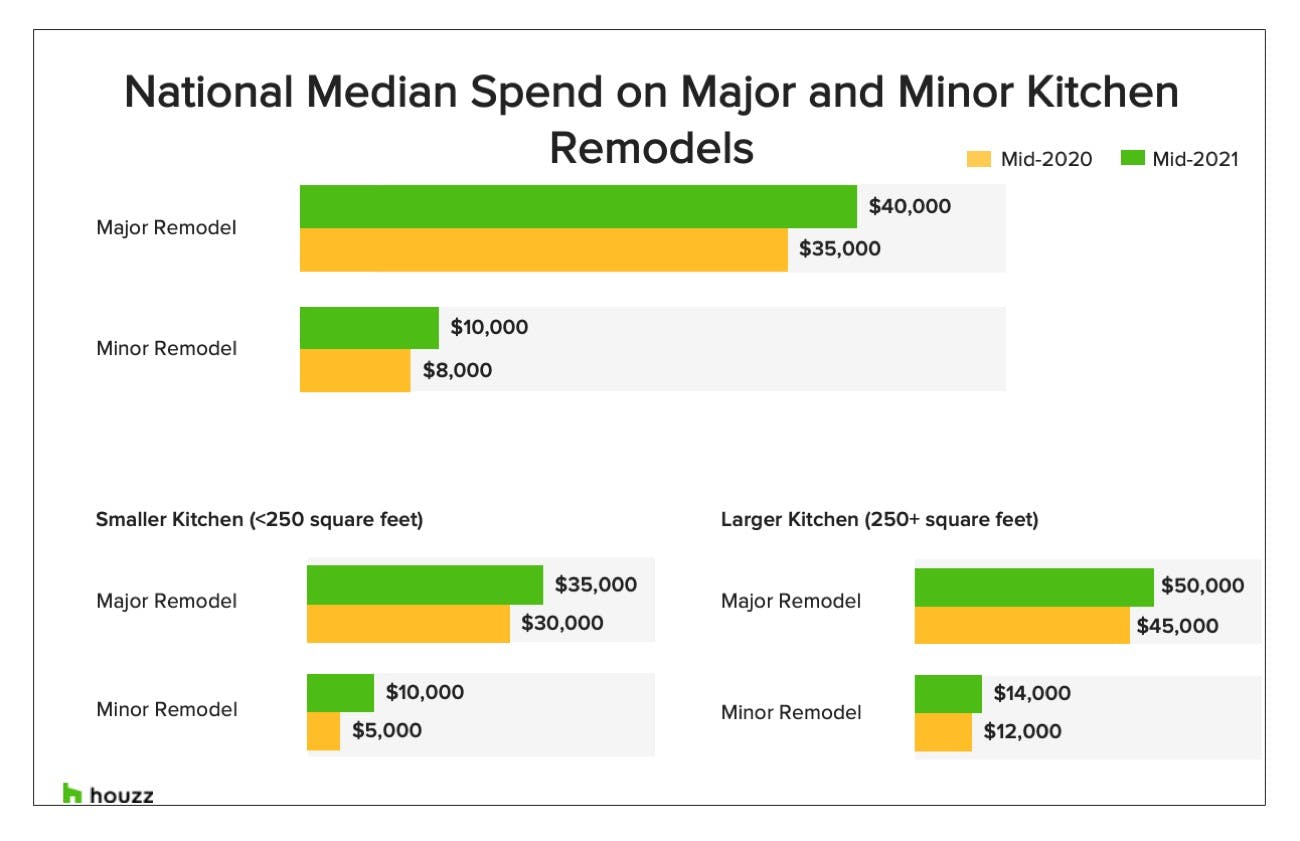 Burgeoning Budgets
Homeowners dropped more dollars on both major and minor kitchen remodels than during the same period a year earlier. The median spend on major remodels, meaning at least all-new cabinets and appliances, grew by 14%, to $40,000. Minor remodels saw an even bigger budget boost, rising by 25%, to $10,000. And size doesn't matter here: For kitchens both larger and smaller than 250 feet, the median spend increased by $5,000.
"We're seeing a rise in overall kitchen renovation spend as homeowners not only splurge on specific features but also make major modifications to the kitchen layout, systems and walls," says Marine Sargsyan, Houzz senior economist.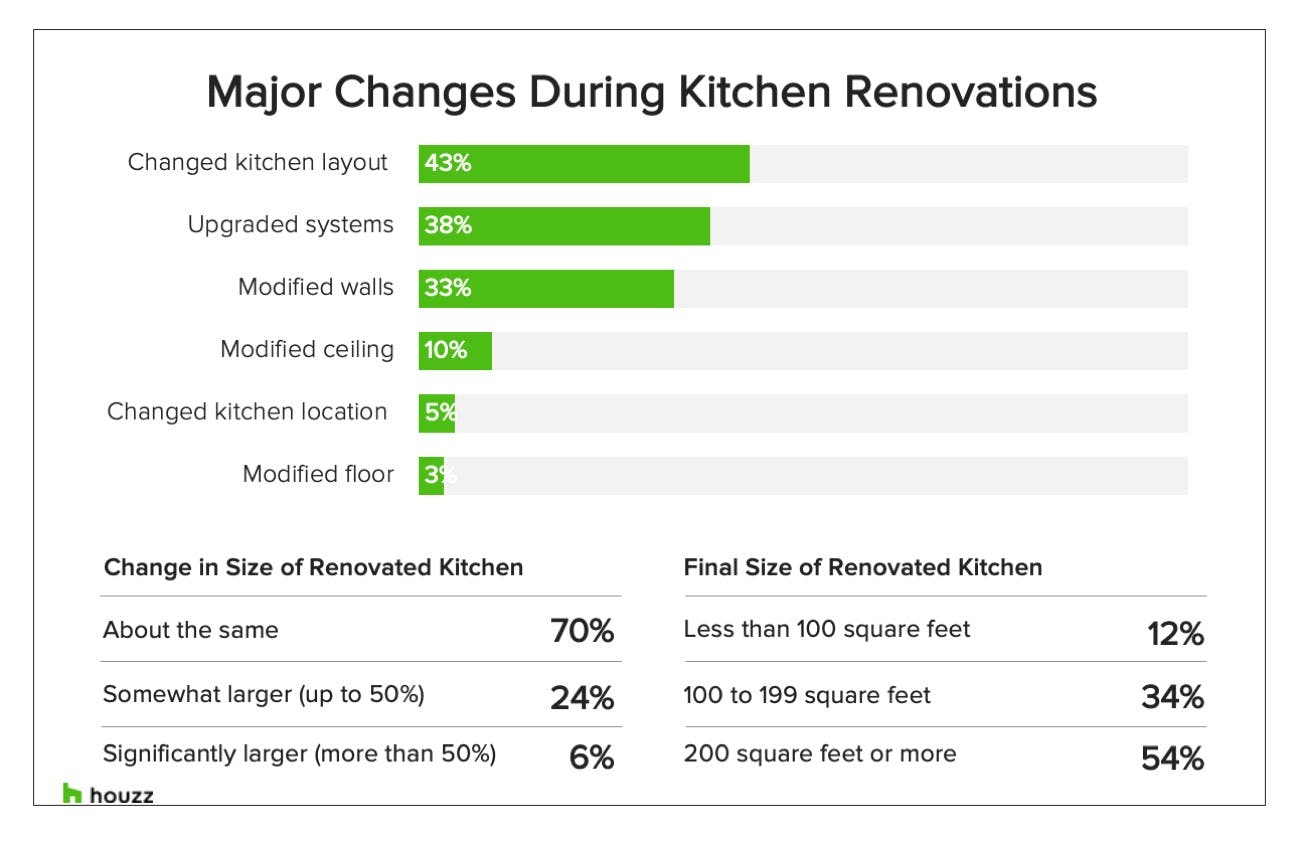 Upgrades Aplenty
Homeowners aren't skimping on the range of renewed features, either. A substantial 43% change the layout, 38% upgrade systems, and more than a third modify walls. While kitchen sizes aren't changing much, 5% of homeowners switch the location.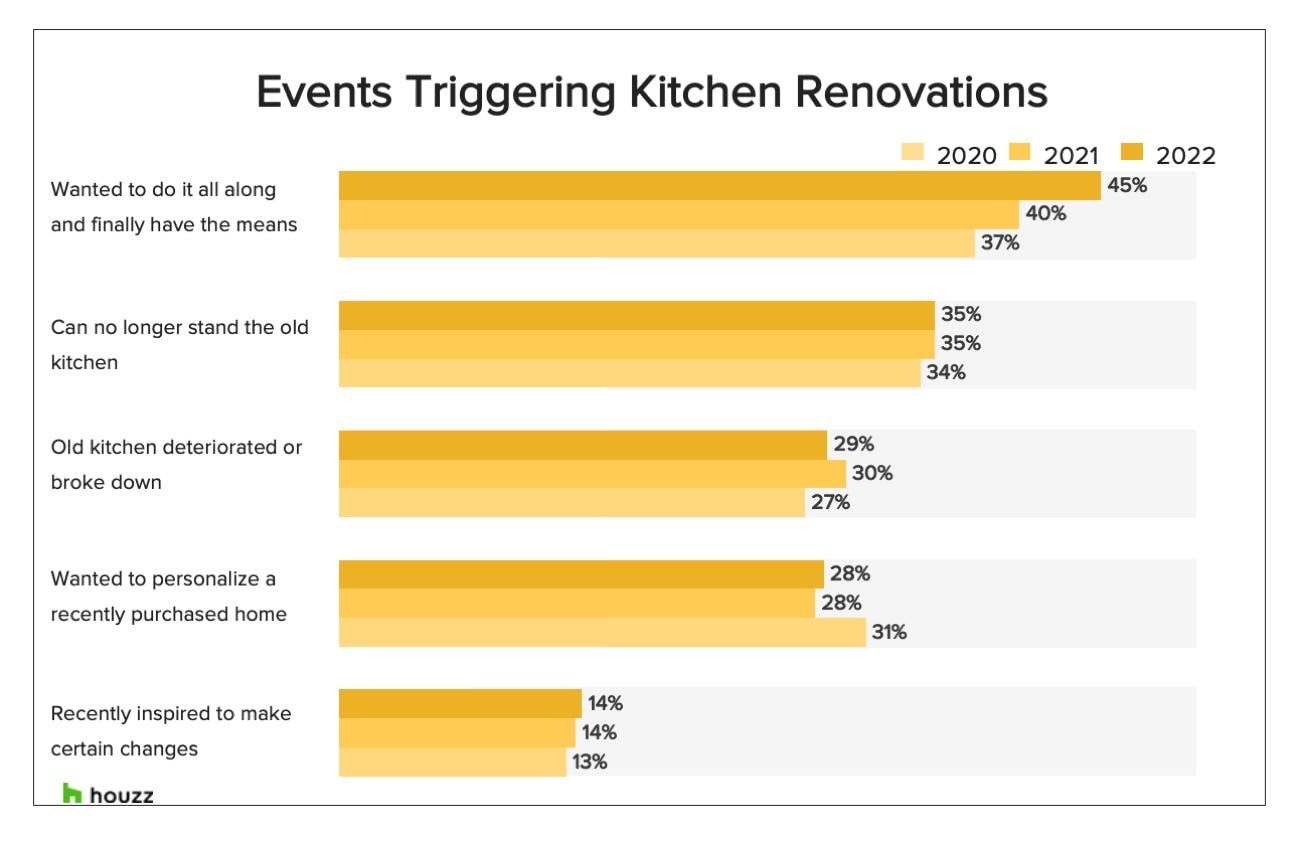 The reasons for this spate of bringing kitchens up to date? More than a third of renovators say their impetus was that they could no longer stand the old kitchen. (Working from home at a crowded kitchen table in a dysfunctional space, anyone?) And 45% report they'd been wanting to renovate all along and finally had the means. That percentage is up by 5 points this year.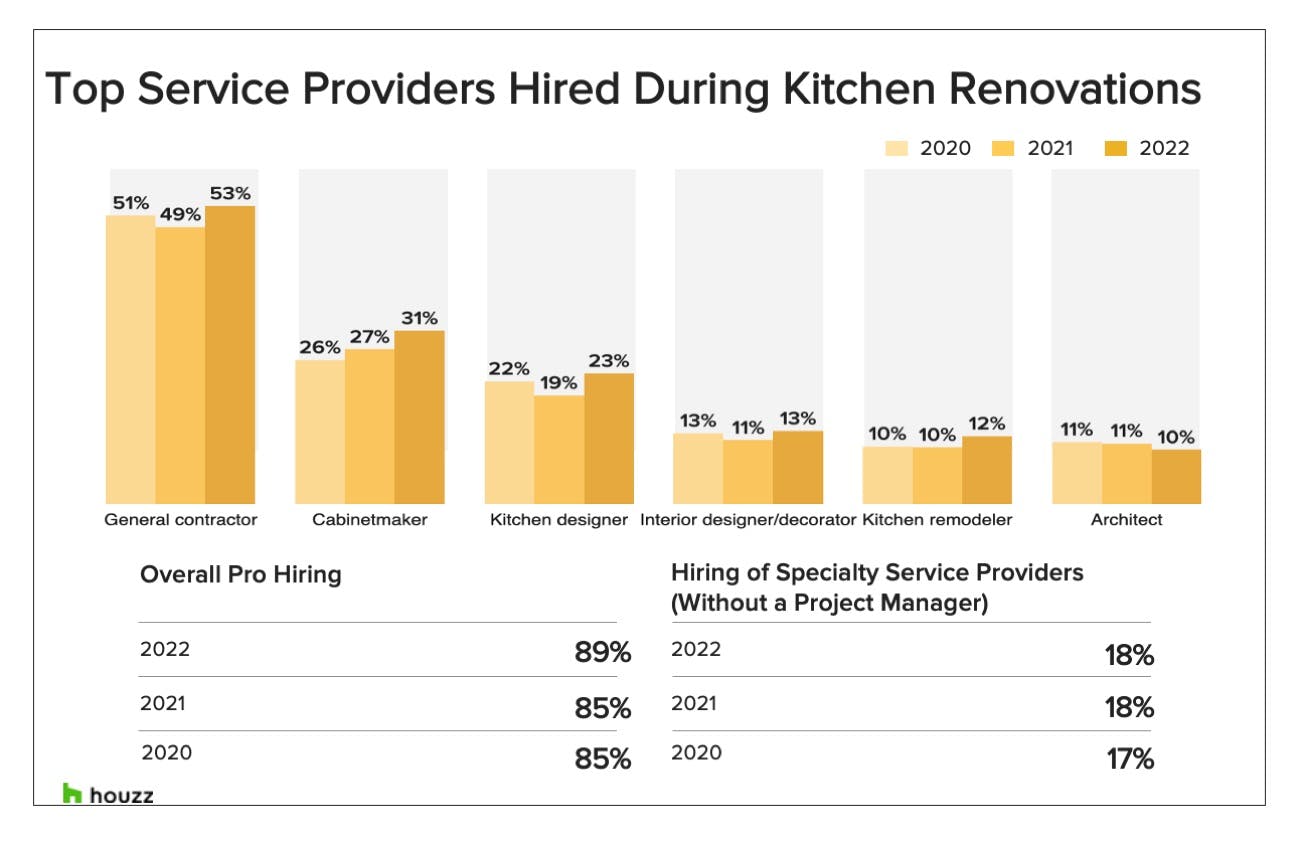 Pursuing the Pros
Given the flurry of DIY-unfriendly remodeling projects, it follows that pros are being hired in droves. "In fact, hiring rates for home professionals to complete these projects are the highest we've seen in four years," Sargsyan says. A whopping 89% of homeowners bring on pro help, up by 4%. General contractors are the most sought after, with 53% of renovators hiring them — also up by 4%. Cabinetmakers, kitchen designers, interior designers and kitchen remodelers also have been seeing higher demand this year.

These stats coincide with the findings of other Houzz research, in which construction pros say project inquiries have increased.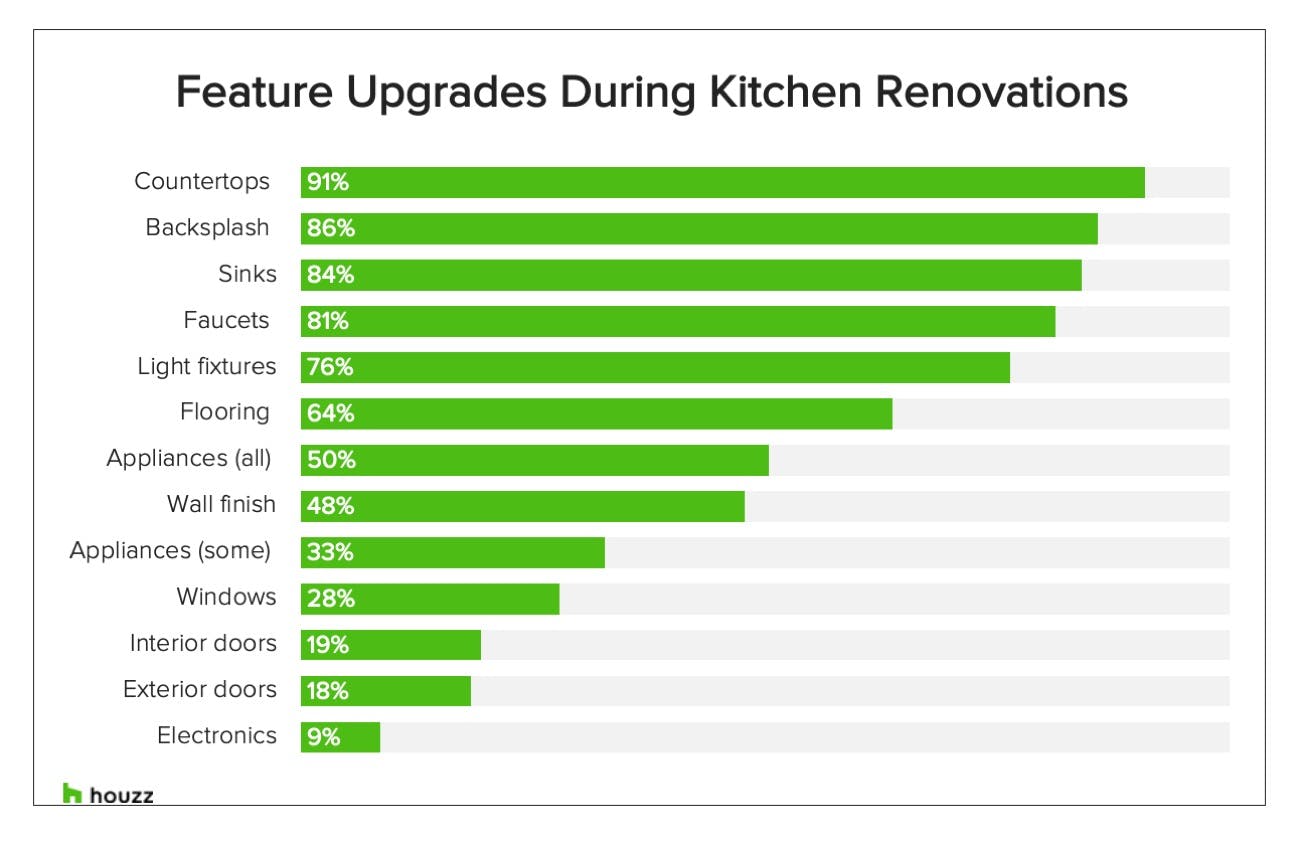 The Material World
Countertops are at the top of the upgrades list, with 91% of homeowners revamping them. Backsplashes aren't far behind, at 86%, and sinks are being swapped out by 84%. Kitchen electronics haven't quite caught on yet, with only 9% of homeowners upgrading them.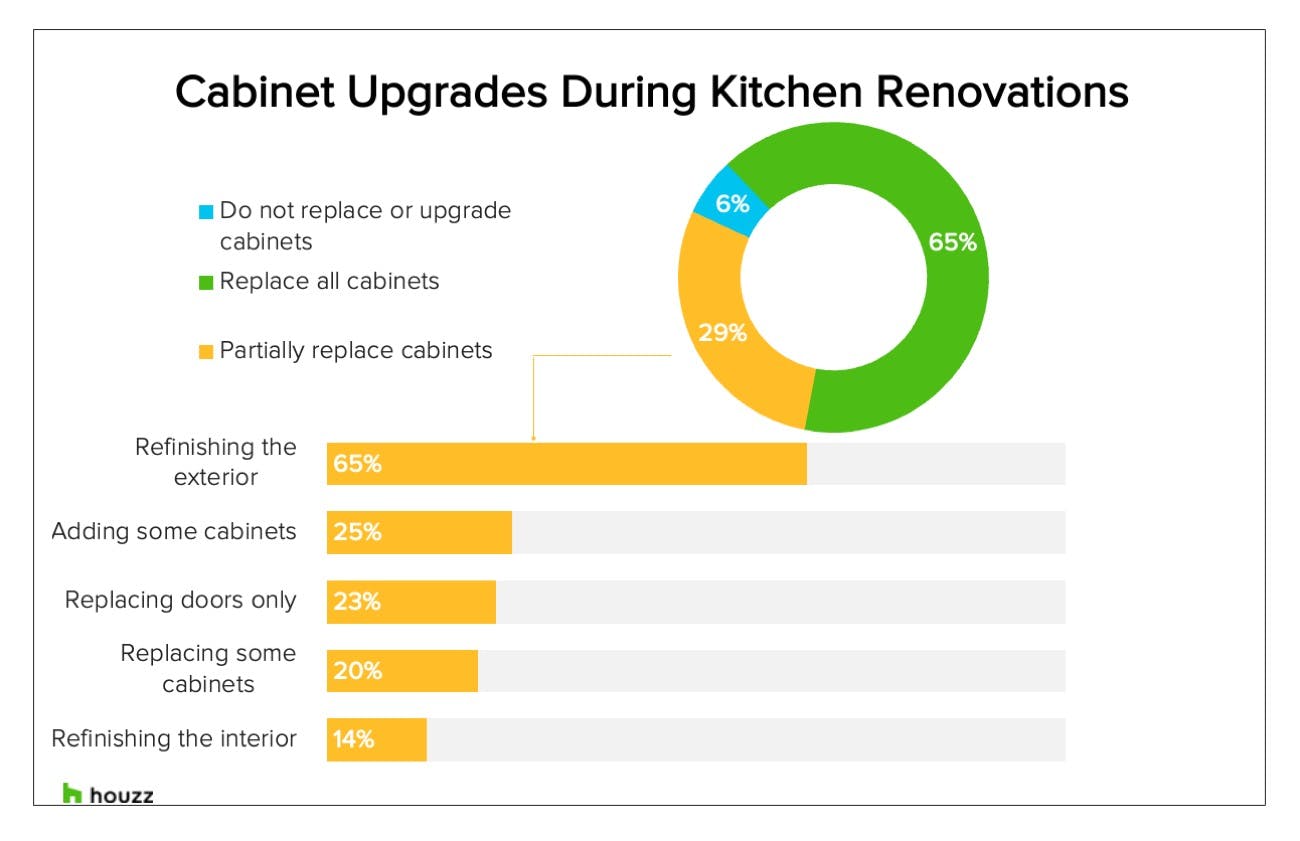 Cabinets comprise their own category, with 94% of renovators either fully or partially replacing them. When the cabinets aren't totally swapped out, refinishing is the upgrade of choice. A quarter of homeowners also add some cabinets.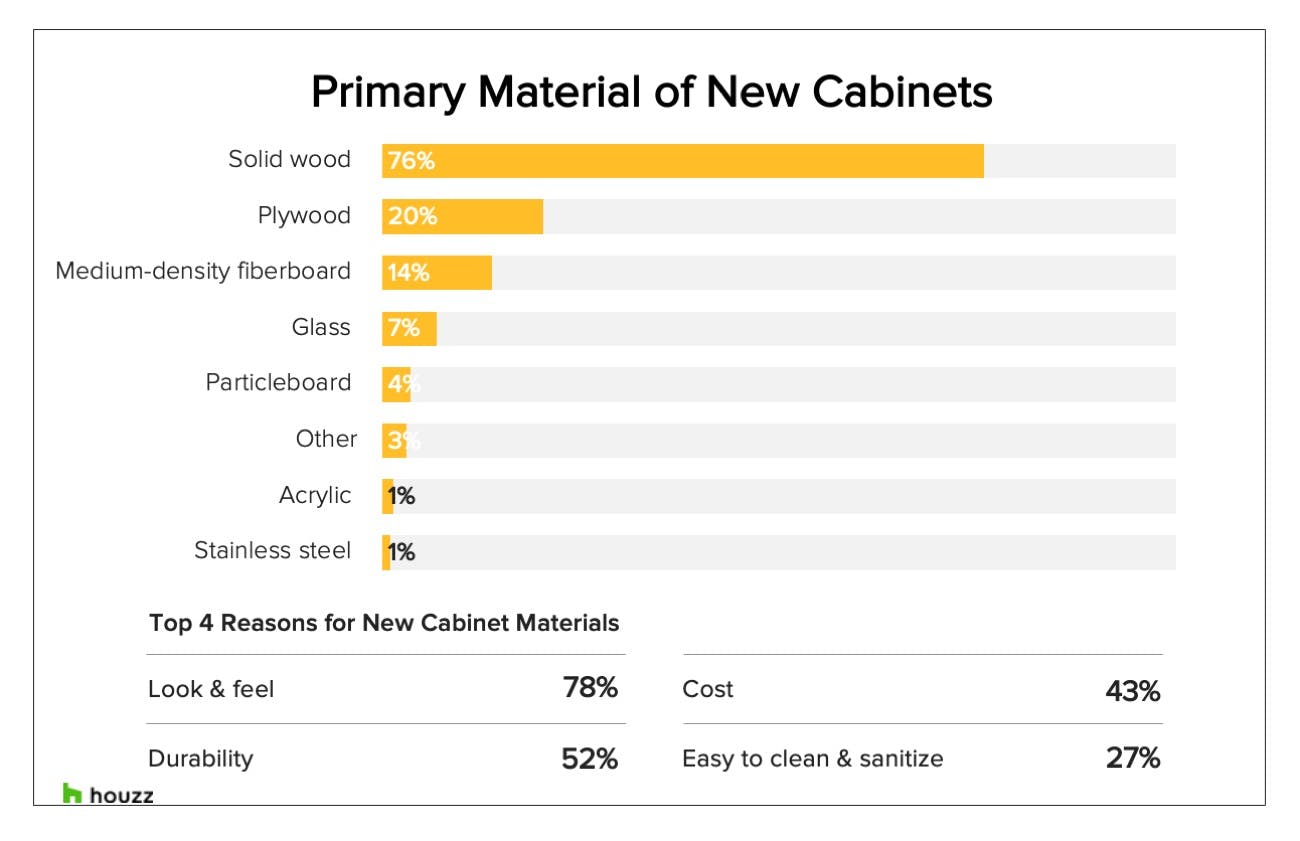 Wood reigns supreme among new cabinet materials, with 76% of renovators going with solid wood and 20% opting for plywood. The least popular choices? Acrylic and stainless steel.
Now for a surprise! Despite swelling product, material and labor prices, only 2 in 5 homeowners (43%) say cost was a factor in choosing their new cabinet material. More important are look and feel (78%) and durability (52%).
That sentiment is shared for countertops too. Look and feel, durability and ease of cleaning trump cost as deciding factors (cited by 69%, 57%, 38% and 23%, respectively). 
"It is clear that homeowners are willing to spend a little more to get exactly what they want in countertops that are both beautiful and practical," says Sargsyan.
With homeowners spending more, hiring more and looking to get more functional kitchens than ever, now is a great time to make sure your business processes are up to the task. Can they not just handle the load but scale in the future if needed? Check out Houzz Pro, the cloud-based platform favored by many construction and design professionals to manage accounting, team member tasks, communications and much more.
About the Study
The 2022 U.S. Houzz Kitchen Trends Study surveyed homeowners who had completed a kitchen remodel or addition in the past 12 months, were currently working on one or planned to start one in the next three months.
Join the conversation by commenting or asking a question below. The Houzz team reads every single comment, and we'll get back to you by email if you need us!

Want advice delivered to your inbox?
Unlock industry insights and updates for contractors and design pros
By signing up, I agree to the Houzz Terms of Use and Privacy Policy and that Houzz may use my information to contact me about relevant content, products, and services.