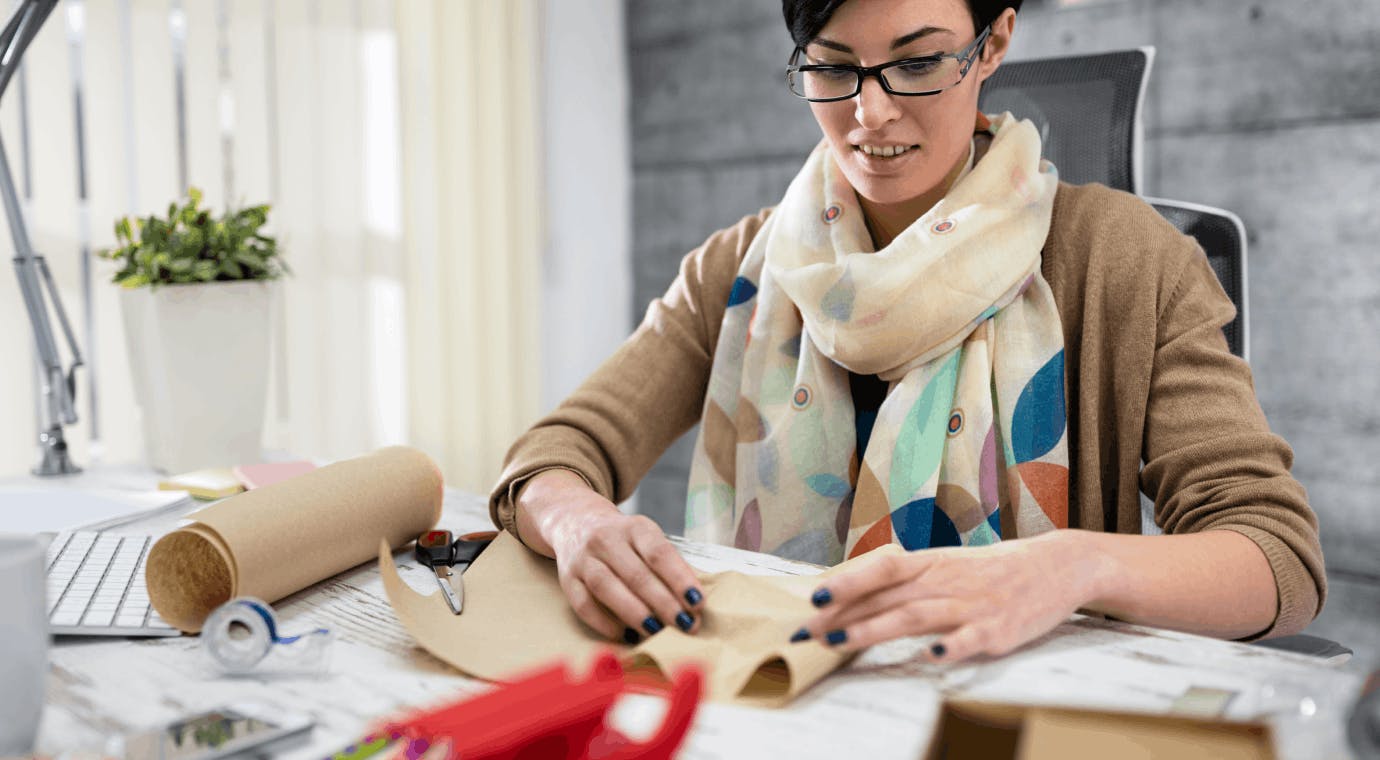 Organizing materials, projects, and client files is an essential factor for a successful interior design business. While it can take time up front, having a well-structured organization system in place can help your business be more efficient, enabling you to have more time to create stunning designs for clients. No more clutter distracting from your creativity, or wasting precious time searching to find the materials you need for your projects. With organized interior design materials, you'll have everything where and when you need it.
You may not know, though, where to begin to create a really great organization system, or you may not have the time to do the research and planning. Thankfully, we've done this part for you. In this Houzz Pro Learn guide, you'll get an essential overview to help you start organizing interior design materials for your business from scratch or learn great tips to help you reorganize your existing materials. Read on to learn more and start getting organized:
Considerations for your interior design organization system
How to organize by interior design material
Interior design organization tools
Organization inspiration from real interior designers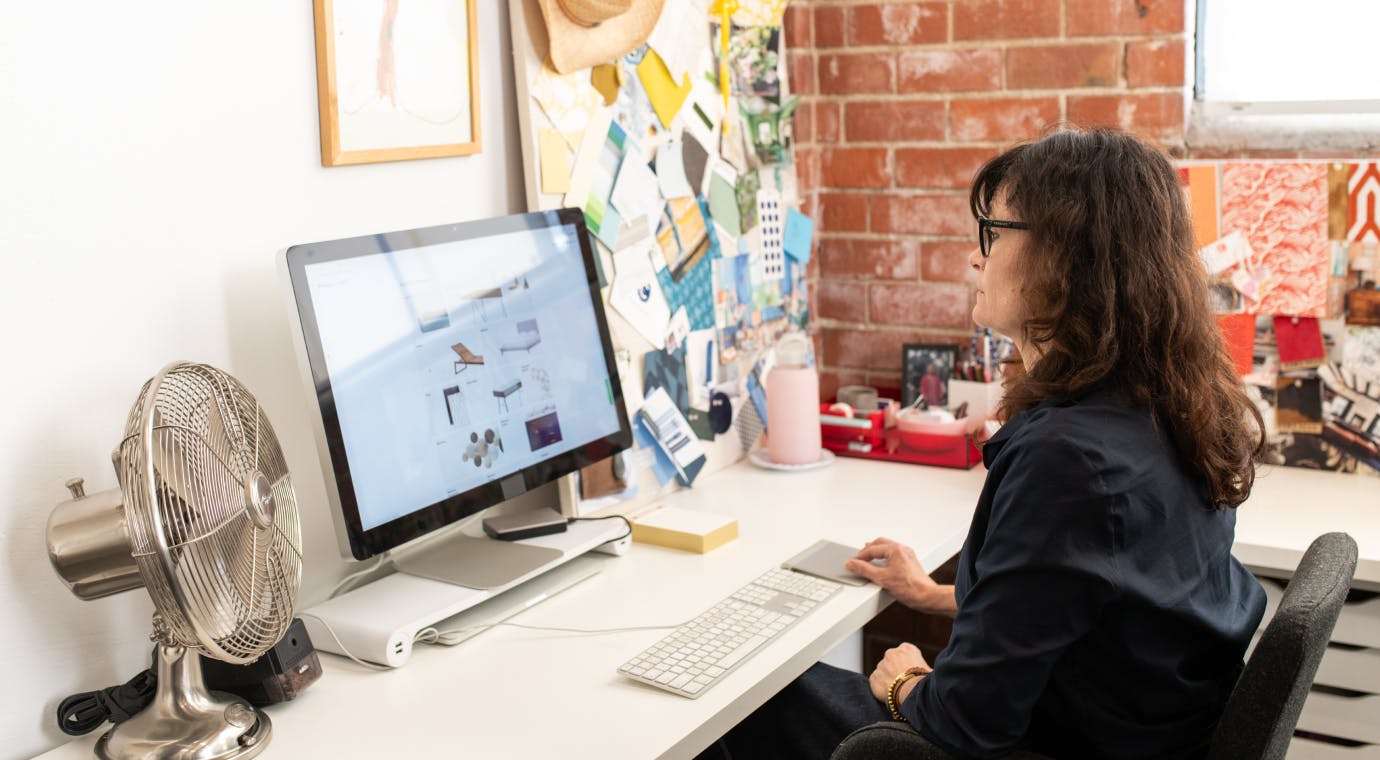 Considerations for your interior design organization system
When deciding how to organize interior design materials for your business, it's important to remember that not one size fits all. The particular qualities of your business, size of your workspace, specific interior design materials that you use, your clients, organization style and systems are unique to you, so keep an open mind about adapting this guide to best suit your individual needs. 
Size of workspace
The size of your workspace will be an important consideration for organizing your interior design materials. If you have a smaller space, you may need to choose higher-density cabinets to store your materials, or utilize the height of your space to store materials on taller bookshelves or hanging rods to access via a step ladder. If you have a larger space, you might want to dedicate a certain area for meeting with clients or for giving presentations. Just like with your own clients, consider the size of your space the starting point for visualizing how you'll organize your interior design materials. 
Location of workspace
Many interior designers have their workspace in their home. If this is your case, you already know the importance of keeping work materials and your home life separate. Do your best to make your workspace exclusively for work so that items from home don't creep into it—and vice versa. This will help you stay better organized and able to focus on your important design projects and be able to relax more in your home after work.
Client presentations
If you give client presentations from your workspace, you'll want to create a dedicated space for this. You may need a TV, projector, or whiteboard and a table to display your design project materials. If you have the room, you can keep this space for presentations only. But if workspace size is an issue, consider a space-saving solution like a wall-mounted folding table, portable whiteboard that can be stored away, or a pull down projector screen instead of a TV. If you go to your clients' homes or offices to conduct presentations, then you won't need to consider these factors and will have more room for other materials and needs specific to you in your workspace. 
Accessibility
Accessibility is another highly important consideration to organizing your interior design materials. As a designer, you'll want to easily grab your most recent or frequently used project materials, so you may want to set aside a unique space for just these items. You will also want to make sure that everything is properly labeled from the outside—bookshelf sections, binders, drawers, bins, etc.—so you can be guided to just the right section of your design materials library you need at any moment. 
If vendors visit your workspace, they will need to be able to quickly pull any out-of-date materials, so that you won't accidentally incorporate these into current design projects when they are unavailable. Your labeling and organization, then, will need to be both useful for you, but also accessible and understandable for outside vendors, if this is the case for your business. 
Need for mobility
Your mobility needs can also impact how to best organize your interior design materials. If your materials mainly stay in your workspace, then you won't need to worry about carrying them around. But if you or your client need to be able to have materials at the job site, then you'll want an easy way to transport them without falling apart. Avoid transporting materials in bags or in boxes that you can't see through. Consider lightweight, transparent bins instead with internal organizers inside to keep materials separate. You can even line them if your materials are particularly fragile. Rolling suitcases with compartments and built-in organizers are also a good option for ease of transport and for keeping materials safe.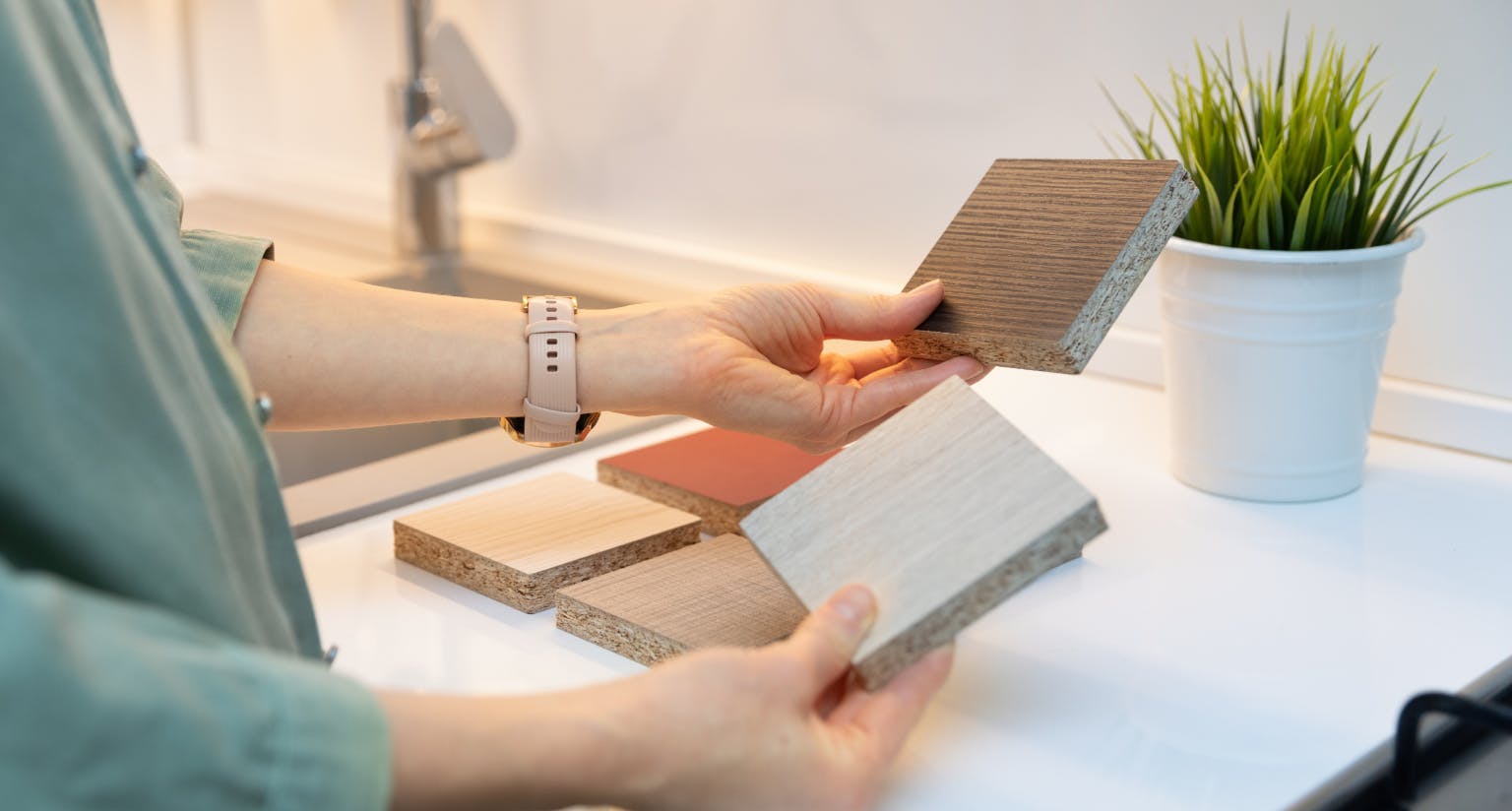 How do interior designers organize their materials?
The following section will introduce different ways to organize each of the interior design materials you may use in your business based on the material or sample type.
Fabric
Fabric books and memos are often organized by color, vendor or performance level, but you can organize your library to fit your particular needs. For example, you may want to organize by style or price if that's more suitable for your design process or business, or organize by multiple levels of categories. Categorizing by color as a top category and print as a subcategory (geometric, floral, striped, etc.) is just one of the many ways to simplify finding the right fabric sample when you need it.
Rugs & Carpets
When organizing rug and carpet samples, you can organize by color, type, price, size, print design, or brand, or a combination with multiple category levels. You may also want to keep high-performance samples or certain types together, such as having Berber carpet samples all in one place.
Paints
Paint samples are best organized by color, but you can also organize by temperature (warm, cool, neutrals), or whichever subcategory you choose. Paint sample books, fan decks and product catalogs are easily organized alphabetically by vendor. You can also mark your books, decks and product catalog pages with sticky tabs for certain products you like. 
Wallpaper
Much like fabric, wallpaper is best organized by color or vendor, but organizing by print may also be good to consider. 
Wood
Wood samples can be organized by type (oak, maple, cherry, etc.), from light to dark, by price or vendor, depending on your needs. 
Metal
Metal is best organized by finish type: chrome, copper, brass, nickel, polished gold, etc. 
Tile
You can organize tile samples by type (ceramic, porcelain, glass, mable, granite, etc.), and then sub-categorize by size and price for easier grouping. 
Stone & Quartz
Like tile, stone and quartz can also be categorized by type, size and price or grouped in the subcategories that are best for you.
Tools to organize interior design projects
When it comes to organizing interior design materials in your workspace, there are a wide range of tools, storage and organization solutions to choose from based on the material or sample type. Each option also has a variety styles, sizes, and durability that best fit with the needs of your interior design business, specific materials, and workspace. The following will explain some of the best tools and solutions for organizing the interior design materials and samples you may use in your business.
Labels 
It's helpful to look at the interior design materials and samples in your workspace like a library. And while we don't recommend replicating the Dewey Decimal System, properly labeling your materials and bins will be essential to organizing your interior design materials. Quality label makers can be found at your local craft store and are highly recommended to have on hand at all times in your workspace. 
Make sure to label the outside of your storage units, cabinets, boxes, and drawers, as well as the materials and samples themselves—if they didn't come with a label already—so that nothing gets lost and items can easily be identified and ordered for your design projects. As a rule, it's best to label everything, otherwise it can't be easily looked up later for sizing and ordering. This will save you time and money in the long run.
Trays
Trays are a great way to display your materials for client presentations or bring to your desk or work table when you're drawing out your design plans. Also consider investing in a portable tray cabinet for great storage and accessibility where trays can be easily removed then stored when not in use.
Bookshelves, books and binders
Wallpaper and paint sample books, paint fan decks, and product catalogs for materials can all be stored on bookshelves, which make them easy to see and review for your interior design projects. You can group samples together as needed in binders or file holders and label your bookshelf in sections, much like you'd see a library.
Organizing interior design client files is best done in binders or file folders that can be stored neatly in a filing cabinet and organized alphabetically by client. Within your binder or file section for your client, you will want to subcategorize further by client information and proposal, product specifications and product quotes, rendered designs or mood boards, space measurements and floor plans, contracts and invoices. If you have multiple projects for one client, you'll want to keep each project separate from one another in your filing.
Cabinets, drawers and bins
Higher density storage solutions such as flat files and paper storage cabinets are great space savers and also keep your materials out of sight, if you prefer having more of a "blank canvas" or minimalistic feel to your interior design workspace. 
Floor coverings and countertop materials such as wood, tile, stone, quartz, carpet and rug samples tend to be a bit heavier than fabric samples, so these are often best stored in more durable drawers and cabinets, with varying options available. Whichever storage option you choose, make sure the samples will stay well-organized, particularly in drawers, either in small boxes or dividers. Because some of these materials are breakable, you may want to add protective drawer liners to your drawers, cabinets, or shelves.
Interior designers are visual, hands-on people. Having project bins to keep selected samples and materials for clients, can help keep your projects easily tactile, visible, and organized. Consider having one cabinet or cubby storage exclusively for organizing interior design projects for your active clients, so that all the samples and materials you're using are all in one place.
Hanging rods
Hanging fabric books and memos is the best option for organizing these interior design materials and is a great space saver for your workspace. 
Digital product library
Having a digital product library is another essential for your interior design business where you can quickly and easily save and store the items you'll be ordering for your client projects on the web within your own digital database. 
Houzz Pro features a product library and a clipper tool that expedites product sourcing and helps to keep projects organized digitally. With so many moving parts to organizing interior design materials, projects, and client files, it's important to have a system to keep it all together. That's where having the right software can really help. From creating mood boards and 3D designs, sourcing materials and products, to project management and invoicing, Houzz Pro is a great solution to help you manage your business and stay organized.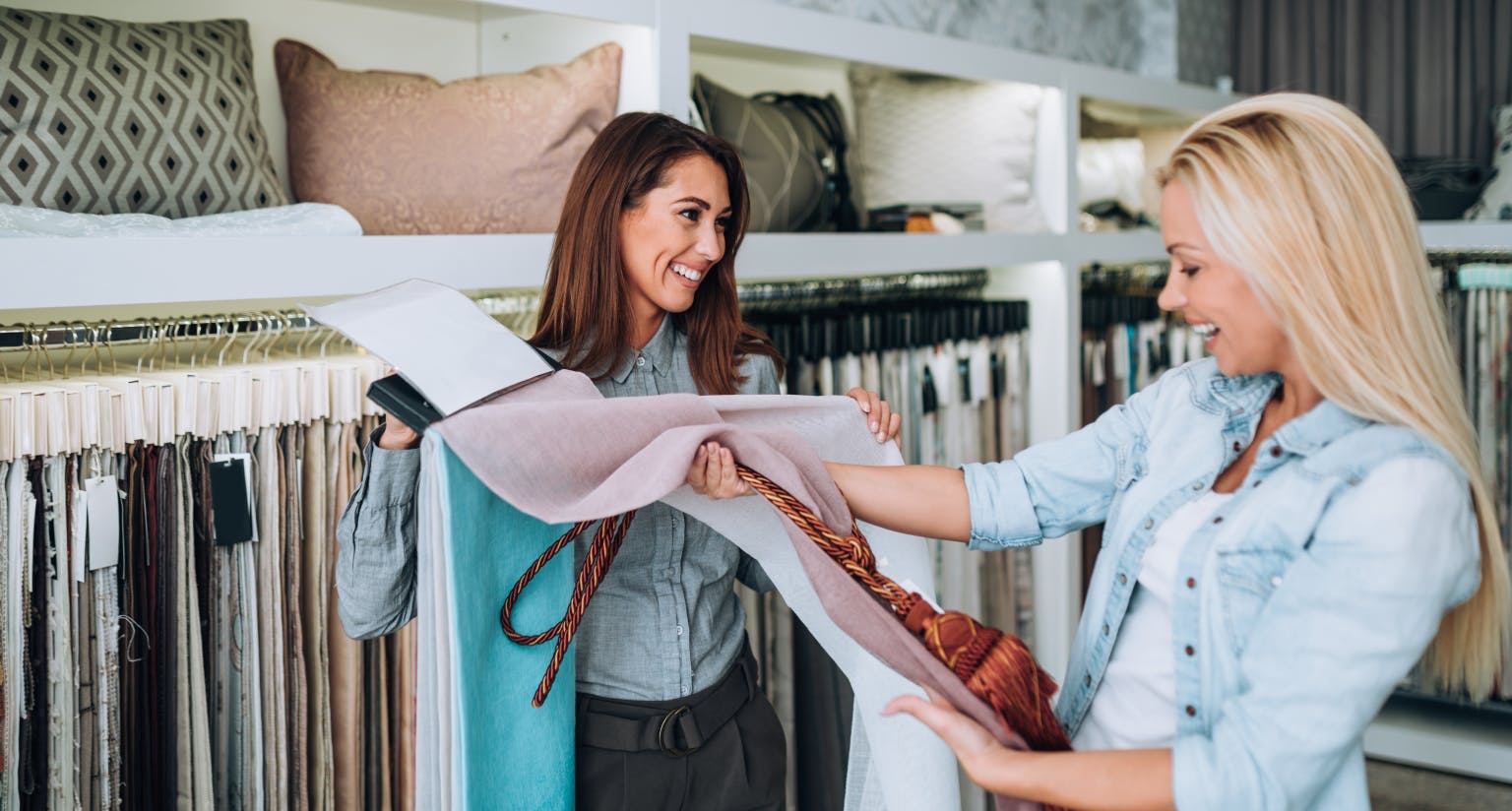 Organization inspiration from real interior designers
On Fabric Samples
A Houzz Pro interior designer shares a great example about how their office approaches organizing fabric sample books: "We hang our fabric books so we can flip through them as needed…it's easy to unhook the ones we need. I had the maple 'bookcases' custom built (and they're tapered). My carpenter attached the chrome closet rods and holders at varying heights based on the different book sizes. We use the simple stainless circle shower curtain rings to hang the books by their cord handles." 
On Client Files
Another designer has a very useful storage solution when working on active client projects: "During projects, I use these scrapbook cases. They stack on top of each other, latch closed, have a handle, and fit a paint deck or two perfectly! They are great because they keep all of the samples neat, organized, in good condition, and out of my bag. File folders fit perfectly as well." 
On Workspacing From Home
And an interior designer who works from home, shares this about the workspace: "At first my office was a small room in our house with samples overflowing into our dining room and garage. Now, my studio is a work in progress and is not styled or finished. A simple bookshelf houses all of our fabric swatches, tile samples, rug samples, etc. Our large table is where we host meetings and work daily. I use my row of cupboards and long countertop to hold pretty much everything else, such as job binders, cabinet samples, countertop samples, exterior samples and more."
Conclusion
Organizing your interior design materials and all you need for your business may seem daunting at first, but it's a crucial undertaking for your success. Having a well-organized workspace, files, and digital product library will allow you to quickly find the materials you need, arrange and keep track of important project details, and more easily manage client files and the essentials of your business. With a strategic organization system in place, you'll be able to stay  more focused on doing what you love: creating beautiful spaces for your interior design clients, without all the clutter or distractions.
Check out our interior design software to explore our mood boards, clipper tool and proposal features—all of which can help organize interior design materials. To continue learning, check out our next article on Interior Design Project Management Tips to help take your business organization to the next level.
Join the conversation by commenting or asking a question below. The Houzz team reads every single comment, and we'll get back to you by email if you need us!

Want advice delivered to your inbox?
Unlock industry insights and updates for contractors and design pros
By signing up, I agree to the Houzz Terms of Use and Privacy Policy and that Houzz may use my information to contact me about relevant content, products, and services.