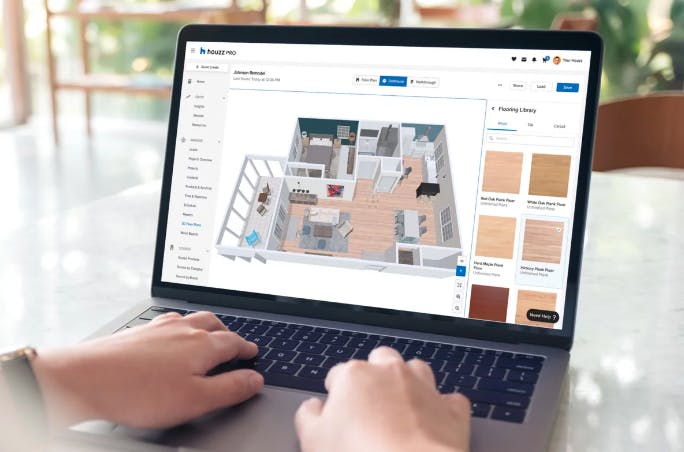 For any construction and remodel or interior design project, bringing clients visions and ideas to life is key for winning them over. But as every pro knows, that is sometimes easier said than done. Homeowners often come into a plan with only a vague concept of the transformation they are seeking, and need you - a professional - to help them see the big picture. They may be unsure, for example, about the room layout, color schemes, and materials they want to use. It is not unusual for designers and builders to spend weeks sketching, revising and building out models before getting their clients approval. New visualization tools smooth out and speed up the process of translating your prospective clients' dreams into plans and proposals. There are many benefits of making modern visualization tools part of our business sales strategy. We've gathered the top three:
1. Give Clients Clarity  
It's hard for homeowners to get on board with a design or vision that they don't quite see or understand. In the pre-sales process, clients want to know what their project will look like once all the work is completed. It can be overwhelming and complicated for them to comprehend reams of plans. 
Tools such as the Houzz Pro 3D Floor Planner allow you to easily create augmented reality 3D Floor Plan and give clients a life-sized tour of their future home. Getting clients on board with your vision has never been so exciting. With the ability to measure any room using a smartphone, you can create the base of a floor plan in seconds. Then, add windows, doors, paint colors and even products to the  plan. Using the Augmented Reality Life-Sized Walkthrough tool, pros can then bring clients into the future with an immersive tour of what the room or home will look like when the project is done. 
Getting to yes has never been easier. 
2. Provide Unmatched Customer Service
Building strong and lasting relationships with customers is vital to the success of all companies because it brings referrals and repeat clients. And in the realm of home renovation, few things make customers happier than receiving a personalized experience. They want to know that their project means as much to you as it does to them. 
Tools that ease collaboration and capture client input can make the working relationship between pros and their customers feel more like a partnership than a business transaction. Sharing a digital Mood Board gives clients a peek into your vision. The Houzz Pro Clipper Tool lets you source product images from any site to add to your personal product library or directly to the Mood Board. Resize and remove backgrounds of the images with a click so clients can see if the results are exactly what they want. And if they're not, Houzz Pro's visualization tools make it simple to modify the plan and share it with clients. 
This kind of customer service builds trust and avoids misunderstandings by keeping everyone who is involved in the project on the same page. 
3. Improve Efficiency From Start to Finish 
Making a presentation that wows clients is faster using Houzz Pro visualization tools, but the time savings does not end there.The tools help pros work more efficiently and accurately even after their customers sign off and the work begins. Linking the Houzz Pro 3D room design app to the software's proposal and Product Sourcing features, for example, means you'll spend less time on double-data entry and more time working on projects that excite you. Proposals can be easily converted into Purchase Orders too. With the time saved, 52% of design pros say Houzz Pro helped them take on more projects and 4 out of 5 create proposals twice as fast.
Inputting data in multiple places helps assure accuracy and by capturing direct and instant feedback from clients, pros can make plan revisions easily, helping reduce change orders and misunderstandings throughout the life of a project.   
All successful design and renovation projects begin with creating a compelling picture for clients of what their new living space will look like, and having the right visualizations tools helps pros get off to the kind of start that wins clients.  
Join the conversation by commenting or asking a question below. The Houzz team reads every single comment, and we'll get back to you by email if you need us!