Jena Bula is the perfect example of changing course to pursue a passion successfully. Five years ago, she left a career in fashion to launch Delphinium Design in Charlotte, North Carolina. She had been working in the visual merchandising department at Ralph Lauren and picked up an interest in design. Bula realized she could "actually could do it versus just admiring it," she says. "I took the leap and went out on my own, and honestly, I've never looked back."
Today Bula's full-service residential renovation and design firm has hit the six digits profit level, boasts multiple five-star reviews on Houzz, and one of her projects was featured as a Kitchen of the Week. It's safe to say her risk paid off, and Bula is relishing her new career. "It's always creative. It's always new," she says. Kitchen designs are her favorite type of project. "I just think you could have so much fun with the creativity of the functionality of the space," she says. "I love the materials, prints, countertops, colors, textures and working with actual stone."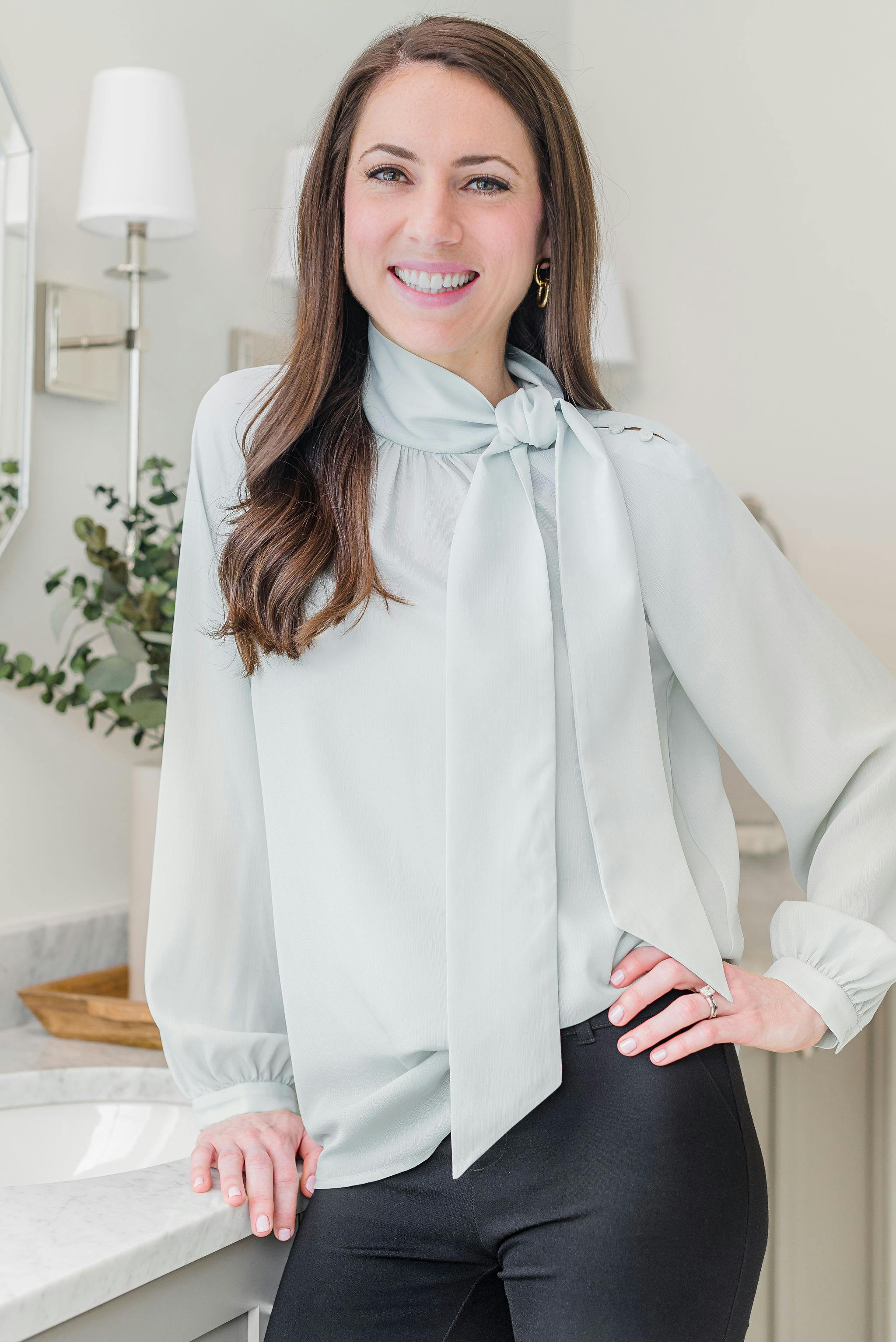 Start Slow and Learn as You Grow
Bula believes in taking things slow and carving out a niche. "Recognizing that you don't have to do it all from the get-go is important. I initially focused on kitchen and bathroom renovations. I didn't take on projects that dabbled in too many areas," she says. "After a handful of projects, I created a duplicable process which allowed me to narrow down project timelines, eliminate mistakes, create efficiency and effectively allowed my business to grow. Simultaneously I also gained confidence in my skill set and began to market my services through Houzz and social media." 
She also believes in knowing when to say no. "Try not to bite off more than you can chew," she advises. "If an opportunity comes up and it's not the right opportunity, or you feel like you shouldn't do it, you can't be afraid to say no."
Communicate Generously to Build Trust
Another ingredient in Bula's success is developing relationships. "Building a rapport with your clients is super important," she says. "To them, it's an investment. They're making their home, they're so excited, and they probably saved up for this for a long time. They want to feel like you spend time with them, that you get to know them and that you trust them. Also, it makes the job fun for us that it's not just another client. They become friends."
According to Bula, the key to building these relationships with clients is communication. "We over communicate. I always want them to feel like they're my priority, which they are," she says. "Taking time to get to know them and asking about their families, and caring about things that are involved in the project, makes them feel like we care and builds trust." Bula ensures that clients are fully informed right from the beginning by giving them a detailed document with all the design details. "They get this design book, so going into their project, they know that we have paid attention to every single element," she says. 
Houzz Pro helps facilitate this communication, allowing Bula's clients to always be aware of the status of a project. They can view invoices, mood boards, project timelines and any other parts of the project. "They have one place they can go for all of their documents," Bula says. "Everything's pretty transparent. I think that they appreciate that." 
She also works to build relationships with vendors. "If they like you and they know that you're a good person and that you'll show up on your end, they'll pull their weight on their end too," she says. "If things go wrong, I need them to fix it and not make it a problem or nickel and dime my client." Bula gives vendors the same design book she gives to clients, to foster transparency and communication. "All the vendors really, really appreciate that design book," she says. "They're not coming in with a million questions. We're not wasting their time."  
Bula compares the design book to a recipe, showing all the ingredients needed to implement the project successfully. "It includes CADs of the cabinetry with dimensions, elevations by wall, and all of our selections — plumbing, lighting, tile, paint etc. — with accompanying images, specs and install guides when applicable," she says. "The book helps to ensure that our vendor partners are on the same page as our design team when kicking off a project. This helps to eliminate questions and is a major time saver."
Streamline as Many Tasks as Possible
Just as the design book is instrumental in Bula's projects, Houzz Pro has been instrumental in helping her scale her business, as it streamlines tasks. "Invoicing is the biggest one, because that was extremely time-consuming. I was always double-checking myself," she says. "It does all the math for me, populates taxes, all that stuff."
She especially appreciates that Houzz Pro is an all-in-one software solution, with tools for lead management, proposal builder, client collaboration, online payments, marketing and more. "Having it all in one place, not going from program to program, is very helpful," she says. "It is just cleaner and easier and less confusing for everyone. Especially as I build my team, putting everything accessible in one place, it's a big deal.… It allows me to take on more work and know that nothing's falling through the cracks and everything's accounted for." 
Bula has found Houzz Pro valuable for marketing as well. "I think it really helps with my SEO," she says. "When people are doing a Google search, they might come across me and then click on the link to my Houzz profile and then inquire about my business that way." 
About those hesitant to adopt interior design software solutions like Houzz Pro, Bula says: "I think they're holding themselves back. I'm not really a techie, but I found it to be very intuitive and user-friendly. It did not take me a long time to adjust." She believes it's necessary to streamline the workflow to be successful in scaling a business. "You're comfortable one way, but if it's not the most efficient way to do it, and if you do want to grow, things have to change," she says. That's exactly what she's done with her own business, and her strategies have certainly paid off. 
Join the conversation by commenting or asking a question below. The Houzz team reads every single comment, and we'll get back to you by email if you need us!