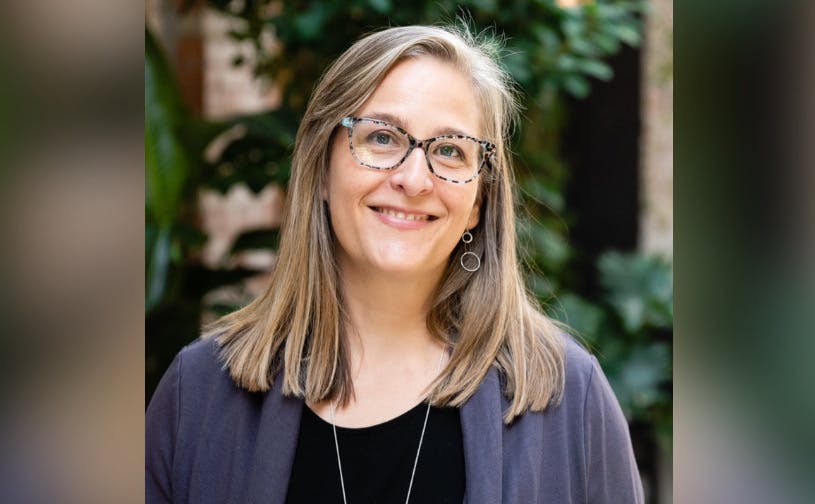 Successful kitchen and bathroom design is not just about creating an aesthetically pleasing space. Finding the perfect balance of beauty and function is what drives award-winning designer Kate Roos in Minneapolis. "A design has to work as a whole. If a space looks great but doesn't function well, it's not successful and visa versa. We work closely with clients to explore what they are looking for and what their space can do for them. We can then bring the design to life with the right balance of functionality, flow, beauty, symmetry, style, etc. The resulting spaces are beautiful, functional and unique to each client.
With numerous National Kitchen & Bath Association awards and several other accolades, Roos has established herself as a designer to watch. Here she shares some of the secrets to her success.
1. Ensure Client Satisfaction
This boils down to communication: setting expectations in the beginning to keeping clients informed throughout the process, and following up at the end with feedback requests. Roos is a big fan of Houzz Pro, particularly the client dashboard, which allows her to keep her clients in the loop with ease. "We send them the client dashboard and they can see everything in one place," she says. "It works really well in allowing us to create documents for our clients with the information they need while keeping a record of details that only we can see, but they don't need to be privy to all of it. It gives us a lot of flexibility."
Roos also utilizes Houzz Pro's ideabooks to help her understand her clients' vision and give them exactly what they're looking for. "We encourage our clients to create their own ideabook in Houzz, and they can share those with us so that we can easily see what they like and what they don't like," she says. "Clients love it because it's so easy to find what you're looking for, and it has such inspirational photography. It's really such a wealth of inspiration."
2. Get Process and Marketing Down Pat
For Roos, the key to managing her time comes down to an organized process. "When you break down the design process into smaller pieces" she says, "you can start to see how many projects you can take at once — because you can only schedule so many meetings in a week before you have no time to do any design work." She takes a realistic look at scheduling to ensure that both her staff and the clients are happy.
"With this process in place, we know what we can handle and the client knows what to expect. We won't have overlapping meetings, and we're not rushing to get stuff done, because it's all scheduled out," she says. "It is imperative that we have the time we need to create thoughtful designs. This is what makes our work stand out."
Creating a manageable time frame for herself and her staff includes having certain time periods when they don't take on new projects.
"We don't take any new jobs in August," she says. "August is typically a time where a lot of us have vacations. We use it as a catch-up month. This helps us to reset a little bit. We also don't take on new projects in December to allow us to wrap up loose ends and head into the new year strong and clear headed."
Roos also makes marketing manageable by handling it all on one platform. "We use Houzz Pro for marketing, which has been consistently a great place for us. We get a lot of interest," she says. "The rest of our marketing dollars goes to photography to show off on Houzz and on our website, this is necessary for clients to see more directly what our work looks like." 
3. Nurture Vendor Relationships
While managing client relationships is crucial, it's also important to foster positive relationships with vendors, suppliers and tradespeople. "I think having those trusted relationships sets you up for success right out of the gate," Roos says. "We've worked hard to develop these relationships and figure out who we like to work with. We know we can trust them, and they know what we're looking for." 
4. Manage Your Mental Health
Roos sets clear boundaries for herself and her staff while still letting clients know when she's available. "Instead of saying, 'No, we cannot take on your project,' you can say, 'Yes, we would love to work with you, we have openings in September, etc.,'" she says. "By setting boundaries, we know when we are available, so if the timing works or the client is willing to wait, we will be ready." 
Managing mental health is important for any busy designer. "you need to protect your headspace," Roos says, "because you really could get swept away in all of the details." 
To foster a healthy working environment, Ross promotes flexibility. "We have a company that allows the flexibility to go to a doctor's appointment or pick up your kid early because they are sick," she says. "We are aiming to be effective at work while maintaining a healthy work-life balance. Everybody's got stuff going on, and we do work hard, but we also value our personal lives and our families." 
In the same way as she strives to balance beauty and function in the spaces she designs, Roos works to balance hard work and rest. And with a happy staff and effective design tools to make that hard work a little easier, she manages to do both with equal success. 
Join the conversation by commenting or asking a question below. The Houzz team reads every single comment, and we'll get back to you by email if you need us!

Want advice delivered to your inbox?
Unlock industry insights and updates for contractors and design pros
By signing up, I agree to the Houzz Terms of Use and Privacy Policy and that Houzz may use my information to contact me about relevant content, products, and services.