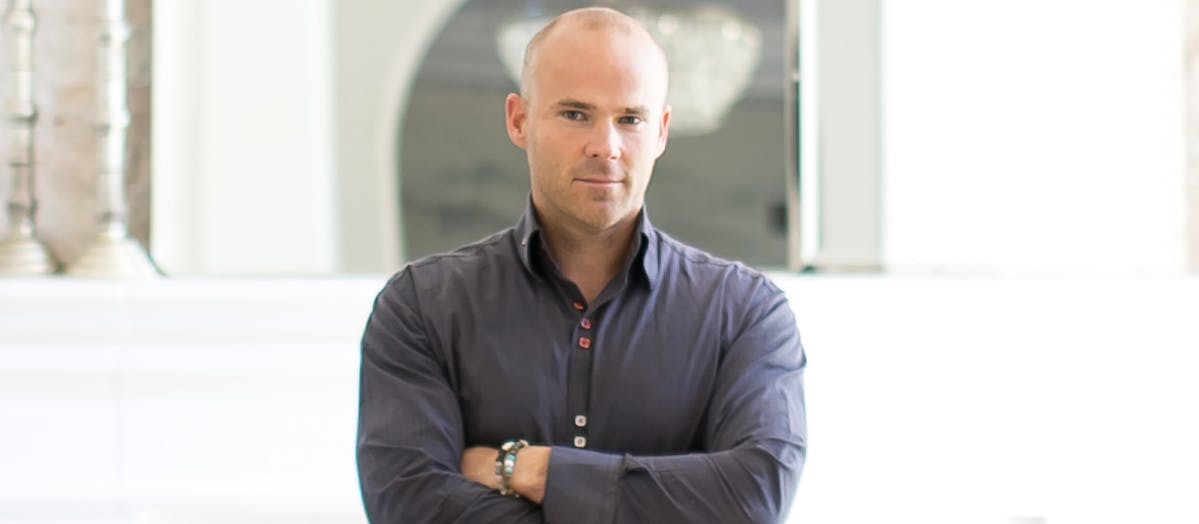 If there's a role model for the benefits of incorporating software solutions into an interior design business, it's Nate Fischer. Owner of the eponymous firm based in Laguna Beach, California, Fischer is a 15-time Best of Houzz award winner and has shared his work on the platform for 10 years, garnering more than 50 five-star reviews. We sat down with the seasoned pro to discuss his design process, how he uses technology to manage his business and what he sees for the future of the industry. 
Having worked in the world of interior design for 14 years, Fischer has seen firsthand how technology has radically changed it. "As we learn and grow, we rely on tech more and more with each project," he says.
Fischer describes his typical client as someone who has a "fairly good sense of what they want but does not have the time, confidence or experience to bring their vision to reality," and he specializes in giving them their dream home. "A photo is worth a thousand words, so I always ask clients to select a couple of photos on Houzz and tell me in a few sentences what they like about each space," he says.
A key factor in meeting clients' expectations is communication. "We're very involved with our clients during the whole process," Fischer says. "I like to say that if more than a few days go by where we're not calling, texting or emailing each other, that means something's wrong. Being a small design firm, I would say we definitely are more in personal contact with our clients than maybe some other designers."
According to Fischer, successful communication depends on efficient organization. "Between voicemail, texts and emails, it can be a challenge to juggle new client contacts, phone numbers, emails and project details," he says. "I love getting new client leads through Houzz Pro, as they are all listed in one place, with all the client's information and project details. I even get a reminder if I forget to reply to a new client lead, which has saved me more than once."
While many of Fischer's clients come from referrals, the rest —- about half — come from his premium profile on Houzz. "The reviews are huge. Clients do read the reviews," he says. "I think the more personal you can make your profile, your projects, your social media footprint, the better. You want the client to feel like they know you before they call you."
Not only does Houzz Pro streamline the way Fischer runs his business, it opens up his firm to more client opportunities. "Houzz Pro allows us to give our clients organized visuals of their project and invoice statuses. This makes it so easy for us to take out-of-town or out-of-state projects, where in-person meetings are not an option," he says.
Fischer also uses the platform for inspiration and to keep up with trends. "I love checking in every few days to see what images are being saved to users' Ideabooks. This gives me a great real-time sense of what people are drawn to," Fischer says.
Though technology has in many ways revolutionized the interior design industry, Fischer believes its impact has just begun. "I would say the demand for design is going to go up, and at the same time competition's going to go up, too" he says. Fischer believes technology will democratize an industry that has typically leaned toward high-scale, high-budget projects. "Think 10, 15 years ago, interior design was definitely more a luxury service that wasn't attainable by everybody. Now the norm is to have a designer, even if it's just on a small, hourly consulting basis," Fischer says. "I think there will be more of a market for entry-level design projects that's maybe not a full project, but somebody that just needs help to some level. There'll be a lot more of it."
To those apprehensive about adopting technological solutions, Fischer warns they'll be missing out. "We're getting a lot of new client leads — more than I've ever had — and it doesn't seem to be stopping anytime soon," he says. "You're going to need to adapt. The sooner the better."
Join the conversation by commenting or asking a question below. The Houzz team reads every single comment, and we'll get back to you by email if you need us!