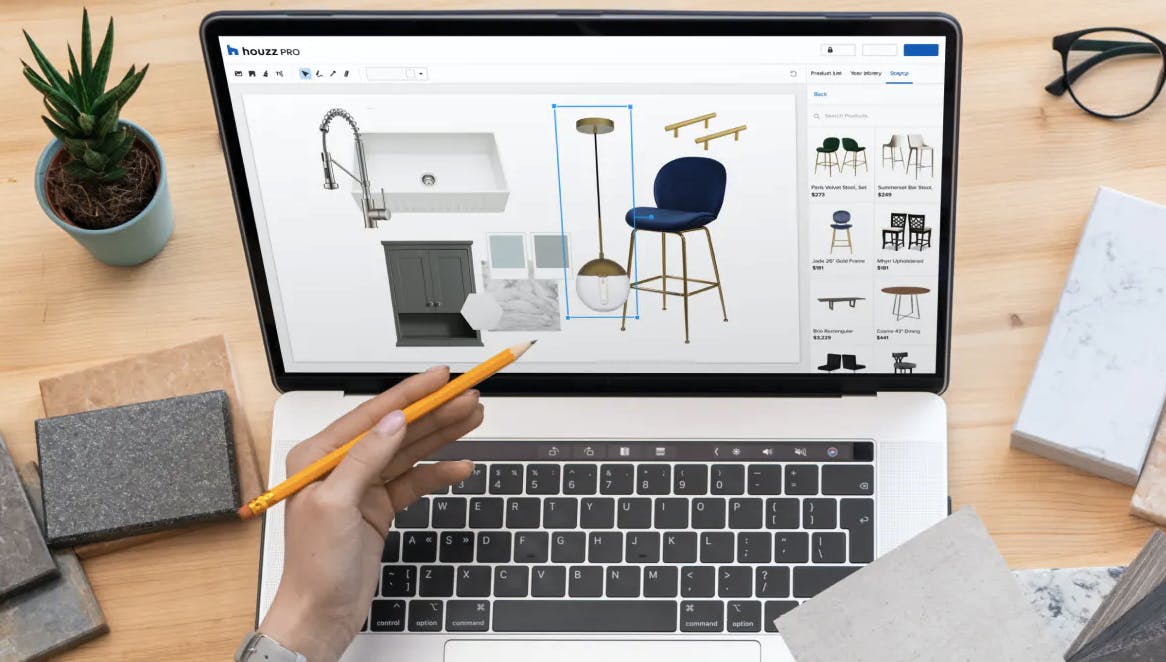 As an Interior Designer, you can probably start visualizing how you imagine a finished project will look. You may have a clear image in your head but communicating that to clients or your team may be difficult since they obviously can't see inside your mind. In this Houzz Pro Learn article, you'll learn how to create a mood board for interior design to sell clients on your vision. Click a link below to jump to the section you're most interested in:
What Is A Mood Board?
A Mood Board is a combination of images, text, and other visual components you can use to show your clients and team what you have in mind for the project. Mood boards can be physical or digital, and they can be as specific or abstract as you like. When deciding how to make an interior design mood board, you'll want to keep an eye out for exact images of furniture, decor, paint colors, textiles, or simply images that you pull inspiration from. 
Why Are Mood Boards Important?
Mood boards are important because they give a visual component to what an interior designer could be imagining for a space and provide a good starting point to organize all of your ideas. Having all of your ideas for a project in one place will make it easier to focus on your overall goals and vision as the project progresses. 
How Do Interior Designers Use Mood Boards?
Interior designers can use mood boards to organize all of their ideas for a design to be proposed to a client. Creating a mood board for interior design proposal can assist you throughout the entirety of a project as they help you stay on track with your vision and align it with your client's expectations. You can also use a mood board to determine if a new element or idea works with what you currently have in your design vision for a client.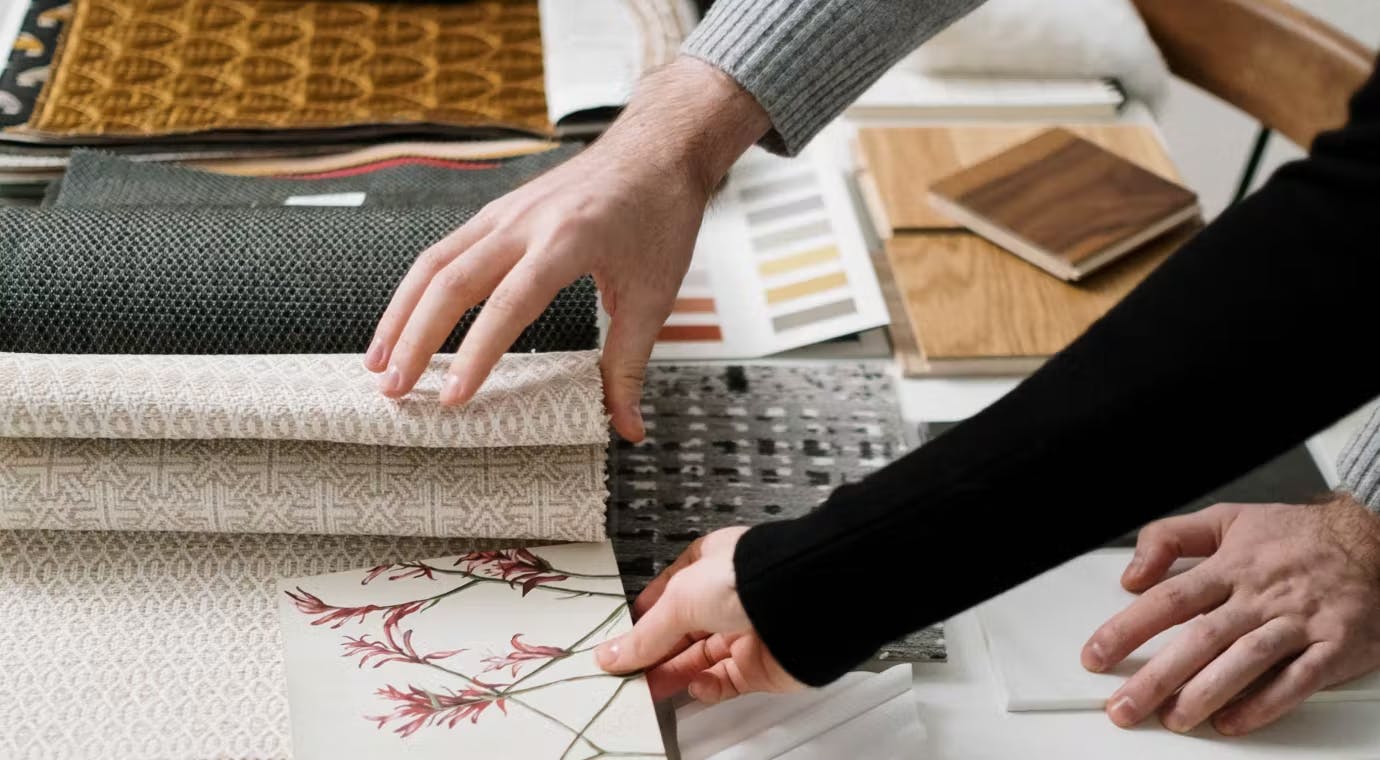 Elements of A Mood Board
Your mood board can be as specific or abstract as you would like depending on your vision.
You can use a combination of different elements to display and focus on your ideas. Some of these elements include: 
Furniture: Images of furniture you could see in the space can provide inspiration when you are shopping.
Colors: Including images of colors and paint swatches in your mood board can help keep you on the right path. When choosing things to include in your design, having a color scheme in mind can help keep everything cohesive. 
Hardware/Fixtures: You can include images of different light fixtures and handles/knobs to show what kind of finishings you imagine in the space you are designing.
Full Room Mock Up: There are tons of interior design websites and magazines that feature beautifully designed spaces that you can include in your mood board for inspiration. 
Accessories: Things like throw pillows, rugs, artwork, and other small decor items usually come last but including them in your mood board can help you see if they fit well into the overall design.
Other: Anything else that can further inform and inspire the overall mood of the proposed design.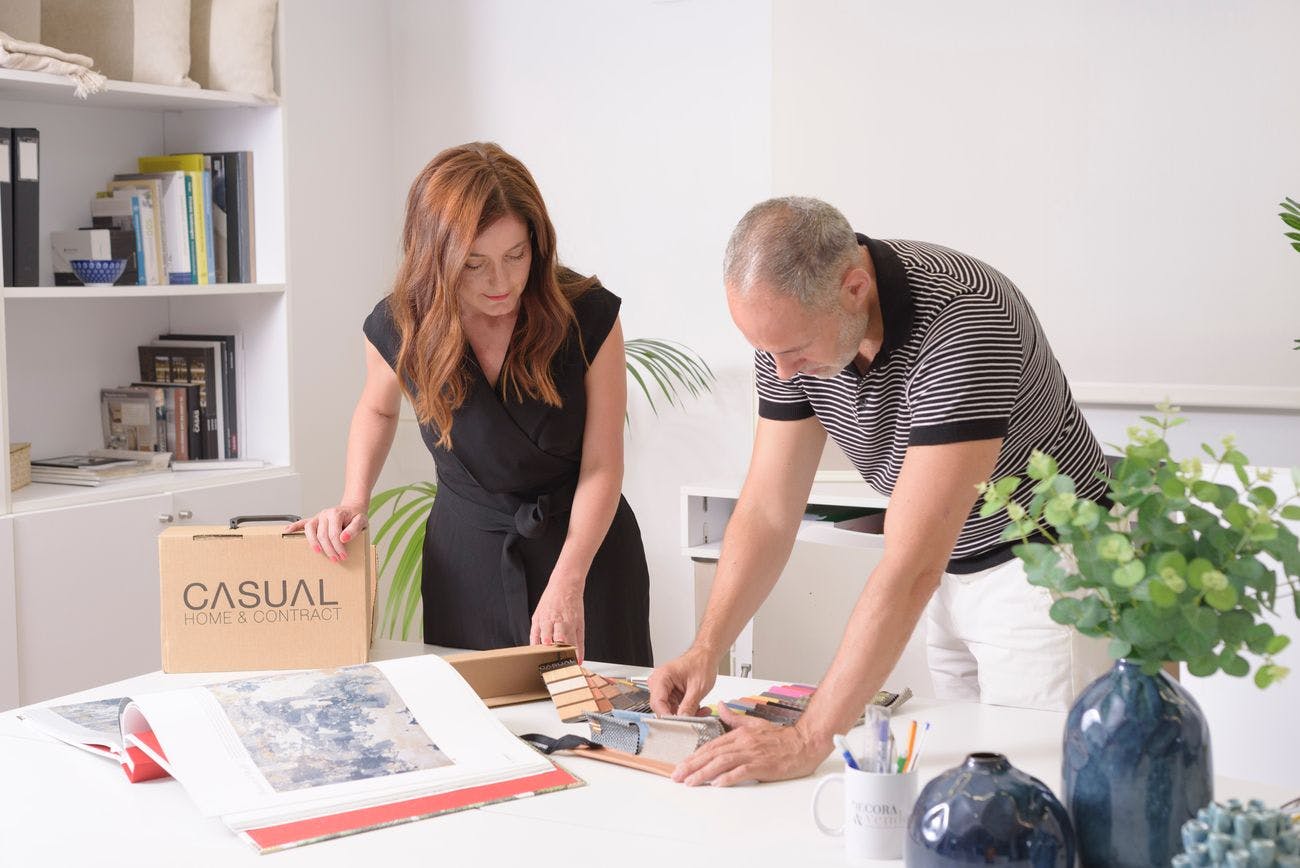 Different Types of Mood Boards
When it comes to how to make a mood board for interior design you have two initial options: Hardcopy or Digital. A hardcopy mood board can be built on a canvas or poster board. Digital mood boards are created using an online platform. Some interior designers opt for the digital option because they are easier to share and you can also make adjustments quickly. Within the two main types of mood boards, there are some subcategories that determine the style of your board:
Furniture and Decor Focused: This type of mood board includes images of furniture and decor pieces you like for your project and is sometimes referred to as a "traditional" mood board. Seeing all of these elements together in one place will ​​help you determine how every piece will fit and elaborately go together.
Abstract: This type of mood board is more of a collection of images you are inspired by. All of these images combined can help display the mood or vibe you imagine for the space you are designing. For example, you could see an image of a beach and a bed with white linens on this type of mood board. What kind of emotion or vibe do images like that emit? Potentially, those images can reveal that the space you want to design is very clean, open, and relaxed.
Space Planning: In this type of mood board you will usually see textiles, paint colors, and finishes. Similar to a furniture and decor-focused mood board, you will be able to see all of these elements next to one another and determine if they work well in the space you are designing.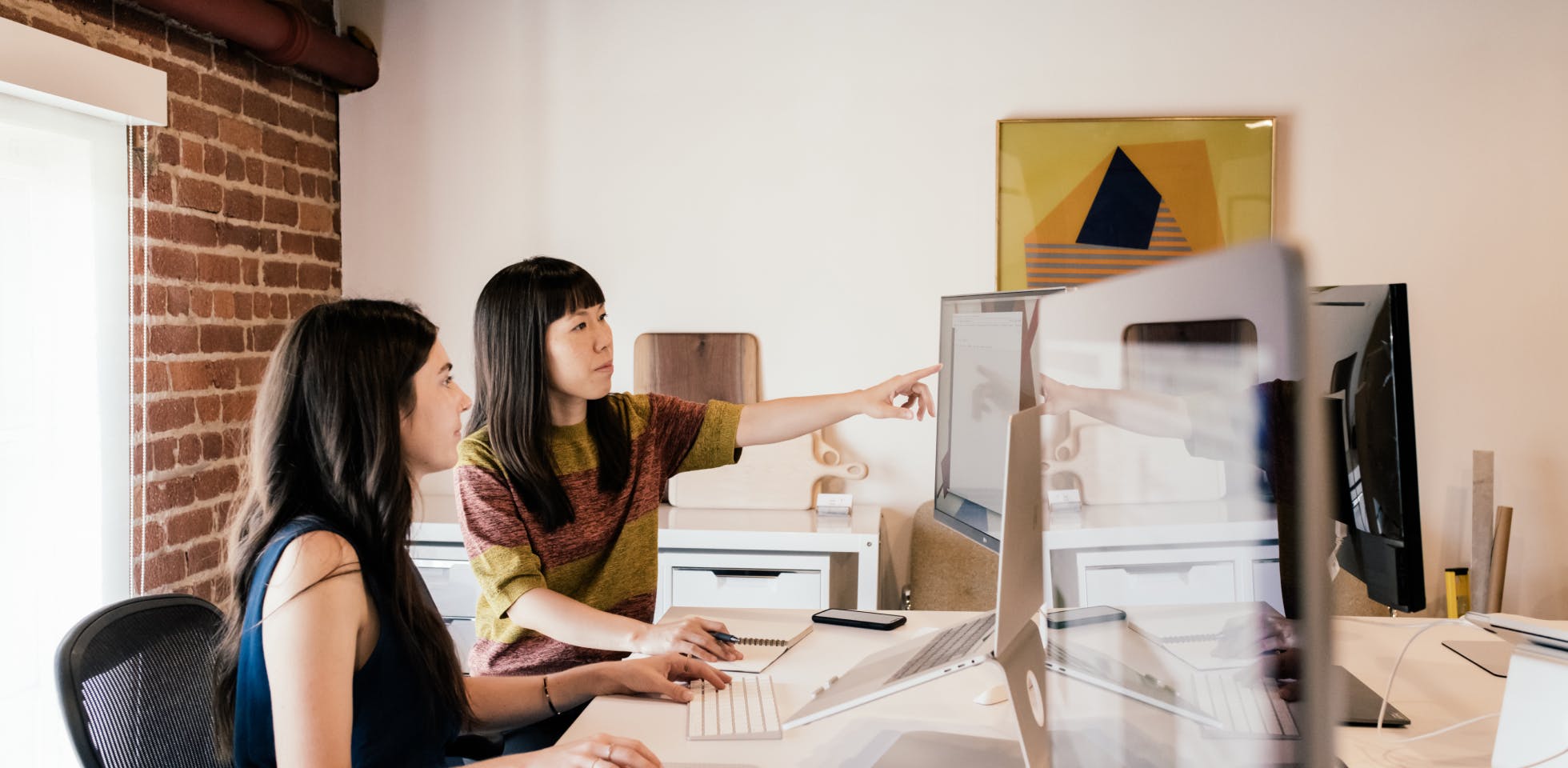 Steps to Create An Interior Design Mood Board
Creating a mood board as part of the interior design proposal for a client is quite simple if you know where to start and what steps to take.
1. Inspiration Piece: Start by finding one image that inspires you. For example, this can be a couch you saw last week while browsing furniture stores. Or maybe you saw a social media post recently of a beautifully designed reading corner. It is much easier to start big and scale down. Tip: This inspiration piece can also be a non-negotiable item that you must have in your design. 
2. Hunt & Save: Now that you have an inspiration piece to be your "guiding light" you can start browsing websites, magazines, and stores to find more elements you like. Whether you are physically making your mood board or using online software to create it digitally you should begin saving anything you like in one place. Don't be afraid to save any and everything you see. As you get further into your mood board the process of elimination will come into play eventually. 
3. Pick a Program: If you are creating your mood board digitally you have a few different program options to choose from. They may all seem quite similar but each program will offer different features that you may or may not be interested in. In the next section, you can read more about the different programs you can use to make an interior design mood board.
4. Start Designing: We have finally made it to the fun part! Now that you have an inspiration image and hopefully plenty of other images saved you can start to put them together on your mood board. Tip: Pay attention to the placement of the images. A good rule of thumb is to place rugs and wall colors in the background so you can envision how furniture and other decor pieces look on top of them. 
What Do Interior Designers Use for Mood Boards?
There are many tools and softwares that help you learn how to make a digital mood board for interior design proposal, but we recommend choosing one that seamlessly integrates with the rest of your business processes — or even better, helps your business run more efficiently. 
Houzz Pro Mood Boards have everything you need to make impressive mood boards, but we also help you share them with clients, keep your mood boards organized with other client files and even turn your mood boards into purchase orders and professional proposals.  
Conclusion 
Mood Boards are a step you can include in your interior design process to help you design a beautiful and functional space. They are a great place to house all of the ideas and they can also inspire you during a project. Mood boards are just one piece of the puzzle when it comes to interior design. Check out How to create an Interior Design 3D Floor Plan to learn more about another tool you can use during your interior designing process. 
Join the conversation by commenting or asking a question below. The Houzz team reads every single comment, and we'll get back to you by email if you need us!

Want advice delivered to your inbox?
Unlock industry insights and updates for contractors and design pros
By signing up, I agree to the Houzz Terms of Use and Privacy Policy and that Houzz may use my information to contact me about relevant content, products, and services.