Weekend Decorating: Skirted Sinks
Tailored or Ruffled, Sink Skirts Cover for You in Bath and Kitchen
Sink skirts have been a lasting style, derived more out of necessity to cover unsightly plumbing fixtures or bathroom toiletries than for aesthetics. But they're not only highly functional and economical — they also provide softness to both kitchens and baths.

Looking for a weekend decorating project? Try creating a skirted sink. This ideabook provides design inspiration as well as solutions for creating a skirted sink even if you don't have a sewing machine. Also consider searching Houzz for rooms with skirted tables to get ideas on customizing your look. After all, design is in the details. Happy decorating!
Sylvia Martin
A lengthy sink calls for a skirt of doubled proportions. It adds softness to the space and is a perfect for hiding toiletries in the absence of bathroom cabinetry.
Damask patterned skirts take on a more formal approach in this Mediterranean style bath. Choosing the right fabric will allow you to use sink skirt with a range of decor styles.
Home & Harmony
A billowy linen adds warmth against a cold farmhouse sink. Using skirts in lieu of cabinetry also aids in creating a farmhouse look in your kitchen.
This kitchen contains a well curated mix of a few of my favorite elements, including a canvas sink skirt. Its juxtaposition against a modern stainless steel sink is unexpected, but works well with the eclectic character of the space.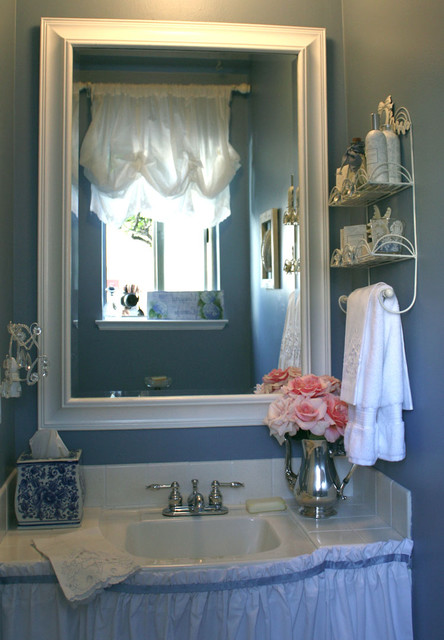 My Romantic Home
It is not uncommon to see a skirted sink in a romantic, country bath, but customizing it with a lovely, coordinating trim makes it less predictable.
Home & Harmony
A pristine white powder bath shows its flirty side with a mini skirt. Its floral pattern provides a color palette for bath accessories.
Beach Vintage
When decorating with a skirt, use this opportunity to get creative with mixing pattern and colors. This two-tiered ruffled skirt plays well with the polka-dotted tea towel, reinforcing the kitchen's retro vibe.
Michelle Jamieson Interiors / New England Style
For a classic look, opt for a tailored skirt complete with box pleats and rope trim. Custom skirts like this generally require the service of a seamstress, but if you are looking for a weekend project you can make you own sink skirt even if you don't know how to sew. Check out this
easy tutorial
to help get you started.
Next:
Browse more photos of bathroom designs