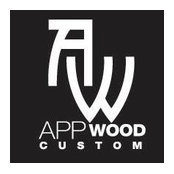 | | |
| --- | --- |
| | AppWood Custom Woodwork |
Commented: Where can I buy this door?
sure, you just need to call our office 828-437-4300 or email paul@appwoodcustom.com and he can price the project for you. you'll need to give him the height.
Commented: size of this door
this is about 5/0 x 8/0, but we build to order so we can make this door for you in whatever size you like.
Commented: What is the wood on the doors
The door in this photo is made in Spanish Cedar, but as a custom shop we can build this door in any species.
Commented: LOVE!
This is not fiberglass, it is solid wood, alder. It is custom made by us at AppWood and the color is our ebony. connect if you would like a quote.
Commented: How much is this door?
the budget for this 8/0 door with sidelight as shown, with Rocky Mountain handset, pre-hung and pre-finished would be about $12,500. It is our most expensive door style, contact us for other styles a...
Commented: Double doors!
Thanks for the interest, the price is based on style, size, finishes and hardware options. Our pre-hung and pre-finished double door unit in this style starts at $6,400 for a 5/0 x 6/8 opening. Our ...