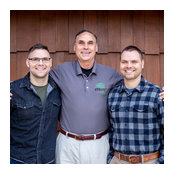 | | |
| --- | --- |
| | CLC Landscape Design |
Commented: Foundation plantings
Thank you! The small tree is an upright Laceleaf Japanese Maple (Acer palmatum 'Seiryu'). It was existing and we worked to keep it as a centerpiece. We added Wintergem Boxwood along the foundation for...
Commented: What are the stones for these steps?
Thank you! They are stone-cut, stone slab steps that we purchased from Wicki Stone in NJ. We don't know the exact type of stone that was used. Perhaps if you sent them a photo of this, they could be a...
Commented: Was is that beautiful hydrangea variety in this pic?
Hi Bella, Good eye! Those are Karley Rose grasses. I use those often because they starting blooming much earlier than other fountain grasses, as early as July 4th weekend sometimes. This project is in...