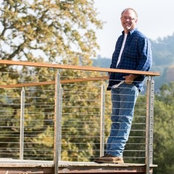 | | |
| --- | --- |
| | Michael Tebb Design |
Commented: Where to buy?
Hello - I did respond by email and see that this would be the better spot perhaps. Getting used to this:) So it is called galvanized pan sheeting most often used for large building construction for co...
Commented: What kind of lights and light poles did you use?
Hello and thanks for taking a look at our work! The lights actually came from Costco and as for the poles, we used 1" galvanized water pipe and painted them black. The poles were driven into the ...
Commented: What is the size of this ppol?
Hello, this pool is 22'x62' of swimming area and these dimensions don't include the catch pool for the infinity edge. For an 8,800' lot 16'x32' would be more proportional.
Commented: lovely landscape design
These are young River Birches (Betula nigra). They get to be 50+ feet tall fairly quickly, have a beautiful multi-trunk form and peeling light brown bark. They do take quite a bit more water than many...