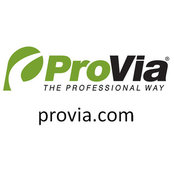 | | |
| --- | --- |
| | ProVia |
Commented: ProVia Siding?
Hi! Although the stone in this photo is ProVia, we don't think the siding is. However, we have several colors in our vinyl siding that would compliment the Blue Ridge Limestone beautifully. Check them...
Commented: Provision Terra cut manufacturing stone
Hi Jane, if I understand your question, you're asking if the Slate colored Terra Cut stone pictured here would be too much gray for your fireplace, correct? If so, it really depends on the decor of yo...
Commented: Door color
Bridge 3689, I wish I could tell you with confidence what color that door is, but I can't. We offer custom colors to our customers, so there's a slight chance it's a custom color. However, my best gu...
Commented: lindalinda@juno.com
Linda, Thank you for your question. Our doors are sold through dealers. To find the dealer nearest you, go to our website (provia.com) and click on "Where To Buy" at the top of the home page...
Commented: can you show me the floor plan?
Jsggoos, I'm sorry I don't know the floor plan to this house. The manufactured stone on the exterior is ProVia's, but other than that I don't know anything else about the house. Thanks!