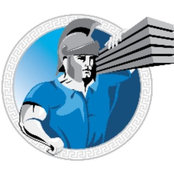 | | |
| --- | --- |
| | Trojan Builders |
Commented: NanaWall vs Panoramic Door--- Help! :)
We used all Nanawall Doors and windows on this project in Lido Island 5 yrs ago, Client is very happy with the results, quality, and they have held up great being so close to the water.
Commented: Laundry room remodel question
Get a plumber out there, May have to break some concrete and put a couple fittings on, Sink drains are 2", so he will go from the existing 3" to a 2" and up your wall, If you still need...
Commented: Can anybody confirm this wall is non load bearing?
Id say it is a bearing wall, Looks like the ceiling joist from the Dining room to the kitchen lap on that wall, Also you can see the vents orientation is in between joist, and you can see a joist end ...
Commented: concrete patio pour help
Acid wash wont give you grip, I would have done a med broom finish, since it was troweled smooth unfortunately yur kinda stuck with it, I hope theres at least wire mesh or rebar in it, Theres only 2 t...
Commented: Architect and Engineer's plans have errors
Personally I would at the least have the revised drawings and any calc's done for free, Like Charles said, thats just a "get out of jail free card" for the Arch/Engineer, I know as a contrac...