About Us
For Modern Entertainers who believe kitchens that are a place to connect, entertain and create, Dacor offers stunning tools that deliver expert innovations, intuitive technology, and handcrafted design. www.dacor.com
Services Provided
Appliance Sales
Areas Served
United States, US, Nationwide, U.S.
Awards
Green Builder Media Hot 50 Product (2017) ASTI Partnership Award (2013-2017) TWICE - VIP Award Winner: Ovens, Ranges, & Cooktops (2017) EPA Energy Star Emerging Technology Award (2016) Best of CES Home (2014) Best of KBIS (2014) Better Business Bureau (2013) Houzz Top 5 Rank (2013)
Back to Navigation
Our Stories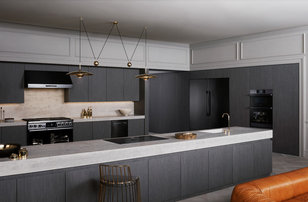 Sponsored story
Explore how technology beautifully transforms cooking and entertaining with these tips from Dacor
Item 1 of 1
Back to Navigation
Back to Navigation
Credentials
2 Houzz Awards
4 Houzz Badges
Back to Navigation
Write a Review
17 Reviews for Dacor
Our 5 year old $10k refrigerator is leaking into the insulation and causing condensation. It is irreparable and we are told that it can't be a manufacturing issue but due to "outside" influences. The technician says he has only seen this in 15-20 year old appliances. However, the company took his notes and says clearly this is our fault. Obviously trying to get out of the warranty. Our model has been discontinued, coincidence?
When we redid our kitchen in 2008, the kitchen designers recommended Dacor appliances. We bought a cooktop, an oven & a vent hood. The mother board on the oven went out numerous times. The vent hood light socket burned up. The company was indifferent and referred us to an independent repair company. I would NEVER buy their appliances again!
Working with Dacor was a dream experience. During the installation process, there was always someone available either by phone or email. I moved into my condo last month and I've been cooking a ton of food. I can honestly say the food tastes great and Dacor has a customer for life

Loretta's Interior Design, LLC
As a professional interior designer and luxury design blogger I have been pleased to feature numerous Dacor luxury kitchen appliance offerings. From range to warming drawers, ventilation hoods to refrigerators, microwaves and outdoor appliances, Dacor appliances add a high level of style, function and customization to your kitchen. I love the incredible specification options that can be tailored to fit the homeowners lifestyle and cooking demands. The Dacor Signature Gourmet cookware has also become a favorite of mine and offers a perfect complement to their line of luxury kitchen appliances. Investing in Dacor appliances is an investment in quality.
When we did a full kitchen remodel in Dec. 2015, we wanted to include luxurious, high-end appliances, and after much research, we decided on the Dacor 30" dual-fuel Distinctive Range, Renaissance 15" pop up vent, and Distinctive microwave & trim kit. The appliances are the stars of our kitchen and we couldn't be more happy with their performance and gorgeous looks.

We've been designing with Dacor products for our clients' homes for a number of years and have used them exclusively in our cottage designs at Bluejack National, as they fit with the high end, luxury feel of this development. We specifically selected the 36" IQ range for Bluejack National, as we can custom color every range to align with our clients' décor choices, a feature that professional designers love.

I was having a problem with my 10yr old Dacor double wall oven. I asked customer service to contact me. Within 24 hrs a representative called me and was most gracious in helping me to rectify the problem. This is the kind of service you expect from a top of the line appliance company like Dacor.

I have to rave about our outdoor Dacor grill. We have had it since 2008 and it is still the most used appliance at our house. It has been reliable through the years. It has hundreds of grilling hours on it and main event for many gatherings. We love to cook.

Working with Dacor appliances as a leading designer specializing in kitchens is great! Dacor has a great product that is sleek, very classy and integrates very nicely in many of my projects. Their delivery is very punctual and all Dacor products I have used are very reliable. Most important aspect is that my clients are always pleased with the results of my kitchens that include the Decor brand. As a high end designer, I will always make sure dacor is included in my product specification list.

What a wonderful and unique opportunity to see a San Francisco Painted Lady house from the inside vantage point. So many times we have brought visitors to these historical homes, but were always limited to seeing the Painted Ladies from the outside. When Dacor offered us the opportunity to tour the inside of one of these beautiful homes, we jumped at the chance. This house was completely renovated with each detail meticulously restored and specified to be in keeping with the original style and period of when the house was built. As a kitchen and bath designer, it was an additional treat to see the professional cook's kitchen. Even though it contained top quality, Dacor professional appliances, the overall style and feel was in keeping with the rest of the house. It was good to see that even though one needs to keep historical finishes part of the design, these professional appliances were used to beautiful effect.

Precision Cabinetry and Design
I have been working with Dacor Appliances since I started in the business 17 years ago. I also personally have Dacor at home. The ovens are amazing and the copper details on my professional cooktop are beautiful. As a kitchen designer, I am always asking my older clients how they like the products that were chosen and Dacor is always a thumbs up!

Relationship
I am an interior designer who can't wait to use Dacor.
I had the opportunity to see and learn about Dacor Appliances at the Kips Bay Decorator Show House in New York City and was blown away with the exceptional quality and smart features and the just plain gorgeousness of these appliances. They're not just pretty faces, they actually possess a high IQ. With the Discovery IQ oven, you can store recipes into its digital cookbook, select recipes, and start cooking all from your smartphone. The best part is the oven tells you exactly what to do to cook dinner perfectly. It's like your own personal chef! And it can even text you when dinner's ready. The Dacor Renaissance range is designed with your every wish as its command. Burners that manage a true controlled simmer as well as super high heat to sear steaks perfectly. Burners are sealed so cleanup is a snap. Continuous grates so you can slide heavy pots to the side. Knobs that light up and have grips. Thoughtful features you wished you had because they make turning out delicious meals easy and pleasurable. For pictures and more info, visit my blog here: http://www.annelubnerdesigns.com/2015/06/someones-in-the-kitchen-at-kips-bay-decorator-show-house/
Back to Navigation
Back to Navigation
14425 Clark Ave
City of Industry, CA 91745