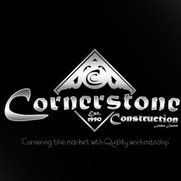 | | |
| --- | --- |
| | Cornerstone Construction |
3 Houzz Badges
Contact Info:
Mark McLean
London, Ontario N6H 3X4
Canada
Typical Job Costs:
CAD 20,000 - CAD 500,000

London's General Contractors with Quality & Professionalism
page_type: prop_plus_profile
Our focus is on custom designs and timeliness, with each project treated with its own unique approach allowing transparency and communication every step of the way. Serving the London Area for 30 years our goals remain the same; to create the spaces that you have always dreamed of. Whether it's a bathroom remodel or a whole home renovation, we are here for you when you are ready to start planning.
Services Provided
Attic Conversion, Attic Restoration, Basement Remodeling, Bathroom Remodeling, General Contracting, Guesthouse Design & Construction, Home Additions, Home Extensions, Home Gym Design & Construction, Home Remodeling, Home Restoration, Kitchen Remodeling, Porch Design & Construction, Range Hood Installation, Shower Installation, Skylight Installation, Window Installation, Window Replacement
Featured Review

All the praise goes to the Cornerstone company and their proprietor. Construction projects don't have to be stressful so long as you hire the right people; that's why my full endorsement goes to Cornerstone. Hire them, you wont regret i
Read Full Review
Write a Review
29 Reviews for Cornerstone Construction
I have had Cornerstone do two major renovation projects on my house. The first was a major basement plus backyard renovation involving a complete gutting and rebuild of the basement to include a laundry room with toilet and sink, installation of a gas fireplace and bookcases, an extension to house a new staircase to the basement and concrete patio. The back yard was terraced with retaining walls. The second was a complete renovation of the upstairs bedrooms and front porch. The bedrooms were stripped down to the studs and skylights were added. The old metal porch was removed and replaced with a wooden roofed porch. Mark knows what he is doing from the planning through to the execution. For the basement renovation, an architect was required which Mark helped arrange. When both projects started, Cornerstone parked their trailer in the front yard and worked every day on the renovation until they were completed; apart from a few last things which were finished up quickly.
Cornerstone provides reliable, quality service. We have done multiple projects with Mark and his team, each time thrilled with the results. We trust Mark and his team members explicitly and would highly recommend them for your home renovation. We were engaged in project planning and selection of all the materials. Once they started work, they remained focused and committed to our project until the transition was complete to our satisfaction. They kept the workspace clean and respected the needs of our family as we co-existed through some major tear down/rebuild. We communicated regularly throughout the project. There were no surprises when it came time to settle up. Overall, a really great customer experience. Thanks again Cornerstone!




May 16, 2020
Last modified:

May 17, 2020
Fantastic work, time and time again! From minor household repair to major renovations, we have been very happy with Cornerstone Construction. They don't cut corners and they have a great eye for detail. They provide excellent consultations and will patiently explore all options with you. They are also very friendly and respectful, causing minimal disruption when working. It's always a joy to work with them and I don't think we'd ever go with any other Contractor!
Some words to describe Mark and his team: -Professional, -Organised -Attention to detail -Timely -Maintained a clean work space Mark and his team offered guidance and advice throughout our project from design to finish. We especially appreciated that he listened to what we were trying to acheive and seem to be a step ahead in offering solutions. Working with 3D drawings from the design stage ensured that we were always "on the same page". The Cornerstone team worked tirelessly to complete our job on time.
Peter & Madelaine Rollings
Mark McLean and his team at Cornerstone completed an outstanding renovation of our home. We could not have been more delighted and fortunate to have connected with him. From the very beginning, we were impressed with Mark's professionalism, his mastery and attention to detail, as well as his understanding of the full scope of our ideas. He was particularly organized, keeping to his original timeline. His diligence and courtesy involving us in each step of the renovation was appreciated, as we always knew what was was coming next. Importantly, Mark kept to our original budget. On top of everything, Mark brought to us his cheerful nature and rich sense of humour making our entire experience positive, creative, and wonderful. We would not hesitate to highly recommend Mark and his Cornerstone Company to anyone. Thank you again Mark and your team. Again, an outstanding renovation!
Outstanding - highest possible recommendation. We have worked with Cornerstone Construction for over 17 years - Mark and his crew have renovated our entire house. The work included a kitchen addition. Our house dates to 1910 and retains many of its original features. The attention to detail, including period detail, has been exceptional in every project. The quality of the workmanship is impeccable from design to execution. Estimated times to completion have been entirely reliable. Working with Mark has been an absolutely wonderful experience.
We have had a number of things done by Mark. All were excellent. The biggest of these was refinishing a hardwood floor and installing a number of shelves in a study. I am extremely pleased. We are also planning to redo our kitchen and expect to ask Mark when we finally get around to doing it.
Mark and his team did an outstanding job on our renovations. We have used them for two renovations and plan to have them back to renovate our future retirement home. They are quiet, courteous and professional. Mark has extensive knowledge of all aspects of home renovations and the quality of his work is top notch. Our family never doubted that we were in good hands, as from the beginning it was apparent that the Cornerstone Construction team provided superior service. Deadlines were always met, and there was no question of meeting the budget because Mark had a meticulous eye for detail, pre-ordering and delivering everything before the project began. Completing our renovations was a stress free experience with Mark, and if he did run into an obstacle he always had a plan B. Once he starts a project, he is there till it's finished, demonstrating his commitment and dedication to his craft.
We had the pleasure of having Cornerstone Construction install cabinetry in our office showroom. Throughout the entire process, Mark, Jordan, and Team were professional, timely and personable. The quality of product showed attention to detail through their outstanding craftsmanship. We highly recommend Cornerstone Construction with great confidence, and will always use them for future projects. Thank you again!
If you want it super cheap and don't care about shoddy standards and poor materials, this company is not for you. If you are willing to pay a very fair price for excellent design and execution, and total reliability both during and after the work, choose Cornerstone. We have trusted this company with all of our annual repairs and with major renovations since 2004. We are 100% comfortable giving them the run of the house while we are away.

Mark and Jordan are ultimate professionals at Cornerstone Construction. This company has 30 years experience which shows as they provides the best quality and unbelievable workmanship on each job. They are reliable and dependable. I have had two renovations done by them and would not hesitate to refer Cornerstone to friends and family .
We have hired Cornerstone Construction for two projects: the first was the renovation of our study, including carpentry which Mark designed (bookshelves, drawers and cupboards), lighting and new windows; the most recent project was the complete renovation of our master bathroom. Expert planning is one of the keys to Cornerstone Construction's success. Mark gave us plenty of notice about when the projects were to begin. Both projects began and finished on time, within budget, with the highest craftsmanship, and in a very professional and expert manner. We were thrilled with the results. Mark and his team were wonderful to work with. Mark collaborated easily with the designer we hired for our bathroom project, and he had excellent ideas to contribute to and compliment her's. Both renovations were planned with the least disruption possible to our home. Except for plumbing and tile work, all construction, including the plumbing, was done by Mark and his team. And the two sub-contractors were as professional as Mark and his team. We could not recommend Cornerstone Construction more highly.
Our deck was decades old and in serious need of replacement. We were interested in using Cornerstone Construction and Mark McLean is one of the preferred contractors in this area. He came over and showed us plans that would fit our needs and look good in our yard. He had several ideas and offered helpful suggestions for design and color use. Since we weren't exactly sure what we wanted the final deck to look like, we appreciated his input and experience with design and building. Now that our deck is completed, we are very glad that we chose Cornerstone Construction - Mark and his team could not have been easier to work with and we had no problems or any "re-dos" as you often have with contractors. We highly recommend this company for your deck repair or replacement. They came when they said they would be at the house, informed me of every step they would take and communication with them was very easy. Mark's bid was very competitive with the other bids we got, and we feel we got great value for the money.
A complete gut job of the kitchen/fam.rm and a complete redo of the master ensuite. The planning and design work for the two jobs was professionally done with many consultations to insure that we were getting what we desired and what would work functionally. The work was done as planned and as scheduled despite the surprises that a plus 100 year old house can bring. Mark and his team were friendly, professional and very competent in all aspects of the projects which were completed on time and on budget and we are more than pleased with the design and quality of the work.
Honouring being a team member of Cornerstone Construction. The company displays and maintains Integrity,Service and Value. Thanks for letting us supply your flooring needs!
Cornerstone has done two major renos for us and will do our next one. We would never consider hiring anyone else. They are so professional and wonderful to have around that we miss them when they're done. Each time they worked for us they stayed on the budget and timeline we agreed to and produced excellent work. We have a beautiful and comfortable home thanks to them.
We have hired Cornerstone Construction for several projects, from designing then constructing a beautiful rec room and office in our basement to putting in flooring, windows, and general repairs on our deck and around the house. Mark and his crew are consummately professional and pleasant to have around. They clean the work environment thoroughly at the end of each day. Their work is of the highest quality, and they work hard until the job is done to the client's satisfaction. Mark is a great designer; he knows how to optimize your space to meet your specific lifestyle needs. His color and design sense has helped us from making an aesthetic mistake or two. I hope to hire them again soon to do our bathroom and kitchen. I wouldn't hire anyone else.


Cornerstone has done two extensive renovations for us, about a year apart. First, they entirely remodelled our kitchen, laundry, and mudroom. This included walls coming down, all new cabinetry, new (and relocated) sink and oven, built-in appliances, the full deal! The next year they created a new master suite, walk-through closet (converting an old smaller bedroom), and two bathrooms, replacing the entire flooring for the second story at the same time. They replaced all of the windows in the house at the same time. Mark's designs are creative and focused on useful beauty. After both jobs we felt as though we had so much more useful storage space, and more useable space in general. And we loved co-designing with Mark because of the photo technique he uses. You get to see exactly what the room will look like when the job is done. We are very, very happy with the results. You may have to wait for the job to be scheduled, because they do one job at a time, but the wait is worth it.

Mark and the team have done numerous jobs for us. We have worked together for 10 plus years and everything has been flawless. Couldn't recommend more.
Mark and his staff at Cornerstone Construction provide amazing service. Their design and construction work is impeccable with very personable and personal service. Mark has done a large number of renovation projects for me over the years and I have never had a complaint. I would never hesitate to recomment his services to anyone. I am listing on ly the most recent project he completed for us which was a bathroom renovation as well as adding crown molding to many rooms in my home.
Mark and his son Jordan are consummate professionals. We have recommended Cornerstone to many friends and all have been delighted. Cornerstone has designed and delivered three major renovations and a bathroom to our 1920s house. Every reno had its design and construction challenges but all were dealt with. Mark reconfigured existing spaces in the master bedroom and in our kitchen/den area with creativity and practicality. It is rare that a contractor is also the designer, but Mark can do it all. Designs were shown to us up to the level of detail as to where plants might go! Sloping ceilings and floors were no problem as Cornerstone has worked with houses both old and newer. Cornerstone works with suppliers who were most helpful with decisions around fixtures, tiles, counters, etc. Professionalism carries over into time and budget management. All projects have been on budget and on time. Mark believes that once a job is started it should be completed. One job at a time, no going back and forth between jobs. Doesn't get any better.

I first met Mark McLlean and was introduced to his company when I moved to Ontario from Quebec. At that time we needed to find a new contractor in London to renovate our newly purchased home. After doing extensive research I found Mark's company Cornerstone and it turned out to be the best decision I made since settling into my new home. Mark and his crew were very expedient and adhered precisely to their time estimate for the completion of the project. He was also able to deliver the project under his initial cost estimate, which is something that I personally have never experienced in contracting work before. The companies exceptionalism doesn't stop there. The quality of the finish far surpassed my expectations, and when the project was done the property was made to look spotless-ready to move in immediately. As a testament to his going above and beyond, Mark kept in regular contact after the project was completed to see how the household was settling in. All the praise goes to the Cornerstone company and their proprietor. Construction projects don't have to be stressful so long as you hire the right people; that's why my full endorsement goes to Cornerstone. Hire them, you wont regret it.
We have had Cornerstone Construction complete a number of renovations over the past 5 years. We were very impressed with the quality of the work provided by the team. We were also impressed by the design ideas provided including colours and general layout for the rooms. We would highly recommend Cornerstone and plan to use their services for our remaining renovations.
Cornerstone is an outstanding contractor. We have had two very different but equally positive home renovations from Cornerstone -- one completely renovating an apartment in an upscale condominium building, and the other, an inner city heritage cottage in London, Ontario. Cornerstone works within a professional, ethical, and creative framework, qualities that are not always present in one organization. In our extensive experience with the firm, they have offered us nothing but very appropriate and equally beautiful ideas, perfectly executed, with the result that we have had two stunning homes produced by Cornerstone.
I had been aware of a couple of other projects that Cornerstone had completed and felt comfortable asking him for a quote and then having him complete the project. Mark and his crew arrived on time and were able to complete the patio door removal and installation faster than I had anticipated. His mobile workshop is well equipped and he was able to deal with the customization of the trim around the door on site. I felt that the money I spent on this project was quite fair and I am very pleased with the results. I would certainly use Cornerstone for another renovation project and highly recommend them.
It was pleasure to work with the Cornerstone Construction team. Mark is a multitalented person and from the inception, when he looked at the property that we were considering to purchase, he was able to see its potential.He came up with brilliant visualizations of what the condo could be.Once we went ahead, the ideas came to fruition and we continue to enjoy our lovely condominium that we are proud to call home.
We have an older home and have had a few different companies do renovations. Once we had Cornerstone in doing updating to our house, we would never have any other company back. Their workmanship and extra details is by far the best. They think of a lot of little things that others just don't and they keep your budget in mind. Best quality and amazing workmanship.
We have hired Cornerstone for several projects at our house over the past 10 years or so. Some examples: window and door replacements, flooring installation, built-in bookshelves and desk for my home office, and, most recently (2018) bathroom and laundry room renovations. They came highly recommended and they exceeded our expectations. Ever professional, Mark provides very accurate estimates and time frames for each job. The people he works with are also knowledgeable and polite. Not the least, the quality of the work is outstanding. They pay extra attention to detail and to getting the job done to our satisfaction.

Cornerstone Construction is a fabulous contractor for home renovations and additions. The team is professional, highly skilled, trustworthy and a pleasure to have around the house for a while! We did an addition in the back with sitting room, mudroom and powder room, with the basement dug out for storage and a gym, in addition to a fully renovated kitchen. The finished product was of such a high quality and bang on the time frame indicated (3 months for all that). The finishing touches that we're thought of by Mark and his team we're just unbelievable, for instance using ceiling bulks creatively to make a beautiful coffered ceiling in the kitchen. Crown moulding and trim to match the vintage of the rest of the house is another stunning feature. Their professionalism is also outstanding--they have not disappeared after the bill was paid. They continue to check up on the work and fix small things like spaces created when wood shrinks in the dry of the winter air (this is unavoidable). Truly amazing. One thing--these guys are in demand. If you want to use them (which I highly recommend!) get in touch when you are first considering your project to get on the schedule. Don't wait until the last minute, you'll be waiting! They do one job at a time and give it their full attention in order to finish on time. But you have a lot of prep work to do for your big reno (permits, variances, architect drawings), so call Cornerstone Construction first, get on the schedule, then do your prep work.




December 16, 2015
Last modified:

January 30, 2016
Find General Contractors to Help Get the Job Done
Tired of reading all the DIY tutorials? We are here to help. With over 1 million home professionals on Houzz, you'll easily find the trusted General Contractor for your next project in London, ON.
Read Reviews from London Homeowners Like You
Read homeowners reviews before hiring the General Contractor to help with your project in London. If you have questions, read other homeowners' reviews or our discussion forum for a second opinion.
Easily Contact Trusted General Contractors
If you're browsing Houzz and have a contractor in mind, then you'll quickly find that requesting a quote is easier than ever. From one simple dashboard, you can manage all the General Contractor quotes you got.
General Contractors in United States
Related Services