Modern Menorahs Combine Art and Tradition
The menorahs of yesteryear were overly ornate brass, chunky glass or sometimes-cheesy motifs. But artists and designers are now elevating menorahs into beautiful and modern expressions of current tastes. Whether you are looking for a new menorah to become a cherished family heirloom or an inexpensive little one to get you through the holiday in style, consider these beautiful contemporary options.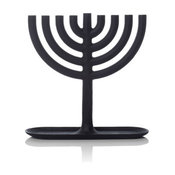 AREAWARE Cast Iron Menorah
$100.00
The Areaware cast-iron menorah is a study in solid masculinity. The functionality of the drip tray base and the singularity of the form put it atop my list as a holiday gift for the gentleman.More: Candles Warm the Winter HomeBrowse more menorahs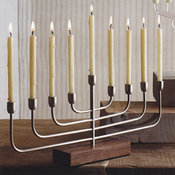 $78.00
For those not willing to stray too far from a traditional menorah shape, but who still want a more contemporary menorah, this design marries sleekness with tradition at an affordable price.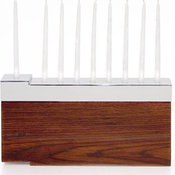 Designed by Stephanie Caplan, The Rivington Menorah is a limited-edition design and one of the most celebrated of the bunch having been featured in Domino Magazine, The New York Times and the Philadelphia Inquirer. Swoon over how the laquered rosewood and chromed aluminum come together in a clean and classic modern form.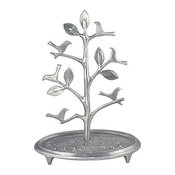 Birds On Tree Menorah By Shraga Landesman
$169.95
Shraga Landesman is an Israeli artist who has designed a menorah in the shape of a tree filled with birds that remind us to celebrate and appreciate nature's bounty. Made of pewter and aluminum, it is a simple and naturalistic design.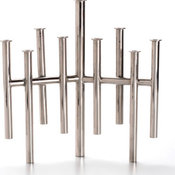 $165.00
Here is another Jonathan Adler design offering for 2011 that is more subtle and refined. The Skyline design has a midcentury vibe that feels like a vintage piece, yet its polished nickel finish makes it more modern.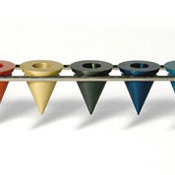 $230.00
Laura Cowan has designed a futuristic menorah of colored aluminum cones on a steel track frame. The design was inspired by the 1960s space program and is meant to evoke weightlessness as the cones glide on the track. The pieces can be arranged in any order.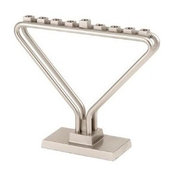 7" Pewter Finished Hanukkah Menorah
$25.11
A inexpensive small menorah that allows you to express your contemporary style without investing in an heirloom piece by a top designer. The simple forms of triangle and squares in pewter are a winner.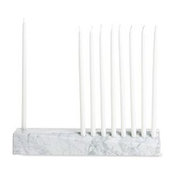 $275.00
Designed by Brad Ascalon, this menorah made of solid Carrara marble is simple, substantial and timeless.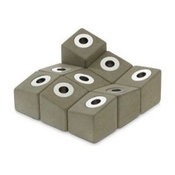 $285.00
Here is a fun and inventive design: Have you ever seen a menorah made of concrete? Neither have I. The individual pieces can be rearranged on a nightly basis, making for a unique organic shape each time.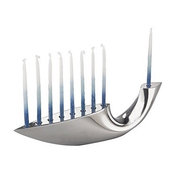 $175.00
The Nambe "Illume" menorah is an artful and sculptural piece that reminds me of a dove and expresses a wish for peace during the holiday season. The alloy metal is a contemporary finish on a modern form that is open to interpretation.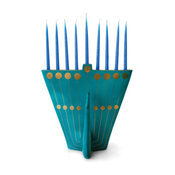 $125.00
Jonathan Adler has a few quirky designs for menorahs each year that are all quite lovable. The teal peacock stands out for its cheeky flair. It would look wonderful as dressing for your shelves all year round.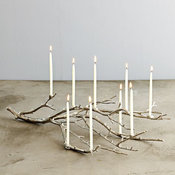 Manzanita Candelabra, Silver
$99.00
The Manzanita Candelabra from West Elm is one of my favorites of this season. I didn't even realize it was a menorah upon first glance. I thought it was a beautiful tabletop or mantel accessory inspired by winter branches. There are nine candle holes so it can be used as a menorah or as a decorative piece year round.