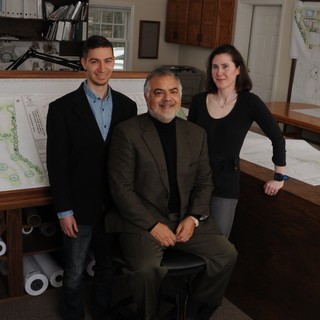 Conte & Conte, LLC, a landscape architecture firm, is dedicated to enhancing the relationship between people and their natural environment. Our registered landscape architects are trained professionals. Applying both art and science to landscape design, Conte & Conte, LLC specializes in the planning and design of residential, and educational properties with the end goal of maximizing clients functional and aesthetic requirements.
We strive to provide highly personal service and unique design solutions intended to provide truly spectacular outdoor living environments.
After spending 20 years working together in the landscape construction industry, John & Kim Conte founded Conte & Conte, LLC in 1997. Combining their talents and their successes in the field of landscape construction, they have built a design firm that is a powerful combination of creative design solutions and highly effective project implementation.
This extraordinary combination of design/build skills is what sets Conte & Conte, LLC apart. Not just a drawing and a hand-off, but a full service, "get-the-job-done" mindset taking the client through the entire process of project Planning, Program Development, Site Design, and Project Construction.

Check out Fairfield House & Garden Co, our sister company for landscape contracting. www.fairfieldhouseandgarden.com

Services Provided:
Program & Budget Development, Building & Structure Siting, Vehicular & Pedestrian Circulation, Landscape Design & Materials Selection, Garden Furniture Acquisition, Garden Sculpture Acquisition, Plant Selection, Cost Analysis, Layout Plans, Cost Analysis, Layout Plans, Grading & Drainage Plans, Planting Plans, Lighting Plans, Construction Specifications, Construction Cost Estimates

Areas Served:
We have registered landscape architects in both Connecticut & New York. We tend to work specifically in Fairfield & Westchester Counties. We have office locations in Greenwich, CT and Bedford, NY.
Contact:

John Conte

Type:

Address:

28 Langhorne Lane,
Greenwich, Connecticut,
United States, 06831

Phone:

(203) 869-1400

Fax:

(203) 552-6915

Website:
Review by
chewitt1

:

Provided creative concepts and architectural plans for landscape and hardscape for ten acre estate in Greenwich, CT. Designed tennis court with accessory struct... Sign in to see more »
Review by
jagerone

:

Conte and Conte do beautiful, profesional work! John Conte does fantastic design work! Modern yet classical. I highly recommend this company. Sign in to see more »
Reviews by John Conte (1)
Review for
Fairfield House & Garden Co

:

There is no other landscape construction company that we would prefer to work with! For this project, the home owners wanted a sort of 'controlled chaos' for th... Sign in to see more »
Projects
Ideabooks
Professional Categories in Greenwich
Landscape Architects & Designers near Greenwich