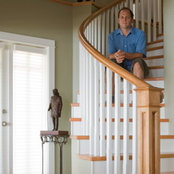 webber custom woodworking
| | |
| --- | --- |
| | webber custom woodworking |
Commented: Should I save these chairs?
If you are not sure, I would say keep them. They do strike me as a bit dated perhaps, but they have some interesting features and they appear to be in good condition. I am designing and building a cha...
Commented: Paint 4 yr old maple kitchen cabinets?
With the wood floor it looks too woody to me. They are nice cabinets and the floor looks nice. I'd paint them white [Benjamin Moore cloud white].
Commented: Should I paint my maple wall unit white?
I think the grain on the mantle is nice, but the cabinets below look a bit uneven. Painting them will clean this up and lighten the feel overall, or simplify it even more and paint the whole unit. I l...
Commented: Can you tell me where I can find this table?
This is a fairly standard item for those of us that enjoy building rustic furniture. Unfortunately, I have no pictures of one on my website other than a pedestal in the works in the "about me" section...
Commented: Need help for kitchen
Ideally a tall, narrow bookcase/shelving unit custom sized makes a nice transition between kitchen area and dining room assuming adequate passageway.