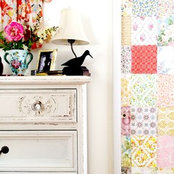 Tamar Schechner/Nest Pretty Things Inc
| | |
| --- | --- |
| | Tamar Schechner/Nest Pretty Things Inc |
Commented: Can you share the artist of the painting?
Hi there, The artist is my mother Nora Frenkel, this is one of 4 paintings in this series but two are in the Jerusalem Museum and one at my sister's in Tel Aviv where we keep the rest of her work, m...
Commented: Love the hand ring holder.
This is an artist wooden hand model, you can get them in art stores or here, http://www.dickblick.com/products/richeson-adjustable-hands/ mine is very old, it was my mother's from the 50's.