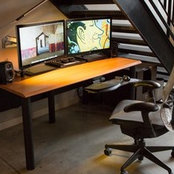 | | |
| --- | --- |
| | WorkSpaces Inc. |
Commented: Office design help!
I'd think about a soft sage green - or an off-white, just different enough from the white woodwork to stand out. You already have grays and blues in other rooms, so try to avoid each room being a dif...
Commented: Home Office Redo help!
Mike, you're lucky to have lots of room to work with. Be sure to angle your desk so you don't get glare on - or behind - your computer screen. Also consider your traffic flow so you don't need to go...
Commented: POLL: Best Tiny Home Office?
I like 19HR for open storage and Pacific Avenue for closed storage. Eclectic nicely offers two work areas. Not as tiny, but we were happy to meet this customer's wish for an under the stairs desk.
Commented: POLL: Standing Desks - Yes or No?
Hi Danko and Qofmiwok, Wendy tipped me off to your discussion. I do the design work for WorkSpaces.com and if you send me an email (rogerh@workspaces.com ) I can help configure a solution. There are...
Commented: Home office help
Loveseat should go nicely with the room, but I'm not sure about the tan rug. My real question is if you like your desk position. You cannot look out the window and you probably get a lot of glare on...