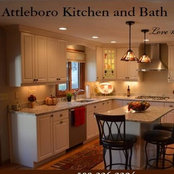 Attleboro Kitchen and Bath
| | |
| --- | --- |
| | Attleboro Kitchen and Bath |
Commented: Countertops... questions, advice, suggestions... HELP
Without knowing the brand name of the product you are referring to, I can only tell you that composite solid-surface countertops have been around for a long time so maybe the orange-apron gentleman is...
Commented: Kitchen Cabinets (New and Old)
Hello - thanks for sharing your project ideas here. You have a lovely home. Without knowing what you don't like about your current island but knowing that you like "European Farmhouse" styli...
Commented: Help with kitchen floorplan
Hello Musikal, I love your inspiration photo! These are so important to help everyone "see" the same vision. It is difficult to make out the architect's notes on the layout so I cannot comm...
Commented: Help with total remodel of Master Bath
Hi Gayle, you have a large space in your bathroom. There is a lot that can be done but, as Sophie very bluntly put it, you may be designing to the stars cost-wise. If you're ready to invest in the spa...
Jeanne Macneil
reviewed
Attleboro Kitchen and Bath
November 20, 2018