Sponsored Products
Featured Reviews of Bathroom Shelves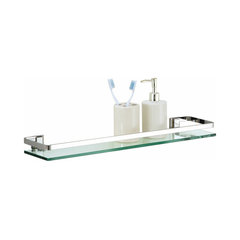 Glass Shelf With Rail, Chrome
Bathroom Shelves
Clean and modern look: Easy to install, the shelf provides an very clean and modern look in the guest bathroom. My guests truly appreciate the additional shelving to place their personal items when visiting.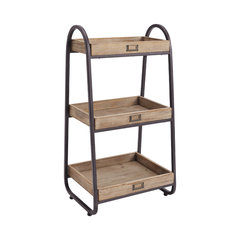 Bathroom Shelves
No assembly required!: Came in one piece - no need to assemble. yay!! I wanted an "airy" shelving unit for towels in my bathroom. I didn't want a chunky cabinet and had no room for doors to open. It's not a large piece, but fit perfect in my bathroom on a ledge/step next to my tub. I wouldn't put real heavy things on it, but perfect for towels or hair products. Would work good in an office or kitchen too. Love the industrial farmhouse look.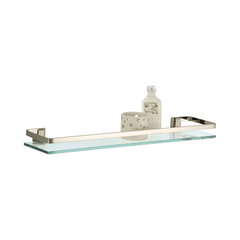 Bathroom Shelves
Nickel Finish so Chic!: This is a really great little item. Take up no space...and protects those bottles of cologne, sprays. Super easy to keep clean. Just a wonderful accessory to any bathroom wall.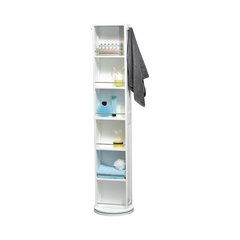 Swivel Storage Wood Cabinet Organizer Tower White Linen Tower, Mirror
Bathroom Shelves
Great little cabinet: Delivery was fast and and assembling was not difficult. the surface painting could have been better. the swivel and mirror add 2 its usefulness. The swivel could b weighted a bit more but I would recommend this product 2 others.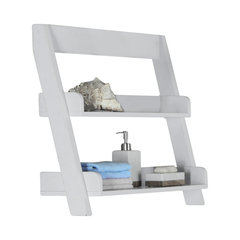 Bathroom Accent - 24"H, White Wall Mount Shelf
Bathroom Shelves
White Wall shelf: I love the design, very modern, easy to assemble and hangs very securely. My only concern is the method used to conceal the screw holes, I used aftermarket wooden plugs rather than the stickers provided.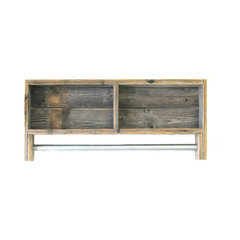 Reclaimed Towel Rack Shelf
Bathroom Shelves
Replacment towel holder: We needed a new holder for our bathroom and wanted a one with a rustic industrial look to it. Came across this Colby Reclaimed Towel rack and it is perfect. Surprisingly very lite and easy to put up. The wood used is interesting and and has great coloring to it. Definitely has that rustic appeal to it. Will probably end up getting another rack for our guest bathroom.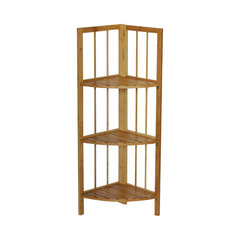 Bamboo Natural Spa 3 Shelf Corner Tower, Natural
Bathroom Shelves
More delicate - less thick: This is more of a thinner, delicate shelf - not a thick, sturdy-looking one. It is quite sturdy in function though - just not as big/thick as I wanted. The shelves fit hand towels, but not bath towels (which again, is what I wanted). So if you want a more decorative shelf, or one for products, candles, hand towels or face cloths, this is the perfect size. Well built - very cool hinges with shelf-locking system (so you don't need to take it apart to store or pack, it just folds up lengthwise) and looks great!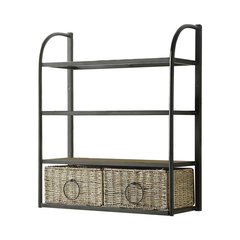 Windsor Storage Unit With Baskets
Bathroom Shelves
Sturdy and well built: This shelving unit is well built and looks like it does in the pictures. We did have some difficulty mounting it on the wall. This piece is heavy and requires being secured to studs. We had to paint and apply plywood to the back so that both sides could be secured in the wall. Otherwise... it was just what I was looking for.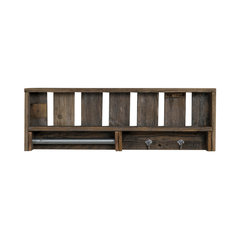 Reclaimed Wood Versatile Bathroom Shelf
Bathroom Shelves
More than met my expectations.: More than met my expectations. It was exactly what I was looking for and more. Goes nicely in my newly remodeled bathroom. Kudos to the seller for being fast and accurate. Will purchase from again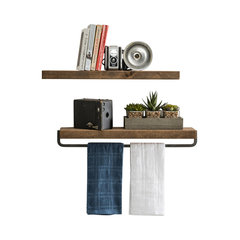 True Floating Wall Shelf and Towel Rack, Dark Walnut
Bathroom Shelves
Absolutely perfect!: I was looking for shelves with a touch of industrial for our remodeled bathroom. The color is beautiful and exactly what i wanted. real wood slabs. One of the other pictures that they have on the site show the real color. The main pictures is too light. It was perfect size for above the toilet! I just absolutely love it!