Featured Reviews of Bathroom Shelves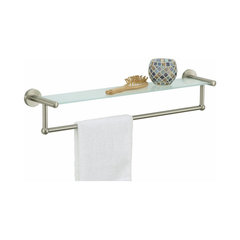 Bathroom Shelves
Perfection: I ordered two of these shelves to put in each of my bathrooms. They are the perfect little accent piece to hold extra hand towels as well as small decorative objects. Highly recommend.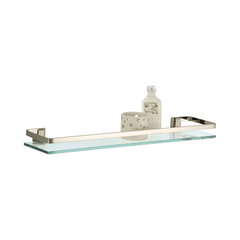 Glass Shelf With Rail, Nickel
Bathroom Shelves
Nickel Finish so Chic!: This is a really great little item. Take up no space...and protects those bottles of cologne, sprays. Super easy to keep clean. Just a wonderful accessory to any bathroom wall.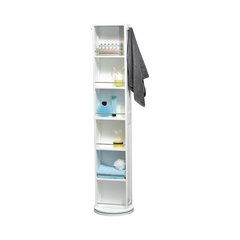 Swivel Storage Wood Cabinet Organizer Tower White Linen Tower, Mirror
Bathroom Shelves
Great little cabinet: Delivery was fast and and assembling was not difficult. the surface painting could have been better. the swivel and mirror add 2 its usefulness. The swivel could b weighted a bit more but I would recommend this product 2 others.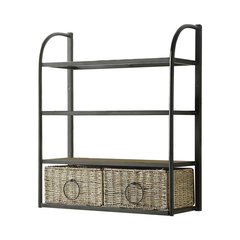 Windsor Storage Unit With Baskets
Bathroom Shelves
Sturdy and well built: This shelving unit is well built and looks like it does in the pictures. We did have some difficulty mounting it on the wall. This piece is heavy and requires being secured to studs. We had to paint and apply plywood to the back so that both sides could be secured in the wall. Otherwise... it was just what I was looking for.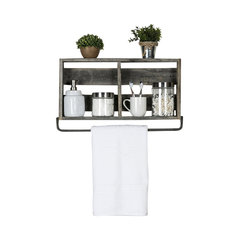 Barnwood Kitchen Shelf With Towel Holder
Bathroom Shelves
Works great in the bathroom: This shelf looks so good over the toilet in our master bathroom. I would say my only complaint is that the color in the product image doesn't match at all what I received. I was hoping for a dark grey barn wood, like the photo, and what I received almost didn't look stained at all. Thankfully it ended up matching great, but it was pretty disappointing when I first opened the box.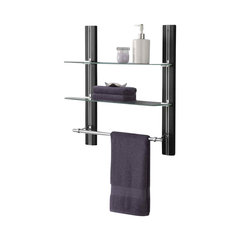 Bathroom Shelves
Perfect!: Came very quickly, nicely packaged and all in good order. Husband had it up before 9AM the next day. Looks like something one would find in a modern 5 star hotel. Very pleased with the color as well which matches our very dark (almost black) cabinetry. Definitely looks much more expensive than it costs.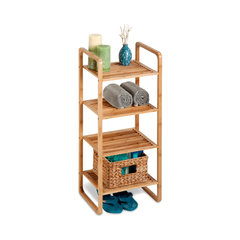 Bathroom Shelves
Cute little shelf: This is a nice little shelf that doesn't take a lot of space and serves the purpose of a towel holder in my guest bathroom. It was easy to assemble and came in good condition. The only reason I picked 4 vs. 5 is that there is a little wobble that I've had to shim up with a couple pennies to have it sit level. Good value for the money.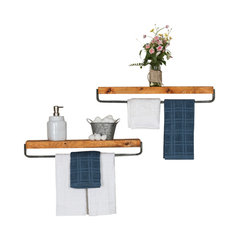 True Floating Shelf Towel Holders, Set of 2
Bathroom Shelves
Looks great: Arrived quickly, well packaged and looks great! The metal bars needed to be wiped down to take the black powder off. Once I did that I didn't have any further mess. Very happy.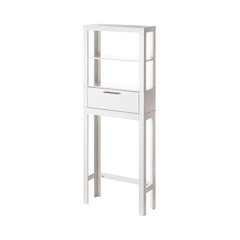 Bathroom Space-Saving Tower
Bathroom Shelves
Almost perfect bathroom space saver: This product was almost perfect...except for one small issue. If you know about it in advance, you can save yourself some big trouble. The bottom back crossbar is located exactly where my water pipe connection for the toilet hits the wall. Didn't discover until after installation. Very difficult to adapt; and we had to remove the bar after everything was assembled (very, very difficult). So measure BEFORE you assemble to be sure it will fit your bathroom! Otherwise we really liked it. Great quality. Looks good installed. Maybe manufacturer could raise the back bar connection location by a few inches to correct this problem?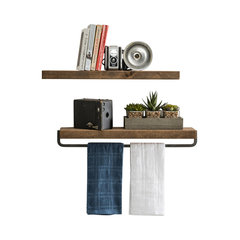 True Floating Wall Shelf and Towel Rack, Dark Walnut
Bathroom Shelves
Absolutely perfect!: I was looking for shelves with a touch of industrial for our remodeled bathroom. The color is beautiful and exactly what i wanted. real wood slabs. One of the other pictures that they have on the site show the real color. The main pictures is too light. It was perfect size for above the toilet! I just absolutely love it!