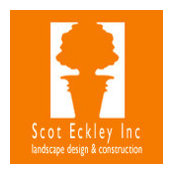 | | |
| --- | --- |
| | Scot Eckley, Inc. |
Commented: How has the DG held up in the rain?
The image is not DG, but 1/4" minus crushed granite. It holds up great in the rain when installed properly. My forumla is: 4" - 5/8" mius, 2" - 1/4" minus crushed granite and top coat #1 Chewelah Cr...
Commented: Who made this?
This is a manual valve. We turn it on to fill it up for our dog and then turn it off when it is full. Thanks for your question.
Commented: how well do the vines tolerate the heat ...
The vine is Boston Ivy (Parthenocissus tricuspidata). When it wanders over the fire place, it gets crispy, so I just prune it to keep if from growing into that space. The fire place is gas.