Curtain Rods
If your next big project is to dress your windows up with curtains, a complementary curtain rod is a must. While you may initially assume a rod is a rod and therefore you won't have many options to choose from, nothing could be further from the truth. Just like curtains themselves, curtain poles and curtain rails come in dozens of styles and materials, including with decorative details like finials. Determining which style is right for you depends on your window frame size, style of drapes and personal preferences. Here are a few tips to get you started:
Materials and accents aside, how do I choose the correct curtain rod?
The biggest influences on your selection should be the style of drapes you've selected as well as the amount of space available around your window. If the top of your window is close to the ceiling, you may want to consider a ceiling-fixed unit. Some recessed windows may require a tension rod. If you have a bay window, a specially designed bay window curtain pole is the way to go. If you'll be opening and closing your curtains often and want something that provides a smooth glide every time, consider installing a curtain track. Lastly, a double curtain rod allows you to hang two different styles of curtains over one window, so you can double up with sheer and heavy materials, allowing you to let light in or block it out. Don't forget to make sure that whatever you choose is hefty enough to support heavy drapes if that's what you're planning to hang.
How wide should my curtain pole be, and how high should I install it?
To allow your curtains to be pulled back, the rod should extend beyond the width of your window on either side by 4 to 8 inches. If you're adding finials, don't forget to add them into your measurements, too. As for height, you'll want your curtain pole to sit approximately 6 inches above your window to provide maximum light coverage. Depending on the length of your curtains, you may decide to install it at a slightly higher or lower spot. For more information on curtain length and rod height, refer to our
Curtain Measurement Guide
.
What types of finials are available for my curtain rods?
Finials are the decorative ends of a rod. They provide an opportunity to add an extra dose of style with endless options. You can choose from materials such as wood, metal, mother-of-pearl or glass, as well as a variety of styles and designs. Consider what type of statement you'd like to make, as well as what will complement your curtains and decor, when choosing your finials.
Sponsored Products
Featured Reviews of Curtain Rods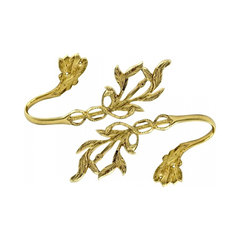 Vintage Pair Vine Curtain Tie Back Holder Bright Brass One Up One Down
Curtain Rods
Love them!: Love them! Elegant, light and easy to install. True, as per some review, that the pair not a mirror Image to each other, however I like this feature and think that it asymmetry of them adds to the charm of the arrangement.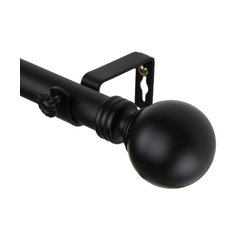 Globe Curtain Rod, Black, 120"-170"
Curtain Rods
The Curtain Rod: Very nice curtain rod. The delivery was fast and was package very good!! I'm happy with Houzz and their desire to help the customer answer any questions on their purchase . Thanks again Houzz !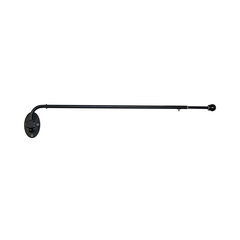 Telescoping Swing Arm Rod, Satin Black, Telescope 20-40"
Curtain Rods
Flexibility: I've been looking for Swing Arm Rods for awhile. They are difficult to find. The Houzz rods are perfect. They are sturdy and the Copper/Brown color is perfect for my apartment. I'll have the flexibility to uncover part of my window by pivoting the rod 90 degrees if I want extra light in the room. Thanks Houzz!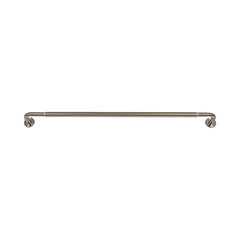 Versailles Privacy Wraparound Rod Set, Brushed Nickel, 28/48"
Curtain Rods
Sleek, functional: The wrap around design is the reason I purchased this item, and it does allow the curtain to wrap around to the wall, preventing light or views passing between the wall and the front of the curtain. Good for a bedroom. As with all these pocket rod type curtains, it can be trick to open and close the curtain the way I want to without curtain rings. I'm considering using rings, and it will be easy to fit onto the curtain rod before connecting it on the mounting hardware. Straightforward installation. Was able to install without any assistance.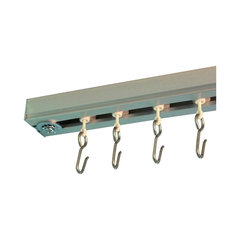 RoomDividersNow Ceiling Track Sets, For Spaces up to 36' Wide, Small, 3' - 6'
Curtain Rods
Even came with a little saw!: This really worked well for my need and I was super happy that it even came with a little saw. I don't have a lot of metal saws around my house, so it was nice that I didn't have to make a special trip for this one use. I did have to purchase more wheeled hooks from their Amazon store, but I'm very happy with my purchase and plan to buy another set of tracks for my studio.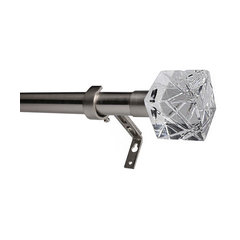 1" Diameter Cut Ice Single Drapery Curtain Rod, Brushed Steel, 28"-48"
Curtain Rods
Great Choice!: well made curtain rods - sturdy without adding too much weight. I should have looked closer at the crystal square end as it's much bigger than i anticipated, but I will keep nonetheless. Order arrived quickly and efficiently.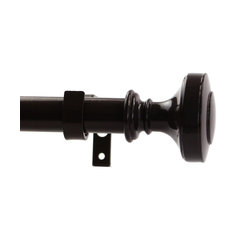 1" Semplice Drapery Curtain Rod, 28"-48", Bronze
Curtain Rods
Couldn't be happier: These rods are great quality and look just as good. I was really happy with the size and look of the finials. I wanted to duplicate a look from a popular HGTV show I watch. I can't tell the difference between them. I could not be happier and would buy them again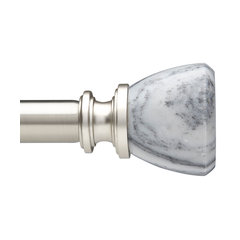 Marlow Single Rod Pewter, Pewter, Pewter, 72-144"
Curtain Rods
Beautiful Curtain Rods: I love the look of these curtain rods. They are absolutely beautiful. The only reason I give it 4 stars instead of 5 is because if you extend the rod for a wide window like I did, the extendable, slightly slimmer part of the rod sags a bit. The curtains are pretty heavy, but put up all three brackets in the wall and it still sags. Installation is pretty easy too.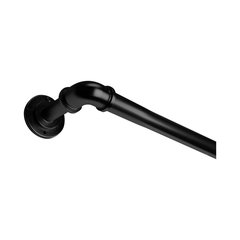 1" Pipe Blackout Curtain Rod, Black, 120"-170"
Curtain Rods
Beautiful hardware for the right price: The Antique Brass finish is exactly what I thought it would be. The weight is very nice. The brackets come with the rod. My only dislike is that the extension rods always have the plastic in between and it would look even more expensive if this was not clear but the same color as rod. Other then that I am very happy with the speedy delivery and quality.