Backyard Play
As prime play real estate, it's a great idea to ensure your yard has plenty of space for your kids to play — and plenty of toys and equipment to play with. From tire swings to trampolines, kids are guaranteed to have a blast on all sorts of outdoor play equipment. Whether you choose an outdoor playhouse, a classic swing set or a traditional sandbox, these fun additions to your yard will keep kids (and maybe even adults) entertained for hours.

When looking at swing sets and playsets, make sure you pick one that will grow well with your children. While your son or daughter may need a toddler swing right now, they'll appreciate having one without the safety straps or bars in a few years.

Speaking of transitioning, a playhouse can double up as a play kitchen or workshop when children are younger, then transform into a clubhouse or hangout spot later on. For an outdoor toy that attracts adults as well as kids, try a trampoline. These bouncy toys are a fun way to get some exercise, and thanks to updated accessories like nets, covers and ladders, trampolines have never been safer.

For a more constructive approach — literally! — try adding a sandbox to your backyard. These provide hours of fun as children scoop up sand, build castles and dig for buried treasure or dinosaur bones. If some members of the family are a little old to be playing in the sand pit, outdoor games can bring family members of all ages together.
1 - 36 of 10,660 products
Sponsored Products
Featured Reviews of Backyard Play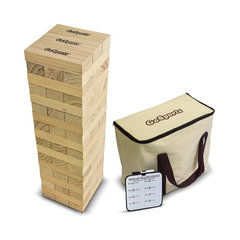 Timber Jumbo Toppling Tower Game
Backyard Play
Great lawn game!: I bought this to use at an August wedding reception but began playing with it as soon as it arrived. Well done and the bonus rules are a great twist. Look forward to many fun times with this and the carrying case is a big plus!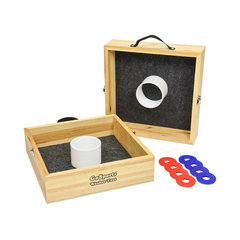 Premium Birch Wood Washer Toss Game
Backyard Play
High quality, great price: We are very satisfied with both the quality and pricing of this game. It's exactly what I was looking for to add a little fun to gatherings, either at our house or when we travel as it's so portable.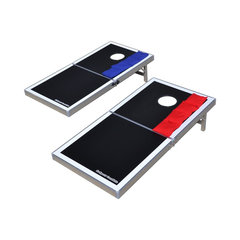 Cornhole Regulation-Size Bean Bag Toss Game Set, Black
Backyard Play
GoSports fun!: Just received our GoSports cornhole toss and it's a hit already! It's great outdoor fun for any age and folds up nicely for storage. Definitely have this around for family and friends visits!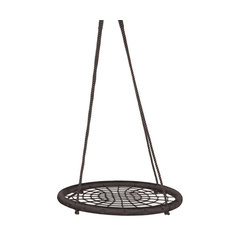 Backyard Play
Cannot Wait to Hang Our Swings: We received our two swings - we ordered two because they look so comfortable and I have teenagers who will always be kids at heart - and I don't know if my tree limbs will hold that much weight - although the swings are supposed to. The boxes came extremely damaged and I took pictures. However, the swing I took out of the first box was in excellent condition I am relieved to report! Do some research on ordering the proper items to hang the swings so they won't damage your trees - and to maximize safety for your family. I am still researching to find a really strong, swivel, screw cabinar (sp?) - that does not cost have as much as the swing. The straps I ordered were two per set, 10' long, 2.5' wide made out of seat belt straping used in cars. The O ring sewn at the end of the strap, however, I think should have been a "D" ring - it seems it would ensure longer life of the strap.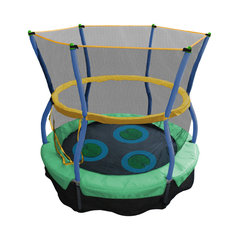 Skywalker Trampolines Lily Pad Bouncer With Enclosure, 40"
Backyard Play
Bought for a young grandson: I thought this might work with supervision for a toddler and it does. With parental support it seems to be a lot of fun and very safe again with parents on hand. I wanted something to get the wiggles out during the winter months and it fits the bill. I thought other versions of individual trampolines would have to wait a few years but this might work and it did. Don't know if the zipper will be the weak link though. Too soon to tell.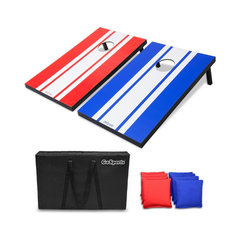 GoSports Classic Cornhole Set Includes 8 Bags, Carry Case and Rules
Backyard Play
Great family fun: Incredibly good quality for the price. We bought two so we could have a full red and full blue set. Good solid wood, which was great because we had kids trying to use these as slides :)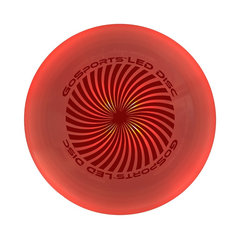 GoSports LED Light Up Flying Ultimate Disc, With 4LEDs, Red
Backyard Play
Green LED Light - Up Flying Disc: We ordered two disc's for our Nephews. The disc's came within four days of placing the order and nicely packaged. The disc's are well made and light up with a bright green glow!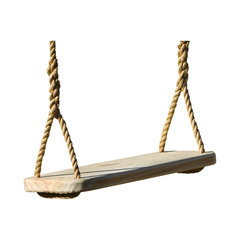 Premier Wood Tree Swing With Rope
Backyard Play
Excellent Product!: The swing arrived early and is made of quality material. My wife is using the swing as a decoration; however, it appears to be very sturdy and should hold a great deal of weight. I highly recommend this product.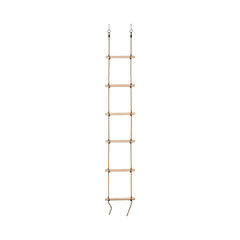 Swingan 6 Steps Gymnastic Climbing Rope Ladder, Fully Assembled
Backyard Play
A well-built product: Love this ladder! I am going to prep in with Minwax so it will last forever outside. We're using it as a hillside-assistance ladder that will be secured with ground augers at each end. The section of hillside accesses the propane tank -- and the driver has slipped down it several times recently. So, rather than have him injure himself -- ladder to the rescue! Not the "intended" use, but one that will work beautifully.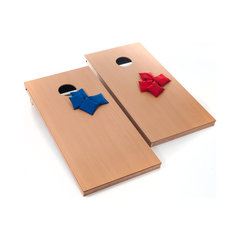 Official Size Cornhole Game by Trademark Games
Backyard Play
great product for the money: Everything was good except for the fact that 2 of the bags split open...we had been playing the game for a couple of hours and saw that the stuff was falling out of it. I resewed it but it doesn't look as nice.