Closet Organizers
Without essential closet organizers and a streamlined storage system, your bedroom closet can become a messy, disorganized disaster no matter how carefully you fold your clothes or hang them. Luckily, there is a wide variety of closet systems, shelving, hanging organizers and bins to create a place for everything (and keep it there), so browse your options below!


What kind of closet organizer do I need?

Before you enter the orderly world of closet organization, take stock of the kinds of clothes you have. Different types of clothing will require different kinds of storage, and that will determine what and how many different types of closet organizers you will need.
Sweaters are best folded to maintain their shape, therefore use a storage bin or closet drawers to keep them tidy. If you prefer, you can also utilize shelf dividers to keep sweater piles from spilling over, or keep them organized by color or style.
Tops and t-shirts are always best stored on hangers, especially since you're more likely to wear them if you can see them. Some professional organizers recommend slim hangers to maximize space, while others swear by wood hangers.
Pants and skirts are stored best when they are hung up; this prevents creases from folds. To avoid indentations from hanger clips, fold them along the permanent crease that runs along the front of the leg and tuck in the front and back parts of the waistband. Then place the clips so they grab the inner part of the waistband.
Jeans are versatile — whether folded or hung up on a hanger with clips, it's your choice when it comes to how you store your denim. Most people enjoy keeping like colors together, while others prefer to go by cut, style or even brand.
Hats, bags, scarves and tiescan easily be collected into bins or boxes and placed on closet shelves. Scarves can be folded and piled on a shelf and ties can be hung up on a specialty tie rack. If you have drawers, another option for ties or scarves is to purchase drawer dividers in a honeycomb pattern, roll each scarf or tie up, and slip them into the compartments.
Sponsored Products
Featured Reviews of Closet Organizers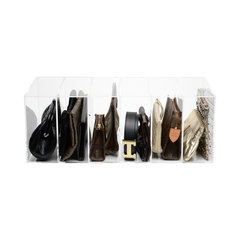 Closet Organizers
Fabulous for small expensive evening bags: I LOVE this. I thought it was quite expensive but it is prefect for all my evening expensive evening bags and I can finally see them!!!!! It is beautiful, well made and definitely worth the money!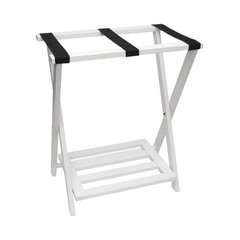 Right Height Luggage Rack With Shoe Rack, White Finish
Closet Organizers
Perfect for guest room: Comfort Height Luggage Rack arrived on time and was exactly what I hoped it would be. I have been waiting to purchase a rack for our guest room because I wanted one that brought the bag up to a comfortable height for use. The bonus is a bottom shelf for shoe/purse storage.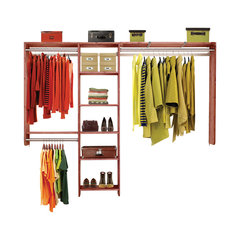 Aromatic Cedar Closet System
Closet Organizers
Solid Wood Solid choice: My husband is handy enough to install this closet all by himself. Beautifully done. The cedar smells great, lots of shelves to use. The solid wood is definitely a big plus compare to other veneered shelving of ours.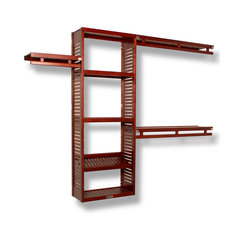 Simplicity Closet Organizer, Red Mahogany, 12"
Closet Organizers
Very difficult to put togther but looks great!: My husband was frustrated building this as the holes were not correct and wrong screws included. That said, I love it! I like the top shelf for things I rarely need and the shelves can be moved if I need more space. Great price on it, but would recommend the company check the holes and materials provided. Lots of stress that weekend!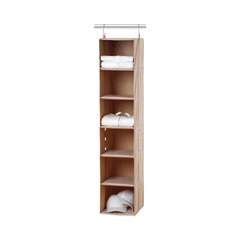 Neatfreak 6-Shelf Closet Organizer
Closet Organizers
Excellent product: I gave purchase closet organizers from different brands in the past. This brand is made of a strong material. It is a little bit more expensive than the other brands but worth its cost.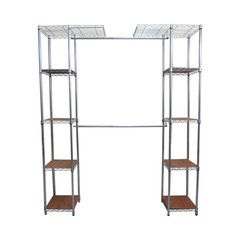 Trinity EcoStorage Expandable Closet Organizer, Chrome
Closet Organizers
I was looking for an affordable closet organizer system with flexibility and convenient installation in my husband's "stuffed to the gills" closet and this fit the bill.: I was looking for an affordable closet organizer system with flexibility and convenient installation in my husband's "stuffed to the gills" closet and this fit the bill. Great service and shipping on Houzz, I am a returning customer.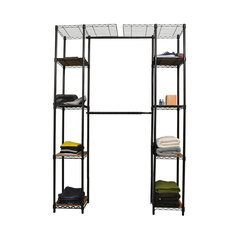 Trinity Expandable Closet Organizer, Dark Bronze
Closet Organizers
Great product: This is exactly what I needed for my closet. I'd previously used a cheaper and smaller version of a closet organizer, and after installing this, it's been a tremendous upgrade. The materials are solid, and it takes about 45 minutes to assemble. I recommend this organizer. I do hope there are some accessories available, like a pull out clothes hanger or a tie rack.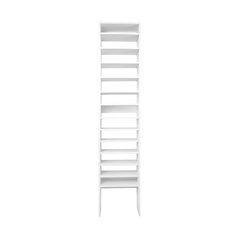 Modular Closets Wood Shoe Shelf Tower Closet Organizer, 18
Closet Organizers
Space saver!: Sturdy once constructed. The greyish color of the driftwood was exactly what I wanted. It did arrive missing a few shelf pins, but the seller promptly sent me the missing parts. Very happy with the product, but feel like a backboard panel should be added. My shoes are happy in their new home!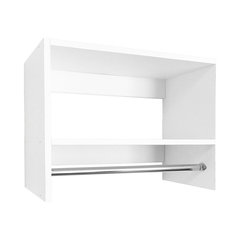 Modular Closets Wood Tall Hanging Closet Organizer Section, White, 18" Wide
Closet Organizers
Quality Shelves: These shelves are heavy, well made, easy to assemble & hang. The only complaint I have are the multiple holes that show on the outside of the units, especially noticeable on the taller ones. They don't provide finishing covers with the shelves but charge quite a bit extra if you want them. Otherwise they really are quite sturdy and as nice as any I've seen. Pricing is competitive also. I've attached photos from the cedar closet we're finishing in the basement.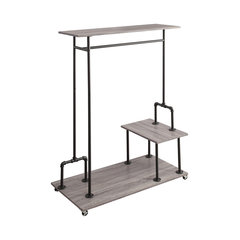 Closet Organizers
Perfect for the price: Was quite a lot of screws to assemble, but must say for the price it really was worth it. The only issue I found was that the middle wheel was not balanced that well, but once you put it all together it is so heavy, it hardly noticeable. It really looks pretty nice...If I didn't know it would think the piping was solid metal and the shelving looks just like tiling I bought for our fireplace. It is a bit deeper than I anticipated, but it is ideal for what I wanted. It is nicely balanced and sturdy, holds my favorites, clothes (hanging), shoes (ion bottom), purses (on top< with scarf) and room for a sock box and intimates box., It really is a good looking piece and so functional. I, personally love the idea of seeing my favorite outfits for the week, All at my fingertips, It a perfect organizer