Fine Art Prints
We've all admired the works of Rembrandt, Picasso and Andy Warhol for years, so why not showcase our favorites at home where we can enjoy them for hours on end? Buying artwork created by a notable artist doesn't have to drain your bank account, though we're sure having the original Mona Lisa in your living room is sure to be a conversation starter. Instead you can display detailed art prints on your walls without worrying about breaking the bank — or upsetting a museum.

Fine art prints come in a range of sizes from small to large and can even come framed or printed on canvas. Imagine a few large canvas prints perched over your seating arrangement and fireplace, or a few smaller framed prints scattered among family photos in your hallway. Your friends will believe you're a distinguished art collector, and only you'll know the secret! From classic to modern art prints, we've got a great collection right here on Houzz. Discover a new artist or remember an old favorite and create your own noteworthy home gallery.
1 - 36 of 31,836 products
Sponsored Products
Featured Reviews of Fine Art Prints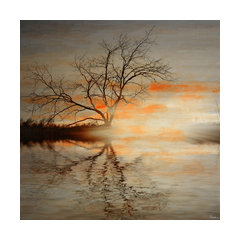 "Red Leafs B" Fine Art Canvas Print, 48"x48"
Fine Art Prints
Beautiful!: Love my Parvez Taj Red Leafs Canvas Painting. We bought a large Tree of Life painting of his for our living room and I have just fallen in love with his art and had to have this one for our bedroom. Very happy with it!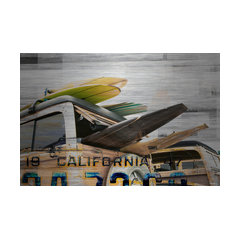 "Cali Day" UV Ink Print on Brushed Aluminum, 60"x40"
Fine Art Prints
Love this picture!: Love this picture and came quickly with no issues. The only reason I didn't give it 5 Stars was because I was hoping the wood would be a little bit more substantial but looks great where it's at.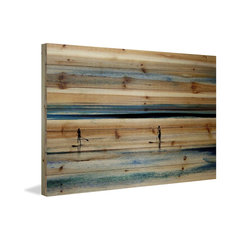 "Surfboard Paddling" Print on Natural Pine Wood, 36"x24"
Fine Art Prints
Houzz made it all work out well!: The first print we recieved was very nice but the colors actually had hues of purple with the daylight in our room. We were hoping for just muted blue colors. Houzz did an excellent job responding to our request and then resending one more to our liking. Thank you, the exchange was very easy!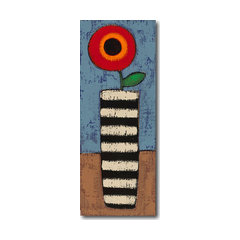 "Red Poppy" Artwork by Terrell Powell, 12"x30"
Fine Art Prints
Red Poppy: This is a very contemporary and whimsical piece. Its cheery will brighten my corner. It needs to be on a small wall since it is so narrow. The red is a true apple red and it has a little orange around the inside of the circle too. It is a fun depiction of a poppy! It arrived on time and not a scratch on it.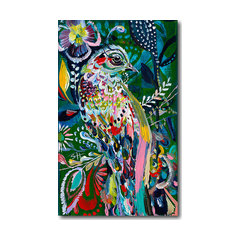 "The Jungle" Artwork by Starla Michelle Halfmann, 18"x29"
Fine Art Prints
Colorful Pop Art: I am attracted to woodland/jungle themes but they can be monochromatic and/or dark. This piece of art is anything but! Colorful, energetic -- it is statement jewelry for the wall.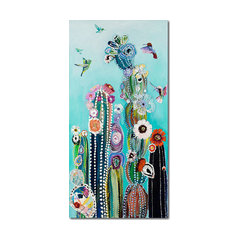 "Eureka" Artwork by Starla Michelle Halfmann, 18"x36"
Fine Art Prints
Love it: I really love this art work. Fits perfectly in a spot at my Cabo Condo. Colors are nice and bright. Was well wrapped and boxed, so in perfect condition. An oil enhanced print, so looks like a nice oil painting. 168 of 200 according to the certificate.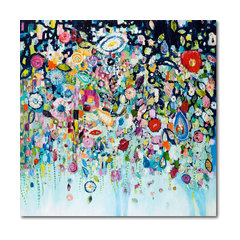 "No Hindrances for the Hind" Artwork by Starla Michelle Halfmann, 30"x30"
Fine Art Prints
Interesting and colorful: I'm really pleased with this piece. Purchased the 30" x 30" size, and while I don't have to frame it, I'm thinking it might make it go from really good to great. Colors in photo are very accurate.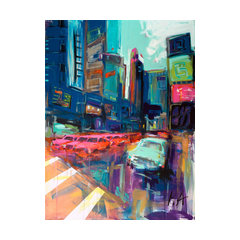 Trafic City Fine Art Giant Canvas Print 54"X72"
Fine Art Prints
Absolutely love this artwork!: Absolutely love this artwork! It is exactly what I wanted and expected. I didn't realize that it came with a DIY canvas stretching kit but it is an amazing, very simple process. I wish it was possible to purchase this stretching kit. I would highly recommend this company.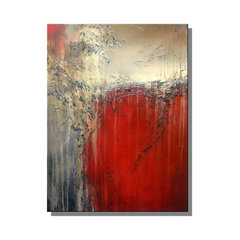 Abstract Modern Canvas Painting Contemporary Fine Art Limited Edition Giclee
Fine Art Prints
Beautiful piece of art !: I've never bought a piece of art online. But when this arrived and I opened it I was pleased at the beauty of the artist work and the colors. It matches my decor and I'm very happy with this purchase !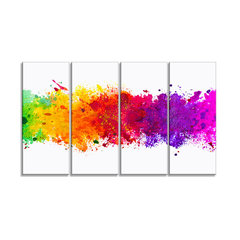 "Artistic Watercolor Splash" Abstract Canvas Artwork, 48"x28"
Fine Art Prints
Artwork: My piece of art came to me very quickly in the mail. It is pretty and I'm looking forward to hanging it. It is obviously a print so it doesn't look like a painting but that was expected at this price.