Porch Swings
Cuddling up with a cozy blanket or loved one on a porch swing and watching the sun set in your front yard can be the epitome of a relaxing moment. To create an intimate space with a patio swing, take a peek at the following information to decide what style and material is best for you.


What types of porch swings are there?

Your first choice will be to decide what type of patio swing you'd like to see yourself curling up in. The following are some of the most common styles you can choose from:
• Chair: If your porch or patio is small or if you prefer to have a seat all to yourself, a single-seater porch swing is a great choice.
• Bench: A bench swing can typically sit 2 to 3 people, making it great for a family snuggle or conversation with a friend.
• Bed: A porch swing bed can make a wonderful place to sit or nap. A bit sturdier than a hammock, a porch swing bed can still sway gently back and forth as you catch some shut-eye.
• Hanging: Hanging porch swings are suspended from the eaves of your porch by ropes or chains. If you choose a hanging patio swing, be sure you have at least 2 ½ feet of clearance on every side.
• Freestanding: If you lack eaves or rafters to suspend a hanging patio swing from, a freestanding model will do the trick. These come supported by an A-frame and can be placed in many more locations than their hanging counterparts.


What materials are best for my porch swing?

Your porch swing can come in a variety of materials, each of which has its own strengths and weaknesses. These include:
• Aluminum: This is a lightweight option that offers a wide range of color choices. They offer high durability, as well.
• Resin: This is a plastic-like material that can be molded into different shapes and textures, including wood grain and wicker. They tend to be your least expensive option.
• Wicker: Always a classic choice, wicker is a great choice for warm climates thanks to its open weave. This allows air to circulate around your body as you rock back and forth.
• Wood: Highly durable woods like redwood, cedar and teak are optimal choices if your porch swing might be exposed to the elements. Cheaper choices like fir and pine can also work. Wood is yet another classic choice that offers great durability, but you'll need to do regular maintenance to preserve its color.
Sponsored Products
Featured Reviews of Porch Swings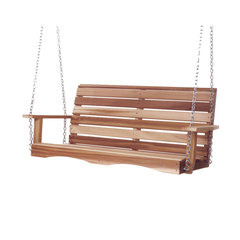 Porch Swing With 48 In Seat
Porch Swings
Just what we wanted!: Our old porch swing bit the dust, so we wanted a really simple, yet elegant replacement. This one is perfect. It had 3/4 inch thick wood and feels very sturdy. The colors of the redwood are so lovely, too. My husband put it together in one afternoon and we can now enjoy this great swing.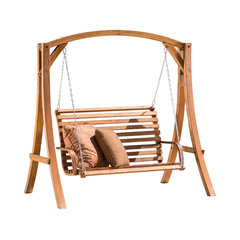 Marlette Outdoor Teak Stained Wood Swinging Bench And Base
Porch Swings
This swing was a game changer for us: This is a great value. The swing and frame are quite well made. The materials are sturdy, and quite attractive. It arrived in two very large boxes, both very heavy. It does require assembly, most of which can be done by one strong person, but a second person is needed to complete the frame and hang the swing. The instructions it came with were not particularly detailed, but it was pretty simple to put together. The swing looks great in our yard. We've used it every day since we assembled it. For the money, this is a no brainer. I'm honestly considering buying two more, and using the three swings in a circle around our fire pit.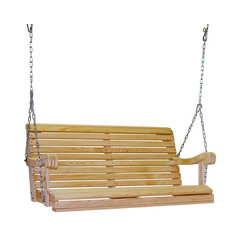 Grandpa Cypress Porch Swing, Small
Porch Swings
beautiful and well made: The arms are the best feature of course since the chain is on the outside. Superb craftsmanship. I have not put this together as I am getting ready to stain it but I am very pleased. Swing was packed extremely well, arrived on time.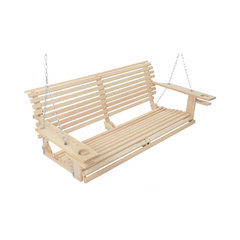 5 Foot Handmade Cypress Porch Swing With Cupholders
Porch Swings
Excellent quality!: I purchased one of these swings 2 years ago for my bay front home and the quality of the swing has held up beautifully! It is hanging on a porch that fronts the water and is still as good as it was the day I purchased it! I would recommend this product; very good quality and fairly priced!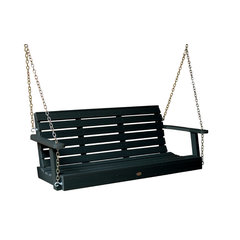 Davidson Porch Swing, Green, 5'
Porch Swings
Satisfied: Weather hasn't permitted use, but all parts were in good condition and fairly easy to put together. I expect to get a lot of use. Mine is on an a frame and exposed to the weather which is why I bought this item.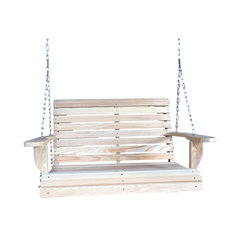 Porch Swings
I love this swing . . .: Bought this because my front porch isn't wide enough for a 4' swing. I had to add some extenders to the chain as my porch ceiling is tall. I loved that it didn't arrive in a gazillion pieces -- only had to attach the back & arms.