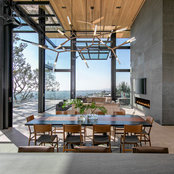 Michael Fullen Design Group
| | |
| --- | --- |
| | Michael Fullen Design Group |
Commented: Can we share this image?
Happy to have you share our photos with Wetstyle products on other social media sites. If you look at our website, michaelfullen.com, you'll find additional images.
Commented: Great home
The door was designed by our firm and made by a local finish carpentry contractor.
Commented: Please answer question
The kitchen cabinetry along with the stain color were custom developed for the project. Our designs and techniques remain proprietary to our clientele. MFDG, Inc. accepts projects throughout the US sh...