Wreaths and Garlands
Originally placed on doors as a symbol of status or victory, wreaths now create a festive and inviting entry into one's home. Similarly, garlands add a touch of nature and green to our holiday décor with materials like evergreen branches, boxwood, holly and even deco mesh. Of course, a wreath need not just be for Christmas. You can choose to accessorize your front door with a variety of fall wreaths, spring wreaths and even Easter and Halloween wreaths.

If you want to use them again next year, look for holiday wreaths and garlands made from artificial greenery, flowers or even other materials like ribbon. Mesh wreaths can be colorful front door decorations any time of the year, while a paper garland can be as elegant or cute as you want. As for natural materials, a boxwood wreath is a great choice year-round for its full, bright green composition. Grapevine wreaths are perfect for accessorizing with summer or fall decorations like bows and monogram letters. The wide variety of materials available means wreaths and garlands come in all shapes and styles for you to choose from.

Take a peek at all the ways you can dress up your door, mantel and banister with gorgeous garlands and wreath designs right here on Houzz.
Sponsored Products
Featured Reviews of Wreaths and Garlands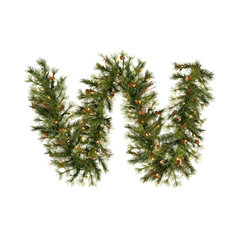 9' Mixed Country Pine Artificial Christmas Garland,Dura-Lit UL 100 Clear Lights
Wreaths and Garlands
Very well-made and life-like.: I am quickly becoming a Houzz fan simply because of the consistently high quality of the merchandise I receive. I can pretty much count on the item being as good or often better than pictured; something very important with online shopping. I will continue to buy from here.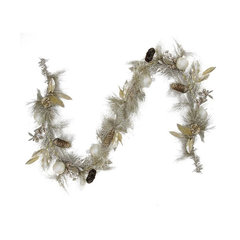 6' x 12" Glitter Champagne Gold Pomegranate Apple Pine Cone and Berry Garland
Wreaths and Garlands
glitter christmas garland: So pretty! I bought clear spray to treat the garland and keep the sparkle from getting all over the fireplace and house. But I love this garland. Great quality. Shipped well. Priced right. It looks amazing on our white fireplace mantel.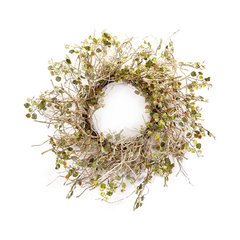 Birch Branch Wreath With Mini Leaves
Wreaths and Garlands
Delicate: This wreath just caught my breath when I saw it. I had to find a way to use it in the remodeling. It has loose branches with tiny green leaves mixed with tiny pink flowers. When I say loose I don't mean flimsy, it's full and airy. When I received the wreath it Looked exactly like the picture in the book. It is so pretty. Just know when you order yours look at the pic because that's exactly what you will get.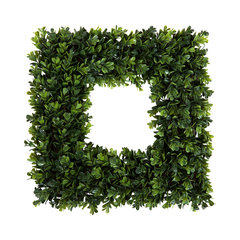 Pure Garden Square Boxwood Wreath - 16.5 inch x 16.5 inch
Wreaths and Garlands
16.5 In is Inaccurate: I ordered 2 of these wreaths to put side by side, and both wreaths are barely 16" across. They are very pretty and look very nice, but do not expect more than 16" from end-to-end.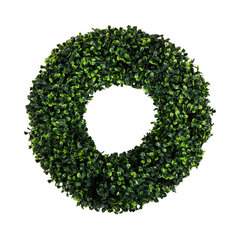 Pure Garden Boxwood Wreath - 14 inch Round
Wreaths and Garlands
Perfect for my project!: I bought 2 of these wreaths for a project I had for my master bath. I needed a boxwood wreath that was 14 in and full. These by far exceeded my expectations. These are fake plastic but they look real and are full. I am very pleased with my purchase!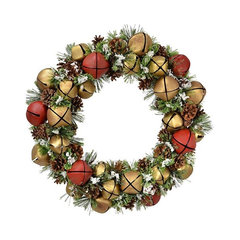 Bell and Pine Wreath, 24"
Wreaths and Garlands
Even better than the pictures!: I took a chance and ordered this wreath within 10 minutes of viewing it. I was looking for a wreath that I could use fore several years - and this had a different look than most. It arrived almost overnight and when I opened the box I was so very pleasantly surprised with the workmanship! The bells are truly wonderful. I am so very excited to add it to our Holiday decorations!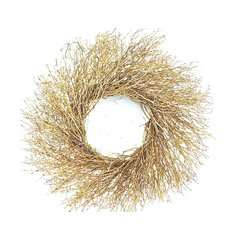 Wreaths and Garlands
Love this!: My front door gets tons of sun, so I didn't want to try dried flowers and I don't like the idea of faux flowers. So this is perfect and elegant and should last, most importantly.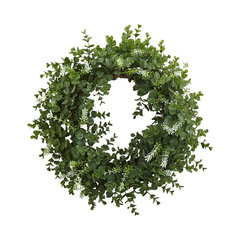 Eucalyptus Double Ring Wreath With Twig Base
Wreaths and Garlands
Eucalyptus Wreath: I love this wreath the only downfall with it is that it looks plastic if up close looking at it. I will use it on my front door as it will be fine there. Full, and looks as it was advertised. TY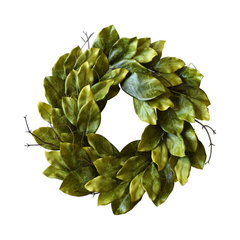 Southern Magnolia Wreath 24"
Wreaths and Garlands
Adorable!: Full, lightweight, and movable leaves make this wreath amazing. The leaves aren't dark or shiny like magnolia leaves on a tree, but they are a beautiful green with dimension and veining.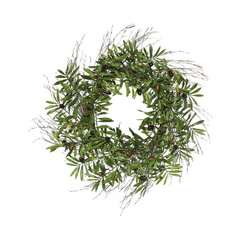 24" Green Olive Leaf Wreath
Wreaths and Garlands
This Wreath is Beautiful!: Having looked at a number of wreaths lately and thinking I would have to pay $80 - $130 for anything that looked really nice, I was both apprehensive and excited when I looked at this one. With only one rating to go by, I took a chance and ordered it. I was thrilled with it. It is exactly like the picture, very life-like with just enough bare areas (behind the longer twigs) to replicate what a real wreath would look like. I think the number of olives and the twigs woven in with the greenery was just right, and I can't recommend it highly enough. PLUS, the price was fantastic! First purchase from Houzz, but won't be the last.