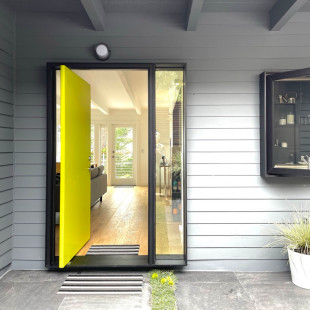 Zack|de Vito Architecture + Construction
Zack | de Vito Architecture + Construction is a multi-disciplinary design office and architect-led construction company providing architecture, interior design and furniture design services. Our architectural projects include restaurants, wineries, commercial and retail tenant improvement and custom residences. Our projects have been extensively featured in publications and exhibitions as well as receiving numerous awards. Our furniture work is also in the permanent collection of the San Francisco Museum of Modern Art. The design partners are husband and wife, James Zack and Lise de Vito

Zack | de Vito Architecture + Construction has a staff with diverse backgrounds and experience with degrees in Architecture, Furniture Design and Fine Arts. We are architects with years of hands on experience as builders and furniture makers, possessing a broad knowledge of materials, which give our projects a unique and noticeable attention to detail and craft.

Zack | de Vito Architecture + Construction philosophically and aesthetically follows the modernist traditions; we work very closely with our clients to satisfy their requirements and desires. We believe that each project is driven equally by the needs and contributions of both the client and the architect. The best projects are products of collaboration. Licensed as both architects and contractors, with experience in the office as well the job site, gives us a comprehensive view of our projects. While our emphasis is on design our projects are always buildable. With our design/build delivery process we can seamlessly deliver a project form the initial ideas and concepts to the final coat of paint.
Contact:

Jim Zack

Type:

Address:

156 South Park,
San Francisco, California,
United States, 94107

Phone:

(415) 495-7889

Fax:

(415) 495-7869

Website:

Zack|de Vito Architecture + Construction
commented on a discussion

Projects
Ideabooks
Professional Categories in San Francisco
Architects & Designers near San Francisco