Compost Bins
You're looking to make a positive impact on the world in your own way. A compost bin is an easy way to start, and it's estimated that composting can reduce the amount of waste in our landfills by up to 24 percent. While you can gather your homemade fertilizer without a bin, compost bins expedite the composting process from several years down to a few months or less. Along with speeding up your process, your compost tumbler will hide that mound of organic waste behind a friendly-looking exterior. If you're looking for an outdoor composter or a kitchen compost bin, here are some tips to get you started.


What should my compost bin be made of?

Possibly the best material for your composter is a dark-colored plastic. Since composting requires heat and moisture, dark plastic compost bins are a perfect choice. If you're concerned about how a large plastic bin might look perched in your backyard, a wooden bin is a close second. However, you'll want to make sure your wooden composter is built with rot-resistant wood, such as cedar, and not with pressure-treated materials, which might contain toxins.


Should I buy a small composter or a larger one?

The size of your kitchen compost bin depends on how much organic waste you need to turn into nutrient-rich fertilizer. Keep in mind, the larger your bin is, the more difficult it can be to rotate. Some bins come in the form of a compost tumbler, which features an easy-to-operate tumbling mechanism that flips your composting materials over for you. Tumblers tend to be small, and since small bins may be prone to drying out, you should keep a close eye on their moisture levels.


Are there any other compost tumbler features I should look for?

Take a look at the shape of your bin. Round bins are best, since heat and moisture can spread evenly throughout their contents, reducing the chance of having cold corners. Also pay attention to how much ventilation is present. Compost bins should feature dozens of small holes to increase air circulation. While this may seem counterintuitive, remember that the microorganisms working to break down your organic matter require oxygen to function. However, make sure your bin's air circulation slits aren't large enough for pests like rodents and raccoons to get in.
Sponsored Products
Featured Reviews of Compost Bins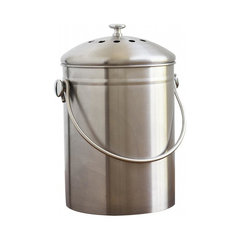 Stainless Steel Compost Bin 1.3 Gallon
Compost Bins
Classic style: This compost bin looks great in our kitchen and is perfect to hold day's compost for our pile so we don't have to make multiple trips. Clean lines go perfectly with our kitchen.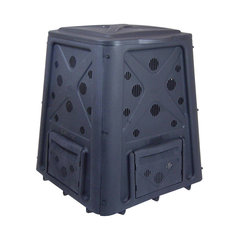 Redmon Compost Bin, 65 gal.
Compost Bins
Love this bin!: Love this bin! Very easy to assemble, light weight yet sturdy. I love all the air vents, many more than my last one. It arrived when expected. Would definitely recommend this to anyone who enjoys composting!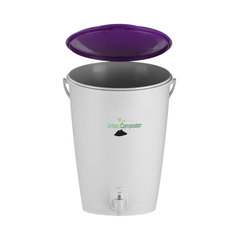 Urban Composter, Black Lid, 4 Gallon, Purple, 4 Gallon
Compost Bins
Great set up, spray not included: I love this little guy! I fits perfectly on my kitchen counter without hitting the cabinets above. The fermenting process sure does stink but the lid seals nicely so you can't actually smell it. Only problem is that the composter container does NOT include the spray that starts the fermenting process.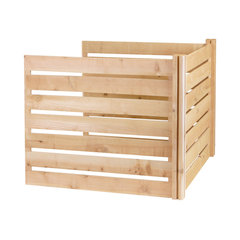 Greenes Cedar Wood Composter Add On Kit
Compost Bins
add on kit: numerous boards cracked during assembly, unlike my experience with the original composer assembled several weeks ago. in fairness, it was 32° at the time and that may have been the cause.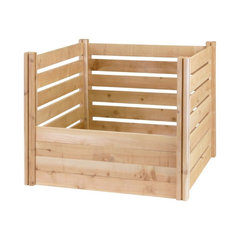 Greenes Cedar Wood Composter
Compost Bins
Composter: I like this composted very much. It was easy to assemble as long as you keep it level and square. A mallet is needed to bang down the lower boards. I I like the option of adding more bins. Inside grooves are a bit scrappy so I didn't give it a 5.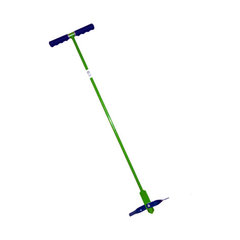 Compost Bins
Mix Compost: It is sturdy because it has metal components. Shove it into the compost & pull up older layers to mix with fresh layers. This is so much easier than sticking my gloved hand & arm into the decomposing compost.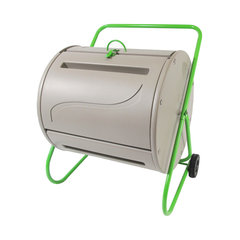 Green Culture Compost Tumbler
Compost Bins
perfect size compost tumbler: Instructions were not very good but it went together fairly easy. I like the size and it is set low enough for me to tumble with ease only complaint is the strong plastic smell even after sitting out in the sun for about a week now.