Fireplaces and Accessories
As the primary focal point of a living room, no fireplace should ever blend into the background. Regardless of your fireplace's current appearance, there are many ways to turn it into a one-of-a-kind statement piece that doesn't require a complete renovation. With some new fireplace accessories, an insert or an updated mantel your home will be the talk of the town in no time. Consider the following advice when looking to heat up your home:


What type of fireplace should I get?

If you're lucky enough to have a built-in fireplace, you can update it with a new insert or by adding doors. For those who didn't get so lucky, don't worry; you have options! Freestanding stoves, either pellet or wood burning, will give you a classic cabin feel, and are generally more compact than other styles. For that grand, traditional curl-up-by-the-fire feeling, try a gel or electric fireplace. They look just like the real thing, and can even come equipped with a mantel and surround. If you're limited on space, gather 'round the table with a tabletop fireplace. Their sleek, modern designs can often be used indoors and out, so you can bring the fire to you.


What fireplace accessories are available?

After you determine what fireplace is best for you, you'll want to purchase all the accessories that go with it. If you have kids or pets, you'll need to invest in a fireplace screen, which will create a barrier between your living space and the fire itself. To keep the warmth going throughout the night, you'll need fireplace tools, such as matches and pokers, as well as a log basket or wood rack to ensure wood is always nearby. For an extra decorative element, consider installing an ornate or interesting mantel as well.
Sponsored Products
Featured Reviews of Fireplaces and Accessories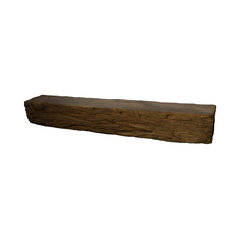 Distressed Fireplace Mantle, 72", Plain
Fireplaces and Accessories
Beautiful Mantle: We actually spent years looking for old barn beams only to find out that salvage places wanted $500+ which is crazy. This beam looks just as good and is less than half the price. If you are thinking of doing a rustic mantle, look no further.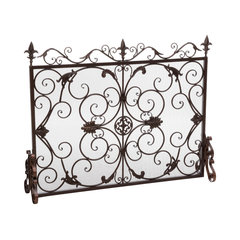 Darcie Wrought Iron Fireplace Screen, Gold Finish
Fireplaces and Accessories
Perfect fireplace screen: This screen was packaged well and came in on time. It was super easy to assemble (4 bolts for the feet and 3 decorative piece-that's it! Everything needed was included.)Wrought iron will last forever and it's the perfect match for our decor. I bought 2 of them for the keeping and living room fireplaces! I'm very satisfied with them!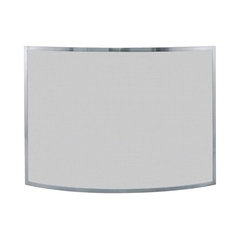 Uniflame Single Panel Curved Pewter Screen
Fireplaces and Accessories
Does the Job: I ordered this for a rental house. It came on time and I have no complaints about service. The screen is simple and basic and does the job. It's not too heavy either. I would recommend it.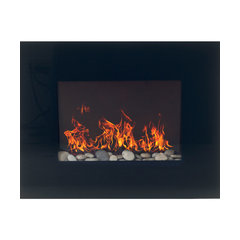 Black Glass Panel Electric Fireplace Wall Mount & Remote by Northwest
Fireplaces and Accessories
Looks Good: I have not seen it lit yet....have to hire someone to install as I am a Senior Citizen and have no tools nor knowledge to install this...more complicated than I thought...I thought It would just hang on the wall out of the box...did not know I would have to put it together as rocks are in a bag.....hope it will be installed soon so I can enjoy.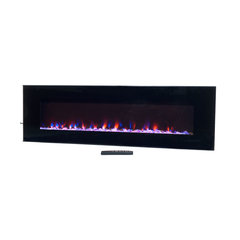 Wall-Mounted LED Fire and Ice Electric Fireplace With Remote, 54"
Fireplaces and Accessories
Perfect accent: We originally bought the fireplace thinking it could be inset, but it cannot. My son was more than happy to put it in his room and it's perfect. The flames look realistic. The faceplate /glass is one smooth piece. Seems to be very well made. Our only concern is that the wall behind the fireplace gets extremely hot and a bit worried about a fire starting. Going to check into that today.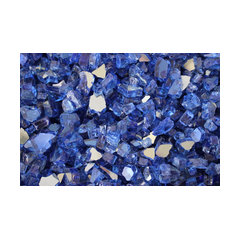 FireGlass, Cobalt Blue Reflective Glass, 1/4"
Fireplaces and Accessories
Quality color and design. Very pleased. Quick shipping!: Five star! Quality product. Very pleased with color and design of this product. I used both inside and outside for my gas fireplaces. Be sure to order enough. The color is rich and makes a beautiful glow!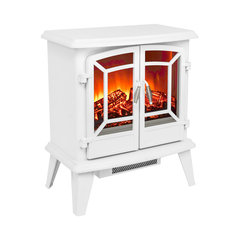 AKDY 20" Freestanding Portable Electric White Fireplace Heater 3D Flames
Fireplaces and Accessories
Cute and toasty: We're very happy with our heater, it arrived quickly, in great shape and heats our room well. I like having 2 heat settings, as well as the ability to turn the "flame light" off and on.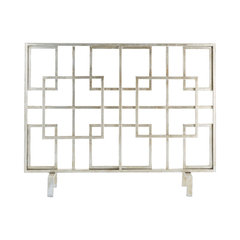 Squares Fire Screen, Antique Finish
Fireplaces and Accessories
Chic Room Accent and Good Value: Cons: I expected it to be heavier in weight and have amore authentic silver tone aged look. Pros: for me the pros outweigh the cons. I wanted a decorative piece to fill the fireplace area of my bedroom. It is not heavy as I expected but it's not as if my guests will lift it up and see it's not a substantial piece. I am a bit disappointed that the color seems less silver and more gold - silver. in fact, one of my guests described the it as light gold.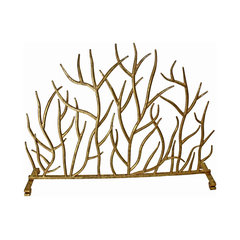 Aspen Fireplace Screen, Small
Fireplaces and Accessories
looks great so far!: Fabulous! This looks terrific in front of our fireplace (when nothing is burning in it, of course)! The quality is great but wish it had just a little more bronzing on it. Very stable, which was our main concern when we ordered it, but you couldn't knock this over on purpose!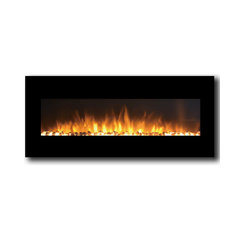 Rigel 50" Black Ventless Heater Electric Wall Mounted Fireplace, Pebble
Fireplaces and Accessories
Nice looking fireplace.: It is a very nice looking fireplace. Looks very realistic and calming. Although I have to return it because I needed a heating vent be on the front of the fireplace not on the top as this product has. If it would satisfy our " build in" need I would never return it.