Fireplaces and Accessories
As the primary focal point of a living room, no fireplace should ever blend into the background. Regardless of your fireplace's current appearance, there are many ways to turn it into a one-of-a-kind statement piece that doesn't require a complete renovation. With some new fireplace accessories, an insert or an updated mantel your home will be the talk of the town in no time. Consider the following advice when looking to heat up your home:


What type of fireplace should I get?

If you're lucky enough to have a built-in fireplace, you can update it with a new insert or by adding doors. For those who didn't get so lucky, don't worry; you have options! Freestanding stoves, either pellet or wood burning, will give you a classic cabin feel, and are generally more compact than other styles. For that grand, traditional curl-up-by-the-fire feeling, try a gel or electric fireplace. They look just like the real thing, and can even come equipped with a mantel and surround. If you're limited on space, gather 'round the table with a tabletop fireplace. Their sleek, modern designs can often be used indoors and out, so you can bring the fire to you.


What fireplace accessories are available?

After you determine what fireplace is best for you, you'll want to purchase all the accessories that go with it. If you have kids or pets, you'll need to invest in a fireplace screen, which will create a barrier between your living space and the fire itself. To keep the warmth going throughout the night, you'll need fireplace tools, such as matches and pokers, as well as a log basket or wood rack to ensure wood is always nearby. For an extra decorative element, consider installing an ornate or interesting mantel as well.
Sponsored Products
Featured Reviews of Fireplaces and Accessories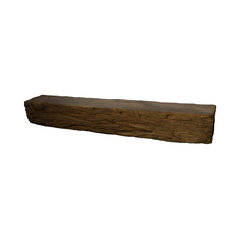 Distressed Fireplace Mantle, 72", Plain
Fireplaces and Accessories
Beautiful Mantle: We actually spent years looking for old barn beams only to find out that salvage places wanted $500+ which is crazy. This beam looks just as good and is less than half the price. If you are thinking of doing a rustic mantle, look no further.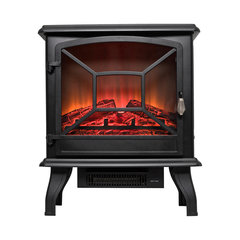 AKDY 20" Freestanding Portable Electric Fireplace 3D Flames Firebox, Black
Fireplaces and Accessories
Works Great: Exactly what I needed to warm up our upstairs area.. Does a great job and looks good too. I like that the unit is cool to the touch...only the element where the heat blows out is hot. Thinking of ordering a second one for our pool house.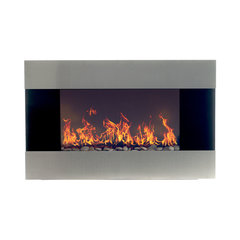 Vincenz Wall-Mounted Electric Fireplace
Fireplaces and Accessories
Electric Fireplace: The fireplace was well packed and the instructions couldn't be easier. The flames look real and is very soothing to watch. For the price you couldn't go wrong. The only thing I might suggest (for all manufacturers) is that the electrical cord be either white or clear since aesthetically it would look better against the wall.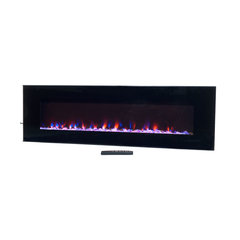 Wall-Mounted LED Fire and Ice Electric Fireplace With Remote, 54"
Fireplaces and Accessories
Perfect accent: We originally bought the fireplace thinking it could be inset, but it cannot. My son was more than happy to put it in his room and it's perfect. The flames look realistic. The faceplate /glass is one smooth piece. Seems to be very well made. Our only concern is that the wall behind the fireplace gets extremely hot and a bit worried about a fire starting. Going to check into that today.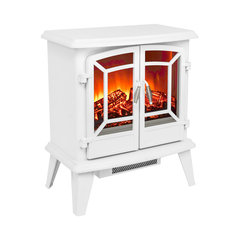 AKDY 20" Freestanding Portable Electric White Fireplace Heater 3D Flames
Fireplaces and Accessories
Cute and toasty: We're very happy with our heater, it arrived quickly, in great shape and heats our room well. I like having 2 heat settings, as well as the ability to turn the "flame light" off and on.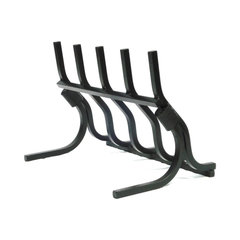 High Efficiency Smoke-Free Fireplace Grate, 21" W X 14" D X 15' H
Fireplaces and Accessories
Exactly as expected!: This grate is exactly what I wanted. It keeps the wood towards the back of the fireplace which helps minimize embers coming at the screen. You have to top load it with new wood, so make sure you have fireplace tools and the height to do that. It looks great in the fireplace which is a big plus over typical small grates. Very sturdy and came packaged well.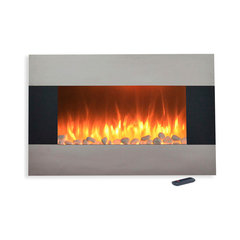 36" Stainless Electric Fireplace with Wall Mount and Floor Stand by Northwest
Fireplaces and Accessories
Looks awesome: The 4 stars is for the look. The fireplace is beautiful but it gets 1 star for actually heating. This may be because the room is rather large but you can hardly feel the heat I'm contemplating putting it on the floor then maybe the heat will be felt better since the vents are at the top.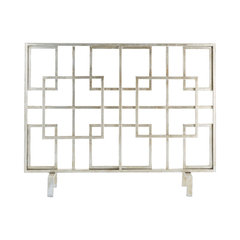 Squares Fire Screen, Antique Finish
Fireplaces and Accessories
Chic Room Accent and Good Value: Cons: I expected it to be heavier in weight and have amore authentic silver tone aged look. Pros: for me the pros outweigh the cons. I wanted a decorative piece to fill the fireplace area of my bedroom. It is not heavy as I expected but it's not as if my guests will lift it up and see it's not a substantial piece. I am a bit disappointed that the color seems less silver and more gold - silver. in fact, one of my guests described the it as light gold.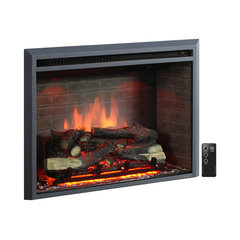 Puraflame Western Electric Fireplace Insert With Remote Control, 750/1500W, 33"
Fireplaces and Accessories
Fireplace review: We have a non working fireplace and an electric insert was a good solution. We like this product very much. The only drawback is the power cord is about 3 feet too short and doesn't reach the outlets we have on each side of our brick fireplace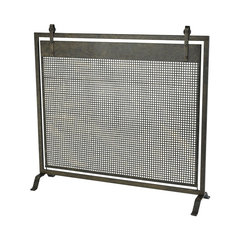 Sterling Bannockburn Fire Screen, Dark Rust
Fireplaces and Accessories
Pretty close to Perfect: Bravo to shipper for shipping this screen out asap! It was a little darker than I anticipated. I was hoping the red brick in my fireplace would pull out some of the lighter shades on the screen, its but nothing that takes away from the quality. The subtle details that make this screen unique without drawing the eye down away from the art above the mantle.