Showers
Your shower is one of the most frequently used fixtures in your bathroom — maybe even in your whole house! With such consistent wear and tear, you'll want to install a shower that can withstand daily use and still look good for years to come. If you are considering walk-in or steam showers, make sure to check the codes in your residential area to ensure you are able to fill any plumbing or heating system requirements.


Are prefabricated shower stalls a good choice?

Prefabricated showers are available in a wide range of colors and styles, making them fairly customizable to your bathroom space. They're typically made from fiberglass or fiberglass-reinforced acrylic, making them more affordable than custom designs. Most come in one of the following styles:
• Neo-angle: A roomier option with a distinct five-sided, diamond-shaped base.
• Round: A corner style with a rounded, finished edge.
• Framed: This option relies on traditional exposed framework and trim to create a strong enclosure. It collects water in a track, which will require occasional cleaning.
• Frameless: This design doesn't require a frame or track. Frameless showers are usually paneled in glass, which allows lots of light into your shower area.

As for custom designs, though they cost more than prefabricated designs, they give you complete control over all of your fixtures and finishes. If your budget allows it, a custom design will allow you to create a walk-in, zero threshold or double shower design that meets every one of your specifications.


What kind of showerhead is best?

To create a cohesive look, purchase a multiple-piece faucet kit. This ensures that the finish and overall design of your showerhead, tub handle and tub spout are consistent. A rain showerhead is another popular choice and can be installed on the ceiling or wall. Handheld showerheads often pair nicely with a rain showerhead style. If you live in an area where drought it a concern, consider choosing an efficient design that saves water.
1 - 36 of 23,611 products
Sponsored Products
Featured Reviews of Showers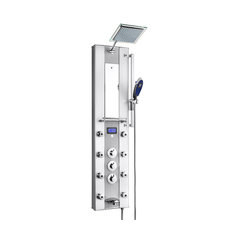 AKDY Thermostatic Aluminum Shower Panel Tower With Rainfall Shower Head, 52"
Showers
The tower looks great and works ok, but ...: The first tower that I received had a broken knob. I reported it to Houzz and took a photo and they replaced it no questions ask--great customer service. They actually sent the replacement unit before they even received the broken unit back, so that I my install wouldn't be delayed any further. But here is my issue: The bottom knob is a temperature control knob and I have it turned to the warmest setting possible, but the water is freezing. Its still coming thru the same piping from the same source, but the water is at least 15 degrees colder. Not sure how to fix that or can't understand why it's happening. Would really appreciate any assistance or guidance. So currently a 4 star rating, but it will become a 5 star if I can resolve this issue.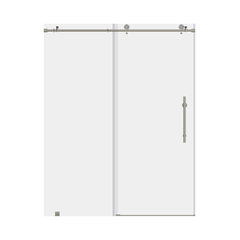 Frameless Shower Door, Brushed Nickel
Showers
Beautiful shower doors.: I love the style of this shower door. Beautiful and I love the barn door style because it gives me more space and looks so nice. My contractor had no problem installing this door ....in fact he recommended this door to other customers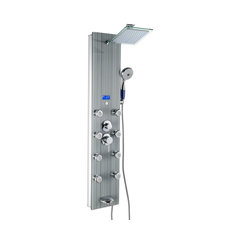 AKDY AK-787392F 51" Tempered Glass Shower Panel Tower With Rainfall Shower Head
Showers
Best shower head i have ever had: I bought 2 for my bathroom remodeling. The one in the hallway bathroom also works for the bathtub. I really enjoys this fancy shower spa. It's the best shower head i have ever had. And the contractor says it's easy to install :)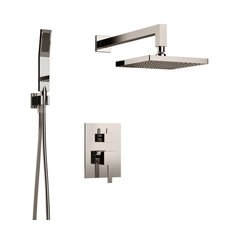 Holden Shower Set for 2, All Inclusive, Individual Functions, Brushed Nickel
Showers
totally satisfied: highly recommend the holden shower set to anyone renuvating or having a new bathroom constructed in their home. the chrome is highly polished and the internal parts are heavy and made of solid brass. you wont be disappointed!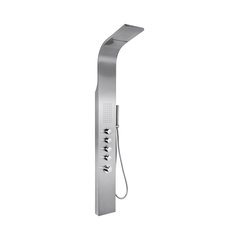 AKDY 63" Shower Tower Panel Spa Rainfall Style Waterfall Thermostatic Handheld
Showers
I am in love with this product!: I have been using my new shower for 2 weeks. I like the way it looks, but most important is I am in love with the shower features and water pressure it delivers. It feels like I am using a shower in a five star resort or luxury spa. I stay in the shower till I drain all hot water.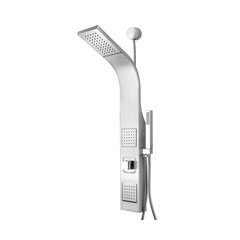 Golden Vantage 39" Dual Style Wall Mount Stainless Steel Shower Panel System
Showers
Still getting used to it: Replaced a very old shower fixture which had one speed/flow. I love the modern look and water action of this shower system, except for the wand. Wish it had a stop control on the wand as it hits me right in the face if I forget to unseat the wand before I turn the control knob. I'm sure as I acclimate to the newness, this will become much less a problem. Nice fixture.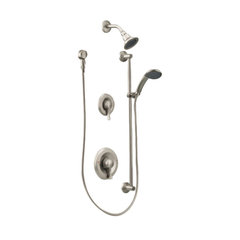 Moen T8342 Commercial Shower System Trim Package, Classic Brushed Nickel
Showers
Shower System Trim Kit: We do not have this installed yet. The parts look great. All metal with a great feel. Has some missing parts to attach the bar to the wall. Now I need to contact Moen to see if can get replaced under warranty. Not a smooth of a purchase as I hoped. Needed to do a good amount to homework to find correct valves. Moen does have a good website thank goodness.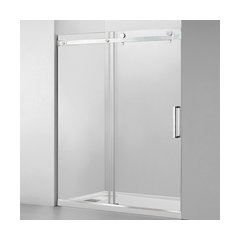 WoodBridge 56-60"x76" Frameless Sliding Shower Door, Chrome
Showers
Quality shower door: Very sleek shower door design. Something not specified in the instructions is make sure to seal the stationary glass into the bottom rail with silicone. Also seal all the sides of bottom rail. Heavy duty. Works great. Looks amazing in our bathroom. Love it.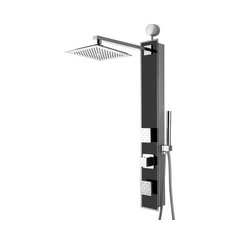 AKDY 35" Stainless Steel Shower Panel With Shower Head and Body Spray
Showers
Nice Looking Shower Panel: Bought two of these shower panels for a new build home. Had them a long while in the boxes before the house was finished/installed the units. So far working well. They also look awesome and everyone who's seen them has commented. Whether they are built for the long haul, only time will tell, but not an expensive feature to add to any shower room if you wanted to upgrade an existing and just give it a bit of a modernization and a face-lift. Super nice to look at!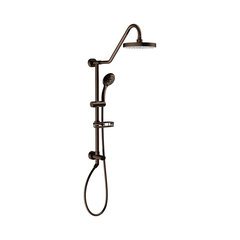 Kauai Brass Rain Shower System With Handheld, 1.8 GPM, Oil-Rubbed Bronze
Showers
Quality product, great price.: I looked on line for a rain shower with additional hand held head for retrofitting to our existing master shower and this looked like the best option available. I knew when I ordered it the vertical arm would be too long so I ordered the additional short one. The price was great but I do think it'd be nice if they provided the product with a shorter arm option rather than wasting the long one. It was very easy to fit, not requiring drilling holes. Of course you have to get the righr length nipple and I needed a 3" one which I got at home depot without issue. Everything was provided and the instructions were detailed enough. A couple of hours and the job was done and we are very happy with the result.