Kids' Playsets and Swing Sets
Outdoor playsets provide children with hours of fun in the backyard; something that television simply cannot beat. Giving your children the ability to let their imaginations run wild outside, whether on a full playset with monkey bars or a more simple swing set, is sure to score you major points; but it's important to do the appropriate research before purchasing any type to ensure utmost safety. You will want to think about size, construction and maintenance when shopping for playground sets as well. If you can check each of those off your list, you'll feel confident with your choice and your kids will be able to enjoy their outdoor swings and slides for years to come.


What the best material for swing sets and playsets?

In general, there are four different types of materials commonly used to construct backyard playground equipment. See below to learn about each one.

Wooden Swing Sets: The most common type of outdoor playset, they're extremely sturdy and are usually created from pressure treated wood. Be sure you check the warranty on these: wood can deteriorate, and the shorter the warranty, the better the likelihood that the wood isn't treated as well as it should be. Redwood, cedar and fir are all durable options once stained. Also, these tend to be the more expensive option. Remember, regardless of which wood you choose, be sure it's been treated with a water-based stain that is environmentally safe and kid-friendly.

Plastic Coated Swing Sets: Often created from wood and finished with plastic coating, these are ideal for warm or damp climates to protect from moisture. They provide splinter-free play and are long lasting, but are usually the most expensive play structures to choose from.

Plastic Swing Sets: Made entirely from plastic, these sets are lightweight, can be used indoors and avoid safety problems like heat retention or splinters. However, they have short life spans and limited warranties.

Metal Swing Sets: The least expensive and most basic design, this type is usually set up in an "A Frame" style and don't include extras, like slides and climbers. Although these are actually the longest lasting, you can't add onto them like wood sets and are generally cemented into place for security.


How large should backyard playsets be?

Your child is going to want the biggest one imaginable, but your yard space and your wallet won't likely align to that wish. A customized or deluxe kids play structure will inevitably be more expensive and take up more room in your backyard. Be sure to appropriately measure and anticipate the amount of space you will need to accommodate your playground. Don't forget to account for "buffer zones" around kid's swing sets as well: there should be at least a six foot perimeter to prevent kids from swinging, jumping or falling into something dangerous.


How can I be sure my kid's swing set is safe?

This is the single most important factor you must determine when choosing a playground set. Although the majority of manufacturers follow industry guidelines in terms of safety, it's possible there will be a few who try to skirt the necessities. Here is a list of all things you should consider:

• Any "S" hooks must be closed tightly. Open hooks might catch clothing, which could lead to strangulation or other injury.

• All openings should be less than 3.5 inches or larger than 9 inches. There is a chance for head entrapment on any openings that fall between those measurements.

• Ensure there are no exposed moving parts; they can pinch or crush.

• Seek out rounded edges vs. flat on wooden playsets. Flat edges can scrape and splinter over time.

• All hardware should be recessed to prevent clothing being snagged. In addition, bolts corrode over time and exposed hardware could be a tetanus liability.

• Avoid metal brackets and attachments; they will corrode and bend over time, compromising the structure. Choose wood to wood attachments that won't rust.

• Use 2 by 6 inch deck planking vs. 1 by 6 inches as a sturdier option that will support growing, jumping children as well as adults.

• Swing beams must be a minimum of 4 by 6 inches if not larger.

• Consider some type of "soft grip" coating on swing chains to prevent pinching, like Plastisol. The thicker the better.

• Make sure the play structure is anchored sturdily into the ground before children attempt to swing or climb on it..
• All elevated surfaces should have guardrails and slides should be accompanied with sit down bars overhead.

• Be weary of monkey bars that double as the swing-holder and ones leading to nowhere. Children using the monkey bars and the swings at the same time can create a potential hazard.

• Avoid metal kids slides due to heat retention. Go with plastic slides with UV inhibitors instead.


How is the playset assembled?

Depending on how much work you want to put in (and how much you trust your assembling skills), be sure to understand exactly what the structure requires to get to the finished product. Essentially, you can build one entirely on your own, purchase the lumber separately and build it with swing set kits, or buy one that is "ready to assemble." This all comes down to what you feel comfortable with and how much time you want to spend on actually building it.


What type of maintenance is required?

It's inevitable that wood will change shape due to different weather patterns, so yearly check-ups are pertinent. Make sure to tighten loose supports, anchors, bolts and screws, and replace anything that is missing. It's likely your outdoor playset will need to be periodically sealed, stained and painted to prevent deterioration as well. All accessories need to be checked for safety as well. Consider some type of "soft grip" coating on swing chains to prevent pinching, like Plastisol. Be sure any play decks or forts have a roof of some form to eliminate sun exposure, and avoid wooden rungs on ladders or monkey bars as they can deteriorate.
Sponsored Products
Featured Reviews of Kids' Playsets and Swing Sets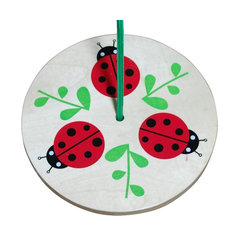 Kids' Playsets and Swing Sets
Cute but slick: Swing is well made and easy to hang with clip included. Surface is very slick - thinking of adding some puffy flower stickers to make it not all slick. My granddaughter loves it but did initially slipped right off while getting on. Once on and swinging it is fine.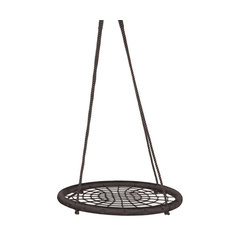 Kids' Playsets and Swing Sets
Cannot Wait to Hang Our Swings: We received our two swings - we ordered two because they look so comfortable and I have teenagers who will always be kids at heart - and I don't know if my tree limbs will hold that much weight - although the swings are supposed to. The boxes came extremely damaged and I took pictures. However, the swing I took out of the first box was in excellent condition I am relieved to report! Do some research on ordering the proper items to hang the swings so they won't damage your trees - and to maximize safety for your family. I am still researching to find a really strong, swivel, screw cabinar (sp?) - that does not cost have as much as the swing. The straps I ordered were two per set, 10' long, 2.5' wide made out of seat belt straping used in cars. The O ring sewn at the end of the strap, however, I think should have been a "D" ring - it seems it would ensure longer life of the strap.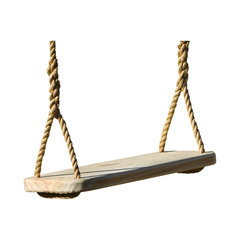 Premier Wood Tree Swing With Rope
Kids' Playsets and Swing Sets
Excellent Product!: The swing arrived early and is made of quality material. My wife is using the swing as a decoration; however, it appears to be very sturdy and should hold a great deal of weight. I highly recommend this product.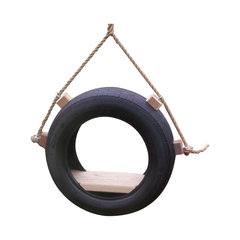 Wood Tree Swings Tire Tree Swing With Rope and Free Hanging Kit
Kids' Playsets and Swing Sets
thoughtfully designed - the kids love it: this tire swing exceeded our expectations. carefully constructed, thoughtfully designed. an excellent swing. we would buy one again from the same maker. (and all needed parts to hang it were included)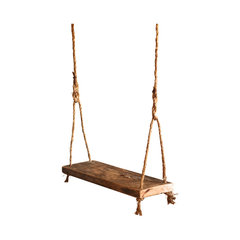 Children's Wood Tree Swing
Kids' Playsets and Swing Sets
Building memories: This swing is great, we have already started building memories. Purchased for a toddler but it can be used by all. Rope is plenty long for any tree you have to hang it from. Very happy with our purchase.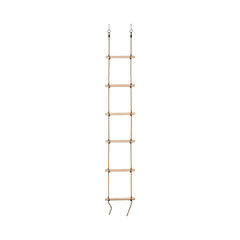 Swingan 6 Steps Gymnastic Climbing Rope Ladder, Fully Assembled
Kids' Playsets and Swing Sets
A well-built product: Love this ladder! I am going to prep in with Minwax so it will last forever outside. We're using it as a hillside-assistance ladder that will be secured with ground augers at each end. The section of hillside accesses the propane tank -- and the driver has slipped down it several times recently. So, rather than have him injure himself -- ladder to the rescue! Not the "intended" use, but one that will work beautifully.