Sponsored Products
Featured Reviews of Tabletop Fireplaces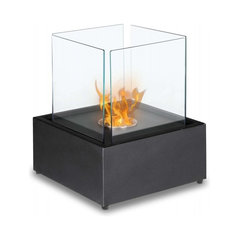 Cube Freestanding Fireplace
Tabletop Fireplaces
Smore's at your fingertips!: We bought this tabletop fireplace to do smore's on the screened-in porch away from all the bugs. Side note, the unit does not come with a starter package of fuel. (Might have different shipping requirements to ship fuel). Remember to order the fuel when purchasing this item!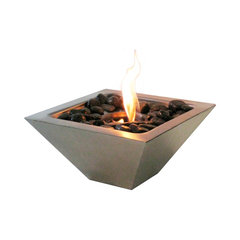 Anywhere Fireplace Indoor/Outdoor, Empire With Polished Black Rocks
Tabletop Fireplaces
Love this indoor fire!: This is the perfect indoor fire place for your coffee table. It's exactly as advertised, perfect indoor size and no smoke or smell! Be sure to order extra gel for the flame because you will want to sit around it for hours.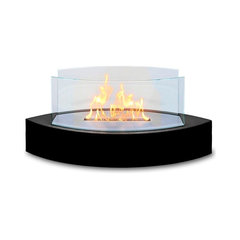 Anywhere Fireplace Tabletop Fireplace Lexington Model, Black
Tabletop Fireplaces
Super: Everything as described. Color just right. Appearance just right... sophisticated but not overdone. Very nice design and perfect size and good weight. Great addition to room. And lights up in lively presentation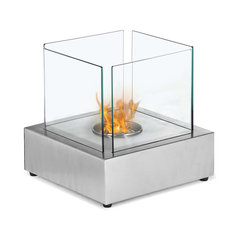 Cube Ventless Tabletop Fireplace
Tabletop Fireplaces
Perfect "centerpiece" for a large square island: Purchased this for my daughter's new kitchen in her industrial loft condo. It sits smack in the middle of the island top and provides ambience. Fun and easy to use….just a little different from candle look.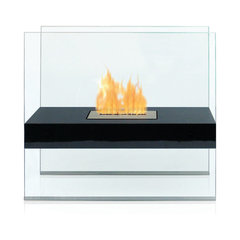 Madison Floor Standing Fireplace
Tabletop Fireplaces
Anywhere Fireplace Madison Floor Standing Fireplace 28": This fireplace is even better than expected. Easy to put together,delivers nice heat, and gives a lovely ambience to the room. It is light enough to move from room to room. Be sure to order fuel as it does not come with it. We had difficulty finding it, so we ordered it and had to wait for arrival until we could use it. We really love this purchase!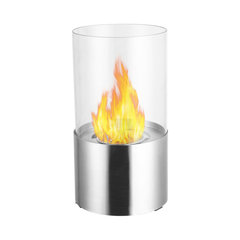 Circum Stainless Steel Tabletop Ventless Ethanol Fireplace
Tabletop Fireplaces
Elegant: I really like this little fireplace. It looks great in the living room and outdoors on the deck. As we have a windy deck, the glass feature is very useful. Only ethanol can be used on this and it took a while for me to realize that the flame is invisible at first. It takes about 5-10 minutes after lighting to appear. Great for decoration. Not sure how warm it can be. I shall wait and see.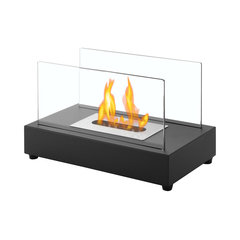 Tower Black Tabletop Ventless Ethanol Fireplace
Tabletop Fireplaces
Excellent buy at reasonable price.: I love it!!! Compact enough to fit on my coffee or dining room table. In the process of redecorating my house in industrial style. This fits with my design. Can't wait to host my first party to hear the raves!!!!