Sponsored Products
Featured Reviews of Wine and Bar Cabinets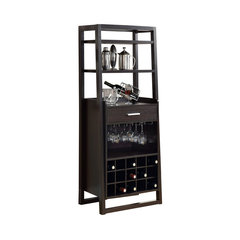 Home Bar, Cappuccino Ladder-Style
Wine and Bar Cabinets
Good when it's done: Took me and my brother in law about 2 hours to build. The directions are worse than Ikea. Once it was don though it looked good, a little smaller than I thought it was, but looks good.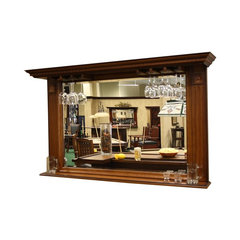 Kokomo Back Bar Mirror w Display Shelf
Wine and Bar Cabinets
Back Bar Mirror: package arrived in good condition... was easily assembled. very heavy. be prepared to have someone help in lifting and mounting to wall. mirror looks great in our new home bar..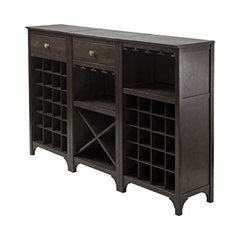 Winsome Wood Transitional Ancona 3-Piece Wine Cabinet, Espresso Finish
Wine and Bar Cabinets
Love it!: Love it! My husband put it together and he didn't swear, ask me for help or find the need for a drink during the assembly...or even after, so I think the assembly isn't as difficult as described...just tedious. The piece itself is beautiful and I'm very pleased with the purchase!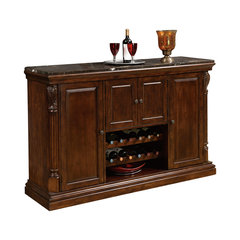 Howard Miller Niagara Bar Console
Wine and Bar Cabinets
The great bar: Item arrived Well packed and appears in excellent shape. It is a beautiful piece of furniture. I was unable to see the glass storage area as I had forgotten and was looking in the center! Great storage areas.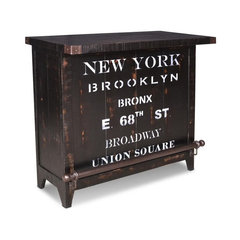 Graphic 12 Bottle Wine Bar With Storage
Wine and Bar Cabinets
Love it!: Great quality and super fast shipping from Crafters and Weavers. The delivery service was prompt and worked with the delivery time we needed. The foot rail had a bit of damage from the unit being put on its side, but it's not bad enough to return. Because we have a small space, we needed a bar that could be stored against the wall when not in use. So, we put casters on the bottom to make it roll, and it works great! Overall, we are very happy with the purchase. Will definitely order from Crafters and Weavers again!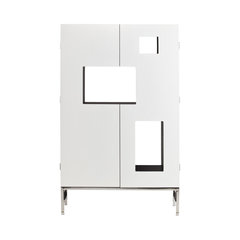 Daphne Shadowbox Wine/Bar Cabinet
Wine and Bar Cabinets
Wow! an awesome wine cabinet!: This is a one of a kind wine cabinet. The white doors with black boxes make a beautiful contemporary look. The inside has a lot of cubbyholes for storage including 17 wine bottles. It's not quick and easy to put together but the finished product is so worth it. You will definitely get compliments with this wine cabinet.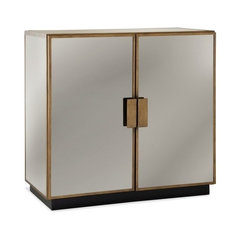 Garvey Hospitality Cabinet
Wine and Bar Cabinets
Elegant and well made: Love this bar cabinet. It's solidly made and blends in beautifully with our mix of modern classics (Herman Miller, Mies van der Rohe, Marcel Breuer.) Since the price was 1/2 of retail, I sprang for the white glove delivery which I'm glad I did.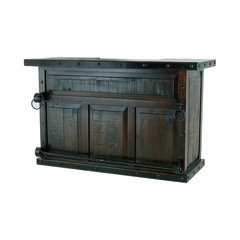 Old World Rustic Gran Hacienda Bar
Wine and Bar Cabinets
Do it. Buy it.: i searched through hundreds of bars before purchasing this one - wanted something that looked like it's from a 30s or 30s tavern or speakeasy, but also functional. Nailed it. It's beautiful, well built and looks better in person than the pictures. Lots of storage, including a wine rack. Incredibly pleased with this bar!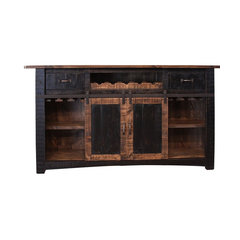 Greenview 76" Black Bar With Wine Rack 2 Drawers Barn Doors and Shelves
Wine and Bar Cabinets
Love it: This bar is more than what we expected! It is very good quality furniture, very heavy and solid. Well worth the cost, which was less than all other sites! Love it, and it looks great in the room where we put it.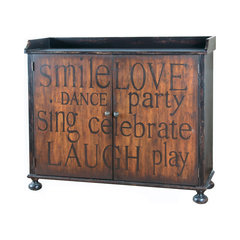 Wine and Bar Cabinets
Love this!: I read all the reviews about this piece and was worried. However, THIS wine cabinet is fantastic! It is very spacious inside to fit our liquor cabinet needs as well as our wine and martini glasses. The furniture is sturdy and heavy. It has a distressed look which we wanted. The picture here makes the doors look like a lighter wood, however, the wood on the doors is slightly darker which was perfect for our dining room. Delivery was amazing and it was packed very well!! We put the feet on easily. Best purchase ever!