Kitchen Island Lights
Your beautiful and functional kitchen island isn't complete without a matching light fixture. When done right, kitchen island lighting enhances the ambience while providing effective task lighting at the same time. Your first consideration when choosing island lighting should be color and style. You'll want to find a pendant, a chandelier or another form of lighting that complements the design of your kitchen. While your island lighting can become the main focal point of the room, if you already have a grand range hood or detailed backsplash that's worthy of design envy, you may want your lights to simply draw the eyes to these instead.

Next comes the question of how many lights you should install. While this question may seem fairly straightforward, sometimes it can be complicated and cause your decision making process to come to a standstill. Typically in design you'll want to follow the popular "rule of three," which says that balance is achieved by repeating elements three times. You can easily utilize this idea by dangling three pendant lights or chandeliers over your kitchen island, but depending on the size and style of the lights you've chosen, this may not actually work well at all. If the scale of your island lighting is on the large side, if your island is smaller, or if you have both a small island and larger lighting to work with, you can opt for two or even one fixture instead of three.

Add color, style and light to your kitchen with an island light from Houzz.
Sponsored Products
Featured Reviews of Kitchen Island Lights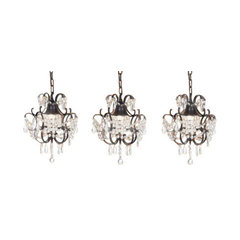 Wrought Iron and Crystal Chandelier Pendants, Set of 3
Kitchen Island Lights
These 3 wrought iron and crystal pendant island lights are fabulous!: A great look at a great price; what more could a designer ask for? I always want a quality look, but when you can also get something that not only looks expensive, but doesn't cost a lot, that's a real winner!! Sandra Boether Morada West Interiors Stockton, CA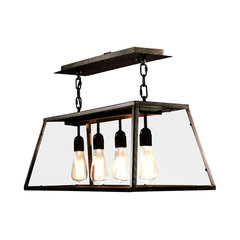 Warehouse of Tiffanys Edison Island Light, Black
Kitchen Island Lights
So fun!: I love this style fixture! We haven't actually hung it yet as I think we need a bit of professional help, but we've removed from the box and the fixture looks great. I will say it is more bronze/gold than the images show, so that's why I gave it 4 instead of 5 stars. I still love it but I was expecting more of an oiled bronze/black than what arrived. I'm looking forward to seeing the final installed product!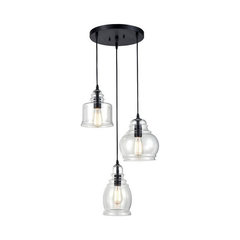 Vintage Kitchen Linear Island Glass Chandelier Pendant Lighting Fixture, 3 Light
Kitchen Island Lights
Better than I thought: This symbolist blue hew collection of three pendants are just the crown jewel for our remodeled gray kitchen . Easily to change each pendant height, ease of installing ( my husband) . We love it. Get a lot of compliments . We didn't like Edison bulbs, too much of an amber glow. Clear LED worked best.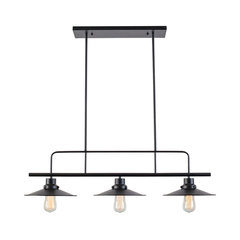 Margaux 3-Light Island Fixture
Kitchen Island Lights
Looks great.: Looks great. Nice and light to install. I used the 60 watt, ember, Edison bulbs and I don't have enough light, but they look great. If your looking for romantic they would work.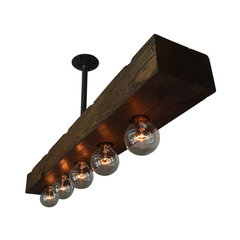 West Ninth Vintage Recessed Wood Beam Chandelier
Kitchen Island Lights
Hard to Beat: This is going in our formal dining room. We have a table in there that has live edge. This was really a great compliment to the feel of the room. The piece is well made and solid.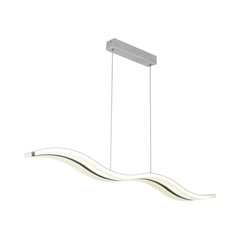 Barrel Swirl 40W LED Kitchen Light
Kitchen Island Lights
Very nice light fixture except for very bright white light: The lamp is beautiful, very modern and futuristic but you have to shade your eyes as it is so bright! I would give it 5 stars if not for the fact that the brightness in not mentioned in the description.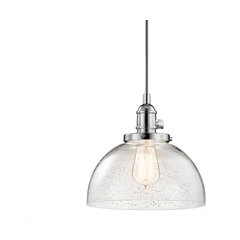 1-Light Kitchen Island Foyer Pendant Light
Kitchen Island Lights
Lights: This light is perfect for the center counter island. The first one came quickly but with not such a great shipping package so the glass was broken. Got a refund for that one and ordered exact same one and the second one came with much better packaging and fast. I'm really happy with the quality and the design.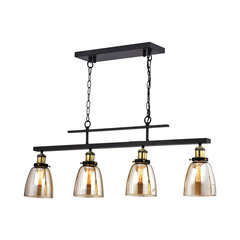 Amber Chandelier, Antique Black
Kitchen Island Lights
BEAUTIFUL light: This was the first purchase I made for our new home and then planned my kitchen around it. Once the package was opened (months after purchase) the electrician realized that two rings that hold the chain were broken. The response from Houzz was wonderful! They contacted the manufacturer and had them send me replacement parts within 3 days! The fixture is exactly what I was looking for over my island! The amber shades provide nice soft lighting.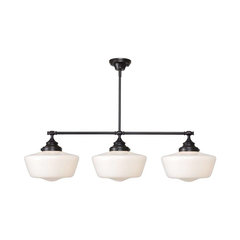 Kenroy Home 93663ORB Cambridge Island Light, Oil Rubbed Bronze
Kitchen Island Lights
perfect: this is just what i wanted for our one room schoolhouse home. i scanned lots of websites and this is the one i chose it was a good price and i used savings code and coupons. this was my first purchase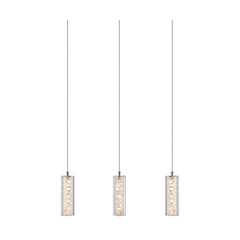 Chrome Finish LED 3 Clear Crystals With Crystal Beads Pendants Island Chandelier
Kitchen Island Lights
First pendant light: decided to remodel my kitchen and this was the first piece i bought. I like the sleek lines and the sparkles. it is bright and works well as an accent light. the only upset that is not dimmable and i a i cant adjust heights of pendants.