Media Cabinets and Chests
For the avid movie collector or old-school LP fan, it can be a challenge finding adequate storage for your hobby. This challenge is amplified if you don't necessarily want your collection on display or if you need a nook to hide away all the cables and wires connected to your audiovisual equipment. Thankfully the media cabinet rises to both of these challenges, providing a perfect cubby for your Blu-ray disc collection and vinyl player and a stylish facade that doesn't give away any hints as to what's inside.

From contemporary to traditional, modern to just plain unique, media cabinets come in a huge variety of designs and styles. Some stereo cabinet styles flip open, like kitchen cabinets, while others offer rolling panel doors. Depending on how much space you have, you can choose to bring home an impressive, wide DVD cabinet that can double as a TV stand or an extra place to show off your home decor accessories. If horizontal space is a concern, make use of your vertical wall space with a tall DVD storage cabinet, or, better yet, a corner media cabinet that can be tucked right in.

Whatever your style and whatever your needs, you'll find dozens of elegant, fun and fresh media cabinets right here on Houzz.
Sponsored Products
Featured Reviews of Media Cabinets and Chests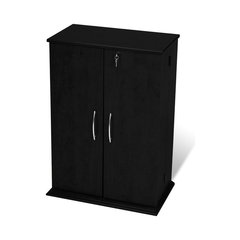 Prepac Locking CD DVD Media Storage Cabinet in Black
Media Cabinets and Chests
The Classy DVD Cabinet: Some assembly required. Actually, it was one of the easiest put together furniture kits I have ever done. The directions were pretty good and all the parts were there. Be sure to watch were the door handle holes are. I put one on backwards first before I realized I mistake. The directions do not warn you of this!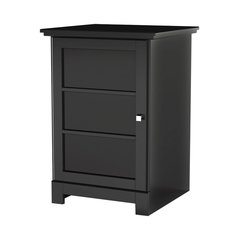 Pinnacle Audio Tower, Black
Media Cabinets and Chests
Audio/TV tower holds receiver, dvd player, cable box, tape player and more: The product was easy to build, high quality; however after 4 days it is still giving off an odor from the mdf wood product. The cabinet is extra deep so that there is about 5 inches behind the shelf to allow wires to run inside the cabinet in front of the back. With 3 shelves there is plenty of room to put at least 2 machines on each shelf. The dpoth of the shelves allows for storage.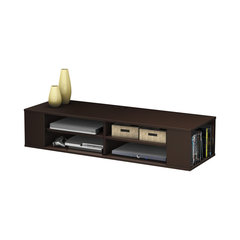 Kingsley Chest, Weathered Oak
Media Cabinets and Chests
4.5 (90%) stars would be more accurate...: The cabinet would get five stars, but the finish is only on the top making it a cabinet that can only be hung so the eye can not see the bottom, I am unsure if I missed this in the description. For my installation it was hung about seven feet high. I was able to flip it over and add some reinforcement to get the finish to where the eye can see (and can't see the unfinished surface). This is not a high end piece of furniture, I paid ~$125.00 USD for the unit and would be comfortable paying that or slightly more. The installation was much like any other furniture that needs full assembly. One reviewer said it did not fit tight against the wall, mine fit very snug against the wall and there is no concerns of it falling. If the faux finish were on all sides for a more flexible installation location, this would have been a 5 star product when weighing price vs. quality.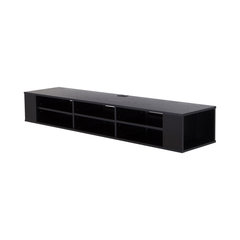 Media Cabinets and Chests
Quality for a good price!: We purchased this for our living room area. It arrived as stated, well packaged. We did assemble it, would have preferred more clear directions (not just pictures). Other than that, it is quality made for a good price. Looks great 'floating' on the wall and is sturdy.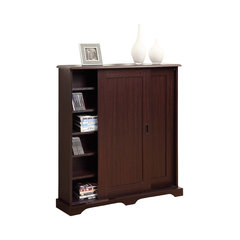 Sliding Door Multimedia Stand
Media Cabinets and Chests
Item was as described.: Item was as described. Quality was good as was the value for the price. assembly was fairly simple. Only issue was the protective plastic which was very difficult to remove as it was stuck in the seams of the wood. Still working on that.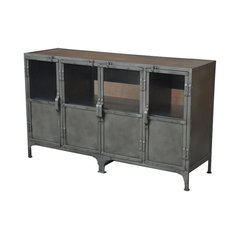 Inverness 4 Door Metal Media Console, 61"
Media Cabinets and Chests
Stunning, modern, and a statement piece.: This piece is one of the best investments I've made in furniture. I recently moved into my new construction condo and one of my design philosophy that I've picked up with great architects is to be true to your materials. This console piece is stunning, good metal finish, weights approx 200lbs, made in India. Only downside was the delivery service (falcon express) servicing the D.C/Maryland/VA area. Delivery window was from 8-12pm. They showed up at 12:30, I had to call their dispatch numerous times to determine eta. Once arrived, the were rude. Hence for not tipping.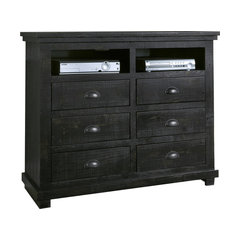 Media Cabinets and Chests
Perfect, clean and sturdy: I purchased this for my living room beach themed decor. It is a nice solid piece and very clean and sturdy. Perfect storage in the drawers as well. Highly recommend this piece!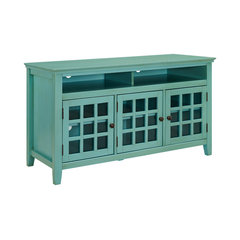 Wishom Media Cabinet, Turquoise
Media Cabinets and Chests
Great Entertainment Center: It's very stable and looks great in the living room. The only knock would be the instructions are a bit confusing because the stickers with letters on the pieces were reversed so I had to figure it out. Overall though I highly recommend this unit!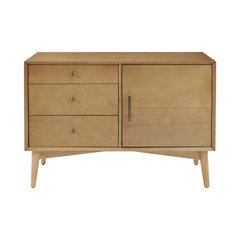 Landon Media Console, Acorn
Media Cabinets and Chests
Solid piece: This is a very nice piece and being solid wood with veneers makes it even better. It took quite some time to unpack it and put it together but the directions were quite easy to follow and all the items were clearly labeled. For the most part everything went together smoothly with the exception of the top drawer which sits a bit off kilter and doesn't close quite all the way. It's a very nice mid-century looking console and is the perfect size for small places.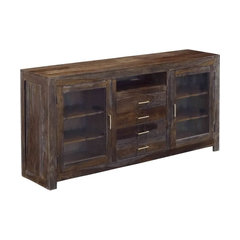 4-Drawer 2-Door Media Console, Grayson Sheesham
Media Cabinets and Chests
Compact and beautiful: Just what I was looking for. I love the dark brown intertwined with gray color typical of sheesham wood. The piece is solid and heavy with contemporary straight angles. Very well made. The depth is 16, which makes this console close to the wall while still providing plenty of room for storage.