Desk and Mantel Clocks
Time keeps slipping into the future, and what better way to keep track of it than with a stylish mantel or table clock? These functional items can complement your desk or any other flat surface with a dash of style — be it elegant, modern or even a little funky. Though most models nowadays are digital, some antique mantel clocks feature a mechanical or quartz analog display. An analog desk clock can add a retro or old-fashioned flair to a room, plus it won't lose the time if the power goes out as long as you keep it wound.

Find a huge variety of unique and stylish mantel clocks to spice up your home décor right here on Houzz!
Sponsored Products
Featured Reviews of Desk and Mantel Clocks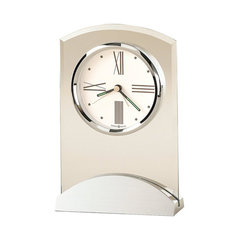 Howard Miller Tribeca Alarm Clock
Desk and Mantel Clocks
Works like a dream: This slim line Howard Miller is understated. Its crazy to think I looked for a battery powered bedside clock for over two years. Its important to know the portion surrounding the clock face is not metal but clear glass. The one thing I was disappointed with is the clock hands do not glow in the dark. Also the clock is completely silent. I was hoping to hear the clock for white noise.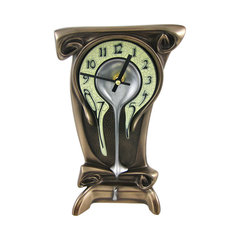 Bronze Finish Melting Mantel Clock Desk Table Dali
Desk and Mantel Clocks
Gorgeous Dali Clock: I haven't put the batteries in it yet. The plate on the back is screwed in and that should take a few minutes, first to locate a screwdriver, and then to open it. I just love this clock. It is crazy great.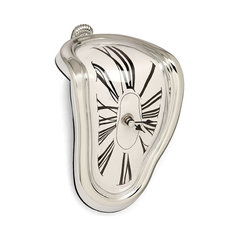 Modern Home Melting Table/Mantle Clock
Desk and Mantel Clocks
Very cool!: This clock is very cool! I bought it as a Christmas gift but before wrapping it, I took it out of the box to check it out and set it on the wall unit in my entry. Every person that came in commented on it and wanted to see it up close. It definitely made an impression, it was unexpected and quirky but eye catching and fun. It's just the right size, color and shape. Up close, it doesn't show so well since it's obviously made of plastic but it's very unique, fun and reasonably priced.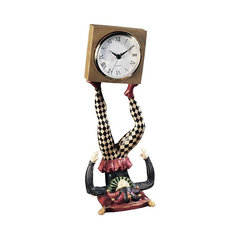 Juggling Time Harlequin Jester Sculptural Clock
Desk and Mantel Clocks
love the look but......: no instruction, where do I put the batteries in. I'm thinking thru face of the clock but am having difficult time removing it. I'm fearful of breaking something if I keep trying to remove.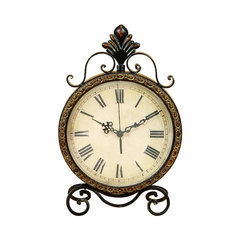 Desk and Mantel Clocks
Beautiful clock: The clock arrived within the time frame given. I would have like to receive it earlier. The clock went on sale before I received it. I paid 35.00 it went on sale for 25.00. It was packaged very well.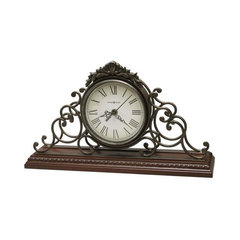 Howard Miller Adelaide Clock
Desk and Mantel Clocks
Nice Clock: I was looking for a Mantle clock that was both traditional and unique. I found those qualities with this clock and a reasonable price. It works as expected and arrived in a timely manner.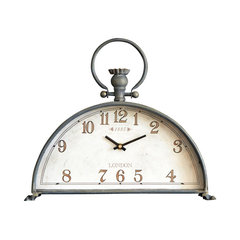 Desk and Mantel Clocks
Mantle Clock: Nice clock! Is like the picture. Recommend it. First one delivered - the glass front was shattered. They replaced it and sent a new one right away. It arrived in good condition.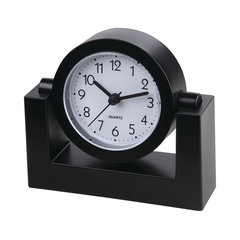 TimeKeeper 4" Swivel Black Desktop Clock
Desk and Mantel Clocks
an unexpected treasure: many years ago I received this very clock at a Christmas exchange party. I loved it! several months ago, it went to it's final resting place. I was sad, as it was a perfect clock for sitting in front of my tv, so easy to see the time. no other clock did that so well! thanks...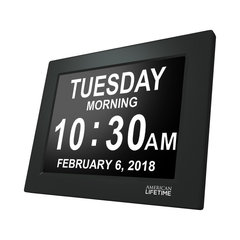 Large Digital Day Clock With 5 Alarm Options and Battery Backup, Black
Desk and Mantel Clocks
Wonderful Clock: I just bought this clock for my brother who is in a Memory Care Home. Many days he wonders what day it is. He told me this is a "perfect clock for me" and thanked me for getting it. The print is so big you can read it from all over the room. Thanks to whoever came up with this wonderful idea with all this information on the front. Karen