Accent Chests and Cabinets
Storage doesn't have to just be functional. While some mass-produced pieces are completely devoid of character, unique accent cabinets and chests are filled to the brim with personality. An antique hope chest or apothecary cabinet carries years of history and has an unmatchable sense of soul. A cedar chest from America's early years or a blanket box with an Asian heritage will give your storage unique characteristics and a worldly presence.

While many accent cabinets and chests feature fancy painted exteriors in a variety of patterns and colors, you'll find a few that are rare, thanks to their uncommon, shapely structures. A Bombay chest is one example. Instead of right angles, these historic pieces feature curves galore, often paired with depictions of Oriental landscapes. If right angles and geometric repetition fit your fancy, look for an apothecary cabinet, which sports multiple square drawers perfect for storing knickknacks, electronics cables and other small items.

Your storage furniture doesn't have to be boring. Whether it's a blanket chest or an accent cabinet you seek, you'll find dozens of exquisite accent cabinets and chests right here on Houzz.
Featured Reviews of Accent Chests and Cabinets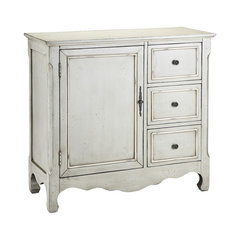 Chesapeake 1-Door Accent Cabinet
Accent Chests and Cabinets
Love the Cabinet!: The color has more of a green tint than appears in the photo... but I love it! Another happy surprise... The details are beautiful and the finish is lightly distressed. In one word, Quality! I would recommend this timeless little gem to anyone.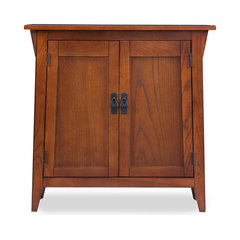 Mission Foyer Cabinet With Adjustable Shelf, Russet
Accent Chests and Cabinets
wonderful!: We just put together our new cabinet and it couldn't have been more simple. Beautiful wood and an all over handsome piece. Thanks you for the quality and fast delivery. We Love it!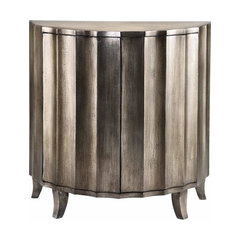 Accent Cabinet, Silver Metallic Finish
Accent Chests and Cabinets
All That We Hoped For!: Very pleased with the tables we purchased for bedside tables. There were others on the site similar and more money. We were very satisfied with the workmanship and finish. Some may think for bedside tables they are high but our custom headboard will be 76 inches high ..the mattress will be 36 inches from floor . The second master bedroom suite in this house is large with high ceilings. Don't have photos yet .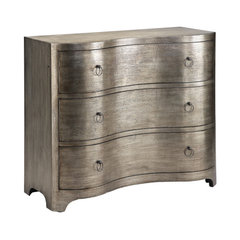 3-Drawer Accent Chest in Pewter Metallic Over Silver Leafing
Accent Chests and Cabinets
Simply Gorgeous!: I ordered 2 of these dressers as my bedside tables and they are so beautiful and roomy. The drawers are on a track so they open and close very smoothly. The color can take on a more gold or silver tone depending on what colors are on your walls.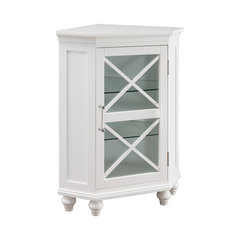 Blue Ridge Corner Floor Cabinet
Accent Chests and Cabinets
I love it!!: This cabinet is exactly what I needed for a corner in my powder room. Excellent quality, went together easily (all the parts were there!) and it is amazingly roomy. No issues and it is so cute!!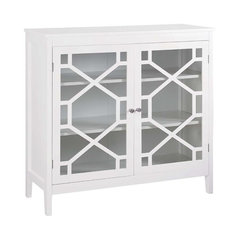 MDF Tempered Glass Cabinet, White
Accent Chests and Cabinets
Overall, a good buy: Overall cabinet looks nice. It arrived quickly. None of the pieces were dented or broken. All the holes lined up correctly when putting it together. I guess my only issue would be the directions. There is WAY too much going on in each step of the directions and they are picture only. More than once, I could not tell from the picture which piece was which, so there were 2-3 times where I had to take something apart and re-do. Also, the door still does not close correctly (it's slanted/doesn't line up) even though I re-installed the hinges multiple times/different ways. So overall, I am happy with the finished project and think it was well worth it, as it looks nicer and is lower priced than every other cabinet I looked at.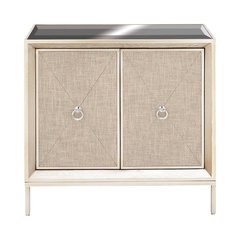 GwG Outlet Wooden Metal Mirror Cabinet 32"x32"
Accent Chests and Cabinets
Delivery was great!: Although the boxes were left outside blocking my door, the packaging was impeccable! I was concerned that the mirrored glass tops of the chests wouldn't travel well but I'm happy to say that they arrived in one piece!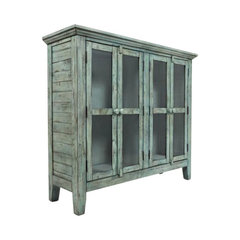 Rustic Shores Surfside 48" Accent Cabinet
Accent Chests and Cabinets
Liquor Cabinet: This accent cabinet arrived today, in a timely fashion. It is beautiful ! Customer service was very helpful on the phone when I called Houzz previous to my purchase. Quality is excellent. The color is more dominated with green. Lots of entertaining, so this will be our liquor cabinet ! Bonnie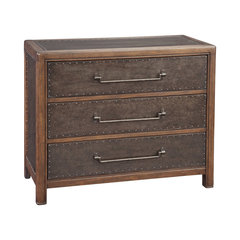 Raylan Metal Hall Chest, Coffee Bean, Antique Metal
Accent Chests and Cabinets
Great Chest!: I'm very pleased with this chest. Great quality and style. The product was simple to order, arrived on time in very good condition-no damage. I would definitely recommend this product.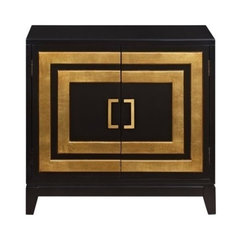 Accent Chests and Cabinets
chest: this chest is beautiful! I purchased two for both sides of my bed They arrived within two days. They were packed well and no, assembly required. I would recommend this product to anyone!